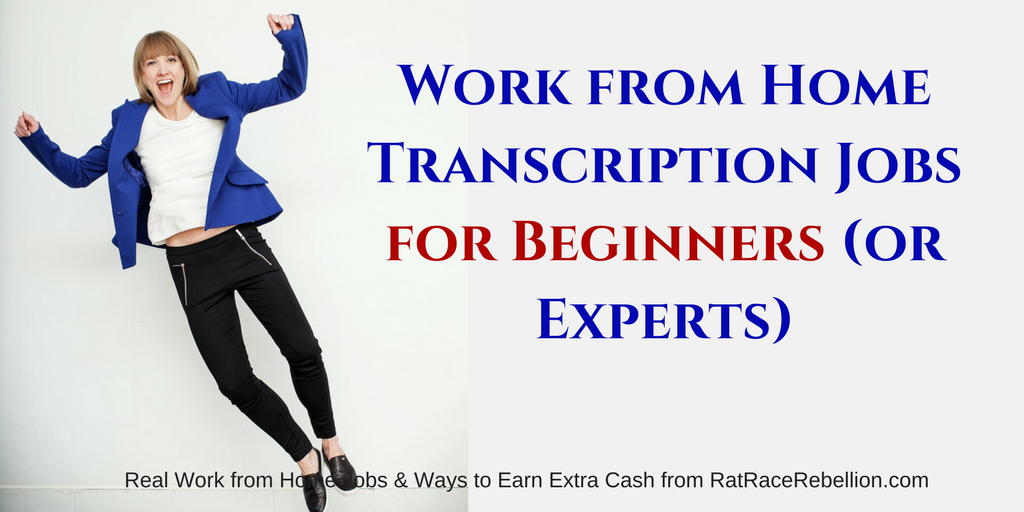 By Chris Durst – Feb. 6, 2017
NOTE: This company recently started charging a $10 application fee which we were pretty surprised about, so I wrote to ask them to explain. Following is that conversation:
"Me: Hi. I just heard that you charge a $1o fee to apply with your company as a transcriptionist. Is that correct?
1-888-TYPE-IT-UP: That is correct.
Me: OK, can you tell me what the fee is for? I am not accustomed to paying to apply for a job, so I am wondering what the fee covers.
1-888-TYPE-IT-UP: It is explained on the app. It is similar to the application fee you would pay to apply to a college or university. The fee covers our costs to pay staff members to review all the applications and the transcription tests.
I understand not wanting to pay the fee, but one thing I can tell you is that it is beneficial in a way to the serious applicant because it reduces the number of applications.
Me: I see. I am checking because we send a lot of people from our site (RatRaceRebellion.com) to yours, and we need to make sure they have full details.
1-888-TYPE-IT-UP: The people that pay the fee are more serious about the position and they have less applicants to compete against because of the fee. It is also very time consuming for us to review all the applications and tests, so the fee really does subsidize our costs for that.
1-888-TYPE-IT-UP: While the fee may be annoying, it is definitely making the process more efficient for everyone involved and helping us connect with the most serious applicants. It should also allow us to get back to applicants more quickly. "
So, the upshot is this – we know a lot of people who work with this company and like it, but we're not fans of application fees. So, it's not a scam, but the decision is yours.
For the many people who would like to work from home but who are not interested in a phone job, transcription may be the answer and 1-888-TYPE-IT-UP could be a great place to start!
The company is seeking Transcriptionists – with or without experience, as long as you can pass their test.
Regarding experience, the love people with experience, but they also state, "if you can pass our transcription test and you can meet our 'AFR' standards (accuracy, formatting, reliability), we are always happy to bring you on board our team of dedicated transcriptionists. We completely understand the conundrum of needing experience to land a contract while needing to gain experience at the same time. After all, our first clients had to give us a chance too. As long as you can deliver good work and prove to be reliable while working from home, we are happy to work with you as one of our transcriptionists."
Note: They also say, "…please be very careful reading the test instructions and taking your time with our short test. Although we receive hundreds of applications every week, most applicants fail our test as a result of not double-checking their work."
From their site:
We are one of the highest-paying transcription companies on the Internet. Our lowest pay rate is $36 per audio hour, and this only applies in cases where clients will only agree to pay $1 per audio minute or $60 per audio hour. We understand this is far too low, but due to competitors' predatory pricing, we do allow clients to submit files with reasonable audio quality and slower turnaround times for only $1 per audio minute. We strive as much as possible to pay our transcriptionists $1 to $2 per audio minute and up depending on audio quality and special features. Our full pay scale ranges from $0.60 per audio minute ($36 per audio hour) to $3/min ($180 per audio hour).

We do not offer periodic raises but rather file-specific bonuses. Pay rates vary per file depending on the client's budget and your past performance.

How do you pay?
We pay twice a month via PayPal on the 15th and last day of the month. We require all transcriptionists to submit Net 10 invoices via PayPal by the 5th and 18th of the month (approximately 10 calendar days prior to payment).

Click here to learn more and to apply!
PLEASE SHARE this post – turn your friends into Rat Race Rebels!