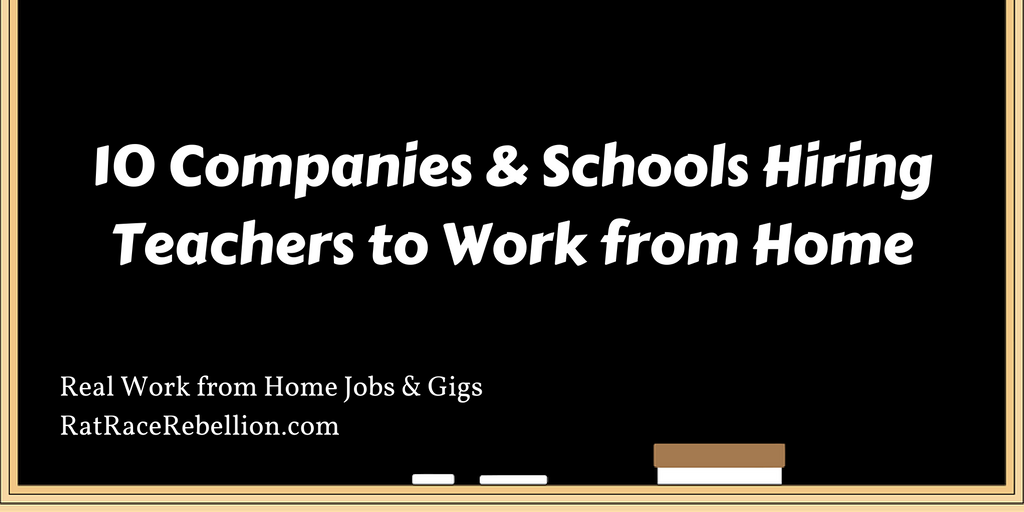 By Mike Haaren – Oct. 28, 2016
Work from Home Jobs for Teachers
Teachers have many options for home-based jobs and side gigs. These range from K-12 to post-graduate openings, with many online tutoring jobs available, too.
Here are 10 companies and schools that regularly hire home-based Teachers.
— Connections Academy: This company offers online public schools in a variety of states, and has been hiring home-based K-12 Teachers for years. Jobs are open regularly. (Look for "Home-based" under the "City" heading on their job pages.) For more, click here.
— K12, Inc.: "K12 offers an outstanding curriculum that enables mastery of core concepts and skills for all kinds of minds." The company often lists home-based teaching jobs in a range of states. For details, click here. Look for "Statewide" under the "City" heading.
— California Virtual Academies: There are 10 independent California Virtual Academies, a network of public charter schools. They often hire home-based California Teachers. For more, click here.
— Florida Virtual School: FLVS offers K-12 classes for Florida and other state students. Teaching jobs are usually for Florida residents. For more, click here.
— VIPKID: This company hires home-based Teachers to teach English 1-on-1 to Chinese children. Hires from all states. For more, click here.
— University of Maryland University College: UMUC hires online Adjunct Faculty for a wide variety of courses. Undergraduate and graduate. For more, click here.
— American Public University System: APUS is a for-profit online university with 400+ full-time and 1,800 part-time faculty members. It often has a small selection of online teaching openings here.
— Brigham Young University-Idaho: BYU-Idaho hires online faculty for a variety of courses. Applicants are accepted from Arizona, Arkansas, California, Colorado, Florida, Georgia, Idaho, Illinois, Indiana, Massachusetts, Maryland, Michigan, Missouri, Montana, Nevada, New Mexico, New York, North Carolina, Oregon, Texas, Utah, Virginia, Washington and Wyoming. For jobs open now, click here.
— Johns Hopkins University Center for Talented Youth: "CTY" offers classes for "the most advanced K-12 learners worldwide." (More on the Center here.) It often hires home-based Teachers. For details, click here.
— Tutor.com: Teachers can make good money on the side as online Tutors. And they have a clear advantage over Tutors with no teaching experience. To explore options at Tutor.com, click here.
PLEASE SHARE this post – turn your friends into Rat Race Rebels!
BE SURE TO CHECK OUT OUR OTHER RECENT POSTS FOR MORE JOBS