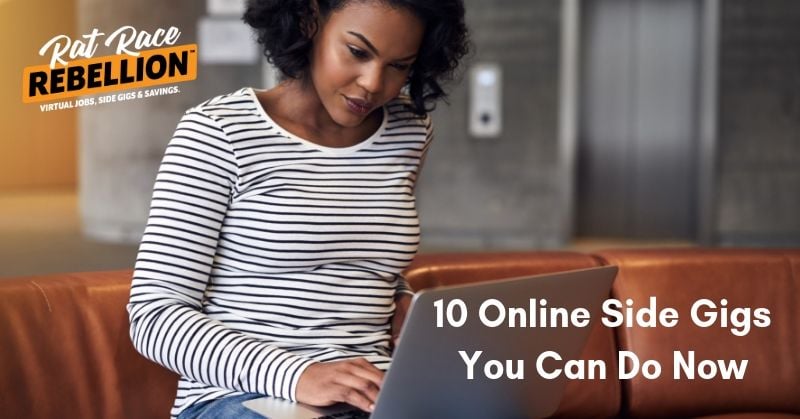 By Mike Haaren, Co-Founder Rat Race Rebellion
Side gigs can be a great option for extra cash and flexibility. If you're looking for something you can do online, there are plenty to choose from. Here are 10 available now. (Disclosure — The links below include affiliate links, which pay us a small commission if you use them. Helps us keep the computers running. Thank you!)
— Transcriptionists (No experience necessary) — Rev hires part-time transcriptionists nationwide. Pay isn't high — when you start out, it can reportedly be less than minimum wage. On the flip side, you can work when you want, training is free, and you can gain experience for better-paying transcription work later on. For more, click here.
— Tutors – Varsity Tutors offers tutoring in hundreds of academic subjects and more than 50 test prep areas. Tutors are independent contractors. Per employee reviews, they earn an average of $19.93/hr. "Private tutoring sessions take place online, in the student's home, or at another location of the student's choosing. Instant online tutoring is also available through the Varsity Tutors platform in subjects like algebra, biology, calculus, the SAT, and more." For details, click here.
— Earn Up to $20/Hr. Teaching English Online – If you're looking for a side gig with decent hourly rates, Education First is actively hiring. Pays up to $20/hr. to start. You'd be teaching English to Chinese children online. Set your own hours, materials provided. BA or BS required. Must have TEFL certification by start of contract. For an advantage, schedule your video interview promptly after you apply. The video interview is key. Click here for more.
— Sell Your Smartphone Pix — If you take good vids or photos with your cell, Foap gives you a place to sell them. "When a brand, agency or just anyone who finds your work outstanding purchases a video or picture from your online Foap portfolio, we share the profit with you 50/50," Foap says. For more, click here.
— Get Paid for Your Sarcasm & Wit — If you're the one with the sarcastic comebacks or witty comments, Cracked, the humor magazine, offers payment for list-style articles. "26 Sexy Halloween Costumes That Shouldn't Exist" is an example from their site. They also pay for humorous sets of images. For details, click here.
— Survey Takers – Pinecone Research: Got a HS diploma or didn't finish HS? PineCone needs you. Earn $3 per survey (15-20 mins., typically). They may also send you free products to test. Their minimum age for surveys is 18.
— Bonus Freebie! — Find a Job Faster! Announcing New Free Rat Race Rebellion Learning Units to help you get to work faster. While not as comprehensive as our VIDEO COURSE — How to Find a Work from Home Job or Side Gig in 30 Days or Less — the free resources and information in the Learning Units should definitely help speed things up. Enjoy! <3
— 3 Apps to Turn Your Receipts into Cash, Visa Gift Cards or Other Rewards – These three simple apps will turn some of your outgoing cash (aka purchases) into PayPal cash, Visa gift cards and other rewards.
— Another Paid Surveys Option – Opinion Outpost: Answer simple opinion questions for cash or (if you prefer) Amazon or other gift cards. Automatic entry in $10,000 sweepstakes every three months. Another legitimate side-income option.
— Get Rewards for Downloading Nielsen's App — Nielsen (The TV/Radio ratings company) – For installing Nielsen's app on your computer, you will automatically be entered into their $10,000 monthly sweepstakes. Also, if you qualify, "there are opportunities to earn even more rewards by registering more devices and staying with us longer," the company says. For consumer trend data, Nielsen's app — for smartphone, computer or tablet — follows your web use. Your name is separated from the data, and devices run as usual. User IDs and passwords are not collected, the company adds.
— Get Paid to Post to Your Instagram Account — Heartbeat: If you're a woman with a solid follower base, this might be a fit. Get paid to post about products you choose. (More followers means more pay, of course.)
PLEASE SHARE this post – turn your friends into Rat Race Rebels!