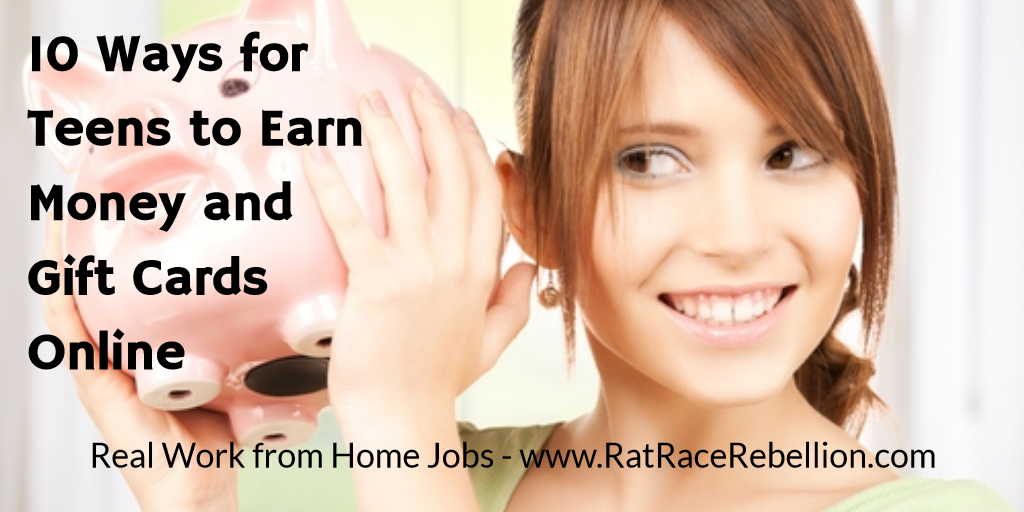 By Chris Durst
If your teen would like to make their own money (or if you would like your teen to make their own money), there are plenty of money-making opportunities for teens online. Generating their own income can be an important step on the path toward the financial responsibility and independence we wish for them — and it just may give your wallet a rest too ;-)!
Here are just a few of the ways your teen(s) can start to build their own wealth… a little at a time!
Slice the Pie
Minimum age: 13
Gig: Review new songs, fashion items, accessories and commercials before they are released.
For music, you'll need to listen to at least 90 seconds of the track you are reviewing. Then, you'll rate it on a scale of one-to-ten. For fashion, you'll look at photos and details about the product and you will need to comment on the items (the design, material, would you buy it, etc.) and rate it.
Pay: You'll be paid a small amount for each review and the amount you make will increase depending on the number and quality of your reviews. Slice the Pie will also let you know when there are priority reviews that are worth more. Payments are made through PayPal and you can cash out when you reach $10. BONUS: Refer friends and get paid!
U-Haul Reservation Agents
Minimum age: 16
Gig: Assist customers with rental inquiries and making reservations for trucks, trailers, hitches, towing devices, storage & U-Box units.
If you are a good communicator who likes helping people, this job could be for you. You must communicate effectively through instant messenger, and you need a PC (not Mac) operating on a Windows 7 or newer operating system. Training is provided.
Pay: $8.25/hour, + bonuses
Take Paid Surveys
Teens have more spending power than ever and companies are looking for their feedback. Following are some survey companies that allow teens to sign up and take surveys. Note: When signing up, most survey companies will ask for demographic information (age, income, etc.). They do this to determine which surveys you qualify for.
e-poll
Minimum age: 13
Earn points for every survey you take, and use those points like cash to fund your PayPal account. If you prefer, you can use your points to earn gift cards for Best Buy, Starbucks, Walmart, GameStop, Amazon.com and more.
GlobalTestMarket
Minimum age: 14
Pays up to $5 per survey and you can take the pay by check or gift card. This company has been around since 1999 and rewarded over $32 million in 2014.
Ipsos i-Say
Minimum age: 14
Earn i-Say points by taking i-Say surveys and redeem those points for PayPal Funds or a wide variety of gift cards.
KidzEyes
Minimum age: Ages 6 – 12
Ear points the can be redeemed for cash.
Harris Poll
Minimum age: 13
Kids can earn points that can be redeemed for Amazon and other gift cards.
Jingit
Minimum age: 13
Watching Videos, Shopping
Gig: There are 3 ways to earn with Jingit – in-store, cash back offers, and the one we think may be most appealing to teens – watching ad videos and giving feedback. Note: Participants must have their own mobile phone with text messaging.
Bing Rewards
Minimum age: 13
Gig: Earn credits using Bing as your search engine. Credits can be redeemed for gift cards and Microsoft Store credit.
Etsy
Minimum age: Will need an over-18 parent, guardian or sibling to start the account
Gig: For artistic and crafty teens, Etsy is a great outlet for selling their handmade goods. Etsy provides tools for showcasing and promoting their work. They charge just .20 cents to list items and a 3% payment processing fee.
Stay tuned – there are more teen income opportunities coming to the Rat Race Rebellion site!