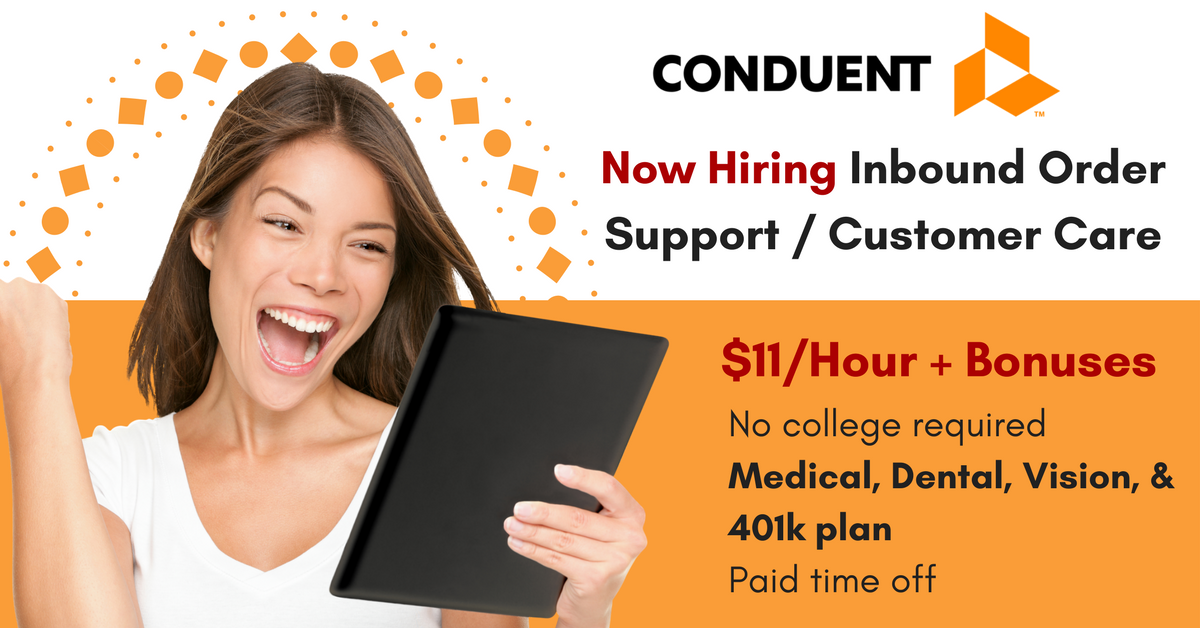 by Chris Durst            Apr. 10, 2018
Conduent is a spin-off from Xerox and is now a $6 billion company that supports the world's largest brands!
The company is now hiring ENTRY LEVEL Work From Home Customer Care Associates with BENEFITS that include:
Full Time Employment
Medical, Dental, Vision, & 401k plans
Educational assistance
Paid Time Off
Fun working environment!
Company discounts! Local restaurants, gyms, cell phone service discounts, auto, travel, international theme parks and many more!
Here's what the company has to say about this opportunity:
"Do you love helping others? Are you a compassionate communicator, a problem-solver that can multi-task ? If so, then we here at Conduent want to hear from you.
We currently have immediate openings for this opportunity in the following states:
Alabama, Arizona, Arkansas, Colorado, Connecticut, Delaware, Idaho, Indiana, Iowa, Kansas, Kentucky, Louisiana, Maine, Michigan, Mississippi, Missouri, Montana, Nebraska, Nevada, New Hampshire, New Jersey, North Carolina, North Dakota, Ohio, Oklahoma, Pennsylvania, Rhode Island, South Carolina, South Dakota, Tennessee, Texas, Utah, Vermont, Virginia, West Virginia, Wisconsin, Wyoming.

Conduent Offers:
We offer competitive compensation $11-11.50/hr
Full Time Employment
We offer Medical, Dental, Vision benefits, comprehensive coverage with flexible options, including FSA and HSA and 401K
Paid Time Off
Fun team oriented remote environment, we believe in Employee Engagement and want you to have fun
Company discounts at restaurants, gyms, cell phone service discounts, auto, travel, international theme parks and more
We offer varying schedules based on business needs
We offer ongoing training programs to advance your career
Mentorship programs to help you be successful
As a Work At Home Call Center Representative you will support our customers and provide solutions to their technical issues. We will rely on you to actively listen and be empathetic while you use your love of current technology, passion and creativity to resolve their problems and meet their needs in a timely manner.

Requirements:
Technical aptitude with a confident familiarity of Smartphones, tablets, operating systems, PC and Macs
Minimum 6 months experience providing service to customers in some capacity (via phone, chat, in person, etc.)
Are you available to work an 8-10hr shift between the hours of 7:00 a.m. and 11:00 p.m. CST including evenings, weekends and holidays while having the ability to adjust to a change in schedule ?
Handle multiple computer applications at one time
Understand the concepts of navigation, search engines, downloading music, and other web based applications
Attend approximately five to six weeks of required virtual training on a fixed schedule that may include nights or weekends
Complete initial training with 100% attendance and a minimum 80% passing score on final training exam.
Ability to type 25 WPM while talking to customers
Successful completion of pre-employment assessments and a background check
A distraction free workspace that will allow you to meet our requirement of working independently without other parties being in the workspace during your scheduled shift. An area where no other parties would enter your workspace during your scheduled shift for any reason.
Be able to guard client information closely by ensuring that no cell phones, pens, tablets, devices that capture information are in the work area.
High Speed Internet Service (10 megabits download and 3 megabit upload) from a reliable provider
High School Graduate or general education degree (GED) required
18 years of age or older"

Click here for full details and to apply. For more jobs like these, see our Daily Jobs & Gigs page. To be the first to hear about jobs like these, like our Facebook page and check your feed for our posts. May you be working from home soon!
PLEASE SHARE this post – turn your friends into Rat Race Rebels!