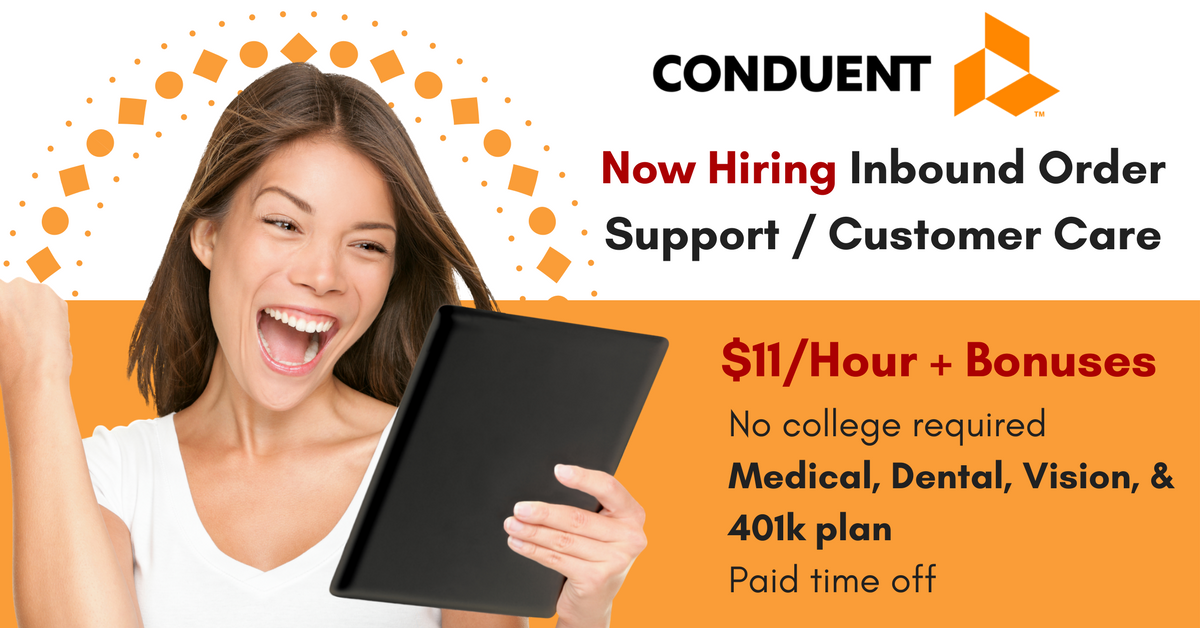 by Chris Durst     Mar. 5, 2018
Conduent is a $6 billion company that supports the world's largest brands!
The company is now hiring Work From Home Inbound Order Support/Customer Care reps in Alabama, Arizona, Arkansas, Colorado, Connecticut, Delaware, Idaho, Indiana, Iowa, Kansas, Kentucky, Louisiana, Maine, Michigan, Mississippi, Missouri, Montana, Nebraska, Nevada, New Hampshire, New Jersey, North Carolina, North Dakota, Ohio, Oklahoma, Pennsylvania, Rhode Island, South Carolina, South Dakota, Tennessee, Texas, Utah, Vermont, Virginia, West Virginia, Wisconsin, Wyoming.
BENEFITS include:
Full Time Employment
Medical, Dental, Vision, & 401k plans
Educational assistance
Paid Time Off
Fun working environment!
Company discounts! Local restaurants, gyms, cell phone service discounts, auto, travel, international theme parks and many more!
Here's that they have to say about this opportunity:
"As a Work At Home Call Center Representative you will support our customers as a first point of contact to provide solutions to their product needs/orders. We will rely on you to actively listen to our customers and use your love of retails sales, passion and creativity to meet their needs.
Requirements:
A customer service aptitude!
Are you able to handle customer inquiries and resolve customer issues?
Minimum 6 months experience interacting with customers in some capacity (via phone, chat, in person, etc.)
Have the discipline to work remotely and follow a set schedule
Are you available to work an 8-10hr shift between the hours of5am to 9pm PST/6am-10pm MST/ 7am-11pm CST/ 8am-12am EST including weekends and holidays while having the ability to adjust to a change in schedule based on business needs ?
Handle multiple computer applications at one time
Understand the concepts of navigation, search engines, downloading music, and other web based applications
Smartphone, tablet, operating systems, PC or Mac experience
Ability to attend approximately five to six weeks of required online/virtual training on a fixed schedule that may include nights or weekends
Ability to meet minimum typing speed of 20 WPM while talking to customers
Successful completion of pre-employment assessments and a background check
A quiet distraction free workspace that will allow you to meet our requirement of working independently without other parties being in the same workspace during your scheduled shift.
This position requires a non-digital landline, also known as POTS, Plain Old Telephone Service, please insure you have POTS or are able to obtain before making an application.
High Speed Internet Service (10 megabits download and 3 megabit upload)
High School Graduate or general education degree (GED) required
18 years of age or older
Click here for full details and to apply. For more jobs like these, see our Daily Jobs & Gigs page. To be the first to hear about jobs like these, like our Facebook page and check your feed for our posts. May you be working from home soon!
PLEASE SHARE this post – turn your friends into Rat Race Rebels!