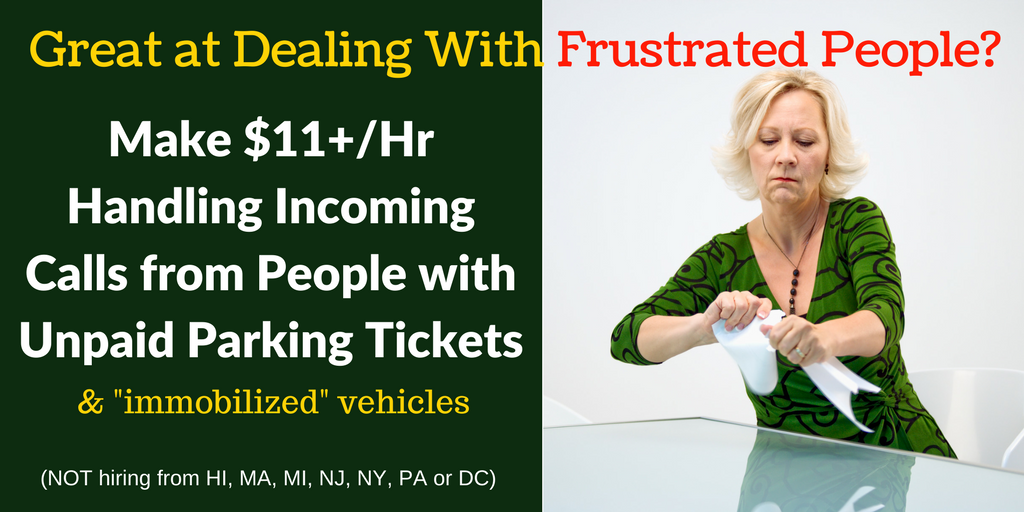 by Chris Durst     April 16, 2018
Work from Home Jobs – Customer Service – Part-Time – $11+/Hr.
Direct Interactions is hiring part-time Customer Service Representatives for Parking Information & Enforcement. In this role, you will be handling a high volume of incoming phone calls from motorists with unpaid parking tickets.
In the case of unpaid parking tickets the motorists' vehicle has been immobilized and they must contact the call center and pay to mobilize their vehicle. Agents on this program have the ability to remain calm, cool and collected in stressful situations while providing accurate information to upset callers. Agents must be able to handle and resolve customer complaints.
Note: According to their site, they are currently NOT hiring in HI, MA, MI, NJ, NY, PA or DC. If your state is on the list, please see our Daily Jobs & Gigs page for more jobs!
In their words:
Pay Rate: $11 per hour (Bilingual Spanish offers a pay rate of $12 per hour once certified on all cities Bilingual Russian $11 per hour.)  We promote from within- all supervisors and managers began in this Tier 1 role. Bonuses can exceed $1,000  per quarter(good attendance required) and are tracked real time in your agent dashboard. Earn an additional $1-2 per hour picking up "hot shifts" (Typically during busy business hours Monday-Thursday. Not always available)
Shifts: Program hours are currently 24 hours a day, 7 days per week. Agents must be available  30 hours each week  Monday through Friday between 4am and 7pm Pacific Time due to Client demand.. More availability is welcome and additional hours may be scheduled at the discretion of the Client Services Director. Actual hours scheduled will depend on client needs, agent performance and adherence to schedule.




Duties
Politely answering calls and processing payments
Quickly and accurately dispense information to motorists
Dispute resolution
Show empathy towards motorists
Inbound and outbound calls
Accurate and legible data entry
Be knowledgeable of HelpCenter policies and software- CRM, phone system etc.
Complete assigned tasks from supervisors and others
Additional duties not listed
Qualifications
Legally Able to work in the United States
High school diploma or GED required
Minimum of two years' experience working in a virtual, work at home call center required
Must be able to pass a criminal background check
At least 1 year experience in a high stress call center environment (brick and mortar or virtual). Examples include: Collections, 911 dispatch/operator, taking calls for fraud line, roadside assistance.





Please note that a landline phone is required.

Summary of Essential Skills

Excellent verbal communication skills including grammar and voice quality
Ability to remain poised under pressure for back to back calls
Ability to quickly establish rapport with customer, show empathy for their frustrations or concerns and resolve the issue in a timely fashion
Excellent customer service, interpersonal communication and active listening skills
Ability to show resilience and tolerance to stress
Treat all callers, technicians and coworkers in a professional manner at all times
Documentation, data entry, organization and problem solving skills are desirable
Ability to handle detailed work with a high degree of accuracy and speed
Computer literate and knowledgeable of e-mail and Microsoft Windows. Agents are responsible for maintaining and troubleshooting their own computers.
Ability to multi-task in a fast paced environment
Function comfortably in a performance based call center where calls are monitored, recorded and assessed





For more detail and to apply for the job, click here. For the company's FAQ page, click here. For more jobs like these, check our Newest Jobs & Gigs page. To be the first to hear about jobs like these, like our Facebook page and check your feed for our posts. May you be working from home soon!

PLEASE SHARE this post – turn your friends into Rat Race Rebels!