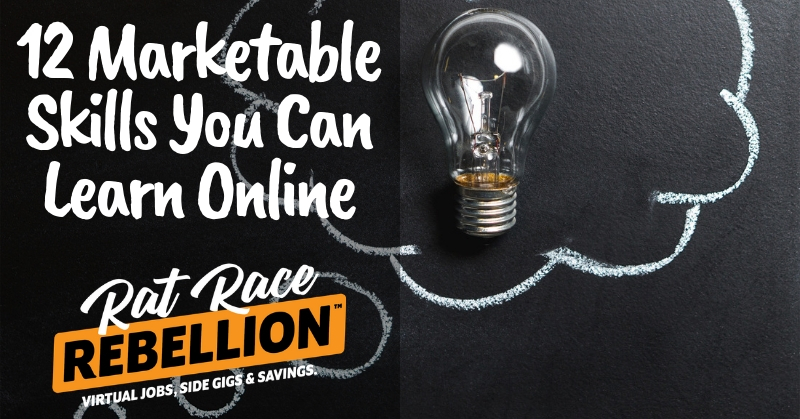 By Chani Osthoff, Assistant Editor, Rat Race Rebellion
If you're reading this, you already have what it takes to pick up a new skill and strengthen your resume: Internet access. There are a great many skills you can learn from the comfort of your home without taking out a student loan—it's just a matter of knowing which skills remote employers look for and where to learn more about them.
Since online research is kinda our thing at RRR, we decided to compile a list of desirable skills for remote employees as well as resources for learning them. (This post also contains screened affiliate links, which pay RRR a small fee if you use them. Helps us keep the computers running. Thanks!)
Accounting & Bookkeeping
Crunching numbers and tidying up the books are tedious tasks that your average entrepreneur doesn't have the time or energy to invest in, which is why they so often delegate it to others. If finance and numbers interest you, accounting and/or bookkeeping might be right up your alley. Some resources for learning that we recommend are:
Communication
Written communication skills are crucial if you plan on working from home. Since most of your contact with your employer (and customers, where applicable) will be through text, having proper etiquette and grammar is a real game-changer. If you find yourself anxious about the English tests that are quickly becoming commonplace in online applications, we recommend:
Content Writing & Editing
If you want to take the above a step further and make English your forte, writing and editing abilities are also in demand. Social media updates, newsletters, blog posts… those are the primary channels that brands use to communicate with their audience. Companies depend on them to convert readers into loyal customers. If this sounds like something you'd be interested in, we recommend:
Design
Graphics are arguably just as essential to a website's success as content. I don't know about you, but if I go to a website with decent information but a design that makes it difficult to read or navigate, I go elsewhere. What prevents a lot of people from delving into graphic design is the common misconception that it takes talent. But every artist I've ever spoken to attributes their success to practice and persistence. In any event, you don't need to be the next Picasso to craft high-quality images for basic online media, nor do you need to spend hundreds of dollars on a particular program. These are our recommendations:
Email Marketing
As we mentioned earlier, email marketing is an essential channel of online communication for brands. Of course, writing well is only a part of it. Most websites (ours included) use certain tools to organize their mailing lists, and to build and send their emails.
Keyboarding
This is another no-brainer, but it's important enough to mention anyway. A lot of remote employers expect their employees to be capable of typing quickly and accurately. Most commonly, jobs that include frequent typing require somewhere between 60-80 WPM. If you'll be dealing with long numbers—such as account or credit card numbers—being quick with your 10-key is crucial as well. To better your keyboarding skills, we recommend:
Office
Microsoft Office is perhaps the most popular suite of applications used by businesses. Most of the basics are taught in school these days, but some jobs require more advanced knowledge. Word, the word processing program, is fairly easy to master, but applications like Excel and PowerPoint are more involved. If you're looking to brush up your office skills, we recommend:
Programming
Like so many things, programming is not quite as exciting as it appears to be in the movies, but it can be a good fit for those who love logic and problem-solving. Others find writing, executing, and debugging lines of code frustrating and would rather pay others to do it. If you think you're up to the challenge of crafting high-quality computer gobbledygook, we recommend:
SEO
Search engine optimization (SEO) is the method for optimizing your website and improving its search engine rankings. There are guidelines that websites need to meet in order to show up in search engine results. Design and content are important, for sure, but neither will do a company much good if it can't draw visitors to its site in the first place. Being well-versed in the search engine rulebook is a great asset. To learn more about SEO, we recommend:
Social Media
If you think playing on social media for a living sounds like a pipe dream, think again. Just like SEO, social media is a tool that a lot of businesses use to get website traffic and promote their brands. Someone with a good knowledge of social media management and marketing is therefore a great investment for any company. While you may be comfortable Tweeting or sharing recipes on Pinterest, managing social media requires a deeper understanding of the popular platforms. If you're interested in tapping into that knowledge, we recommend:
Tech
This is yet another no-brainer, but (once again) it's too important to exclude. In addition to all the work-from-home Tech Support jobs available, businesses want remote employees, too, to know they'll be able to troubleshoot basic computer and networking problems independently. If your computer freezes up, your software generates an error, or your Internet goes down, the company is losing money for every minute it takes you to get things working again. Also, if they have some form of internal tech support, they want to know you won't be a frequent drain on it. This is why being computer-savvy is listed as a basic requirement for most remote positions, even ones that do not involve a lot of technical work. Becoming comfortable with computers and related tech doesn't happen overnight, of course, but if it's something you'd like to look into, we recommend:
WordPress
WordPress—once a simple blogging platform—has grown into the most popular content management system on the Web. So it's no surprise that people who know how to customize themes, install plugins, and organize content for WordPress-based websites are in demand. If you'd like a work-from-home job in this area, we recommend:
If there's anything you'd like to see added to this list, please let us know! We're always looking for ways to improve the resources we offer. Good luck in your next steps, and may you be working from home soon!
PLEASE SHARE this post – turn your friends into Rat Race Rebels!