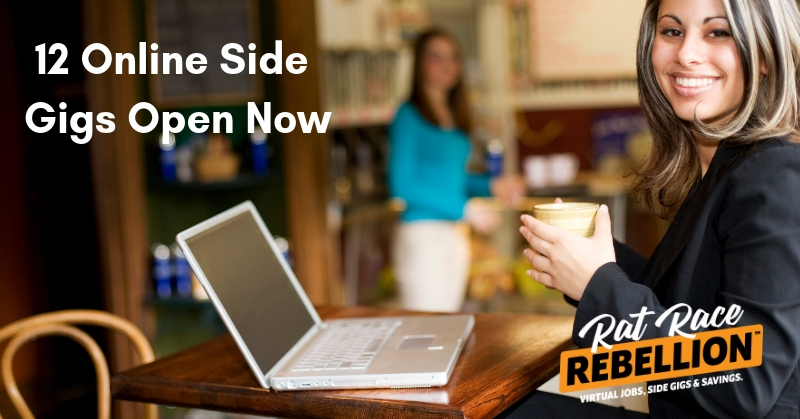 By Mike Haaren, Co-Founder Rat Race Rebellion
Side gigs can be a good option for extra cash and flexibility. If you're looking for something you can do online, there are plenty to choose from. Here are 12 open now. (Disclosure — The links below include affiliate links, which pay us a small commission if you use them. Helps us buy Cheez-Its for the rebellious rats here. Thank you!)
— Podcasters — Audience Ops: "Most episodes will be interview-based where you will interview a subject-matter expert, often the client or someone on their team. All podcasts will be business focused, in a variety of niches. You should be comfortable with diving into topics and subject matter that may be unfamiliar to you, but you can do light research to confidently host an on-air interview with a subject-matter expert…" Click here for details.
— Part-Time Tutors — Wyzant: "Millions of people visit Wyzant.com every month in search of private tutors. Having a profile on Wyzant makes it easy for students and parents to find and contact you through a trusted, secure marketplace. Additionally, Wyzant will notify you of new tutoring jobs in your area every day…" (No charge for registration.) Click here for more.
— Video Captioners (No experience necessary) — Rev hires part-time Captioners nationwide (except for CA and MA). Pay isn't high — when you start out, it can reportedly be less than minimum wage. On the flip side, you can work when you want, training is free, and you can gain experience for better-paying work later on. For more, click here.
— 
— Sell Your Smartphone Pix — If you take good vids or photos with your cell, Foap gives you a place to sell them. "When a brand, agency or just anyone who finds your work outstanding purchases a video or picture from your online Foap portfolio, we share the profit with you 50/50," Foap says. For more, click here.
— Get Paid for Your Sarcasm & Wit — If you're the one with the sarcastic comebacks or witty comments, Cracked, the humor magazine, offers payment for list-style articles. "26 Sexy Halloween Costumes That Shouldn't Exist" is an example on their site. They also pay for humorous sets of images. For details, click here.
— Get Paid to Take Surveys — Springboard America — This is one of our most popular survey sites. Pays up to $5 cash per survey. Also pays $2 per successful referral. Pays in points redeemable for PayPal cash (as mentioned in their Terms and Conditions). If you prefer, you can be paid in Visa cards or Amazon gift cards. Click here for more.
— Get Paid to Teach English Online to Children in China — If you've got a bachelor's degree in any field, and a year of teaching or mentoring experience, VIPKID is hiring people to teach online. Students are children in China who are learning English. Set your own hours, materials provided. According to their site, pay is $14-$22 per hour. They say the video interview is key, so be sure to prep. For more, click here.
— Get Paid Up to $50 to Download Nielsen's App — Nielsen (The TV/Radio ratings company) – "For each mobile device you register you will receive up to $50 a year," the company says. For consumer trend data, Nielsen will pay you to install an undetectable app on your smartphone, computer or tablet. The app follows your web use. Your name is separated from the data, and devices run as usual. User IDs and passwords are not collected, the company adds.
— Tutors — Varsity Tutors offers tutoring in hundreds of academic subjects and more than 50 test prep areas. Tutors are independent contractors. Per employee reviews, they earn an average of $19.93/hr. "Private tutoring sessions take place online, in the student's home, or at another location of the student's choosing. Instant online tutoring is also available through the Varsity Tutors platform in subjects like algebra, biology, calculus, the SAT, and more." For details, click here.
— 
— Get Paid to Chat with People Learning English (No experience necessary) – Cambly – If you speak fluent English, Cambly pays people to chat with English learners. You'll need a laptop or desktop with high-speed net. Pays $0.17 per talk minute ($10.20/hr.). Click here for more.
PLEASE SHARE this post – turn your friends into Rat Race Rebels!