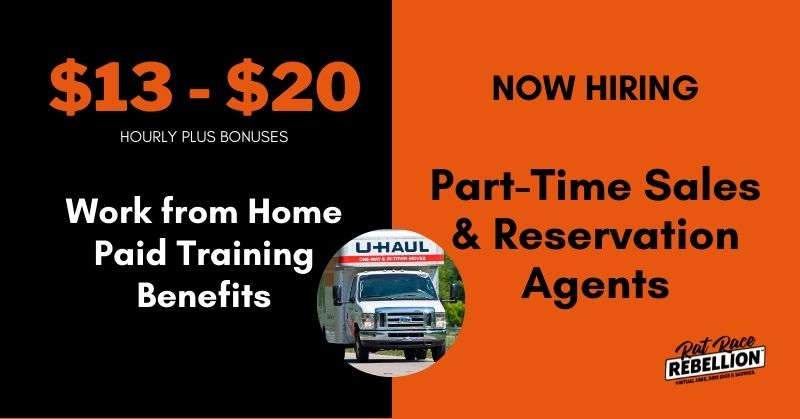 by Chris Durst        July 9, 2021
U-Haul has posted openings for work from home Part-Time Hitch Sales Agents.
Update July 11 – Looks like the openings have filled. Good luck to everyone who applied! For more jobs like these, see our Daily Jobs & Gigs page.
************
In this role, you will take incoming call from customers who have questions about rentals and reservations.
Benefits are available for part-time employees; paid training.
Regarding pay, the ad states, "Hourly base of $13.00 per hour, plus sales commissions. Potential to earn $17-20 per hour!"
Here's what the company has posted about this opportunity:
"If you are self-motivated and enjoy a fast-paced environment where you have the opportunity to learn and grow, then a job as a U-Haul Sales and Reservation Agent might be for you. Start helping customers as soon as the first week after self-paced and instructor-led education and participate in professional development with weekly coaching and ongoing education. This is a part-time position and is 100% work from home – perfect for students and teachers, or someone looking for a second job!
Sales and Reservation Agents take back-to-back, incoming calls from customers who need help with U-Haul products and services. Primary duties include:
Assisting customers with quoting rental rates, sales and earning new business.
Providing customer service to existing business, such as making changes to reservations, answering questions, helping with customer concerns, and taking storage payments.
Sales and Reservation Team members …
Follow specific methods and procedures while assisting the customer.
Master required scripts and customer advisements.
Provide excellent customer service.
Use good time management practices.
Work well with others and are a team player.
This job might be for you if:
You enjoy helping people and problem-solving.
You like a fast pace starting day one and staying busy every day.
You enjoy working closely with your manager and receiving daily feedback.
You are comfortable learning and using multiple computer programs.
U-Haul offers its Sales and Reservation Agents:
Hourly base of $13.00 per hour, plus sales commissions. Potential to earn $17-20 per hour!
Work from home Contact Center career path available
Opportunity for base pay merit increases based on performance
Part-time benefits include: Medical Reimbursement Indemnity Plan, Rx Savings Plus
Discount Plan, Dental Plan, Vision Plan, Retirement Savings 401(k) Plan
Minimum Qualifications:
Proficient keyboarding and computer skills.
Ability to navigate and use multiple computer programs at once.
Excellent verbal communication and listening skills.
Clear speaking voice.
General knowledge of U.S. geography.
Willingness to incorporate feedback to constantly improve performance.
You must have a quiet, private work area.
Ability to meet all technical requirements
Training and Education Explained:
Fast-paced, hands-on education working with your manager from day one.
Self-paced education at our very own U-Haul University online.
Learn and begin performing some of your job duties with customers the first week.
Build on your skill-set through on-the-job, continued education.
Begin performing additional job duties with the customer as you learn them.
Scheduling Requirements
Total number of hours scheduled each week will be based on business need.
Be available to work between 6 am – 6 pm (all in Arizona time).
We need you to work at least one weekend day per week for at least 6 hours. If you want to work both that's great!
Working holidays is required. We are open and customers need our help.
A note about how we schedule: Availability to work that aligns with the business need may increase the opportunity to be scheduled more hours. We pride ourselves on being flexible with schedules, especially for students and teachers. However, if availability to work does not align with the needs of the business the result may be less hours scheduled.
The following is required to work from home:
You must have a quiet, private work area.
Dependent and child-care arrangements must be made as if you were working at a U-Haul site.
All work duties including education must be performed at your home address.
If you want to switch or substitute computers at any time, manager approval is required in advance."
CLICK HERE for full details and to apply. To see more jobs like these, check our Newest Jobs & Gigs page. To be the first to hear about jobs like these, like our Facebook page and check your feed for our posts. May you be working from home soon!
PLEASE SHARE this post – turn your friends into Rat Race Rebels!