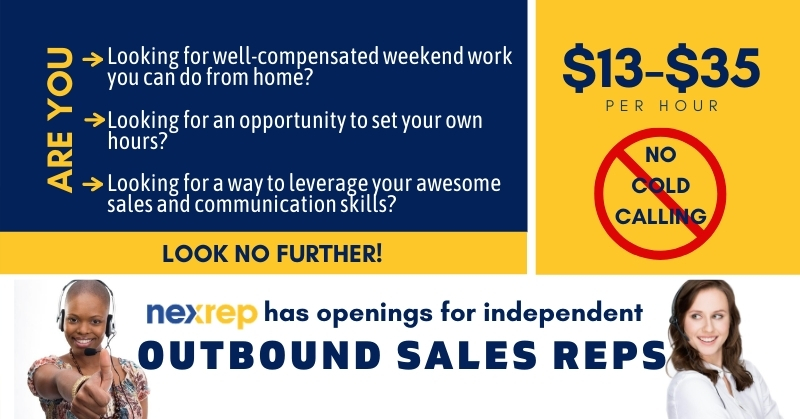 Sponsored Post by        Chris Durst Aug. 13, 2020
NexRep is in high-growth mode and they've brought many of our RRRebels on board already to help them address the needs of their new and existing clients. Nearly every day, we're receiving glowing success stories from happy new NexRep contractors.
The company just reached out to tell us they have a new opportunity for people who are amazing at Outbound Sales.
NO COLD CALLING!
The people you will be calling have already expressed in interest in the products (primarily include cookware, other household goods, and apparel), but changed their minds due to cost.
You are calling them back to offer a substantial discount and to close the sale.
It's pretty simple…
You'll follow a script.
You'll present offers as they come up in the script.
You'll enter data into the script as the customer gives it to you.
You'll answer the customer's questions, with most answers provided within the script.
You'll provide a scripted order summary.
And you'll submit the order.
That's all there is to it. Follow the script, bring a friendly voice, and you'll be successful.
This contractor opportunity is available to people looking exclusively for weekend hours and, in our conversation with the folks at NexRep, they shared that, "Outbound Sales is the highest earning potential opportunity we have, and weekend hours tend to be most lucrative. The majority of Outbound Sales Reps are making at least $13/hour, and top earners are making $30-$35/hour."
Remote & Flexible
The opportunity description on the NexRep site states:
You'll be talking with customers and making money from the comfort and safety of your own home.
Plus you'll enjoy flexible scheduling, where you use a self-scheduling platform to select when you work and when you don't. You'll have the freedom to schedule around your own needs, the needs of your family, and the important events in your life.
Hours of operation are 9:00 AM to 9:00 PM ET, Saturday and Sunday. You choose your own schedule within those hours of operation.
Certification
94% of independent contractors would recommend NexRep to their friends and family based on their certification experience.
Certification will take place within a live, instructor-led virtual classroom. You'll join other independent contractors for a fun, interactive, and informative certification experience.
Certification will run for four days, from 5:00 PM to 10:00 PM ET each day.
As with most Independent Contractor opportunities, you will need to complete a self-funded background check. (I'm not a tax professional, but I do know the fee for the background checks is deductible for contractors when you file your taxes! By the way, there are some great tax deductions available to contractors, so be sure to capitalize on them at the end of the year. – Chris)
PLEASE SHARE this post – turn your friends into Rat Race Rebels!