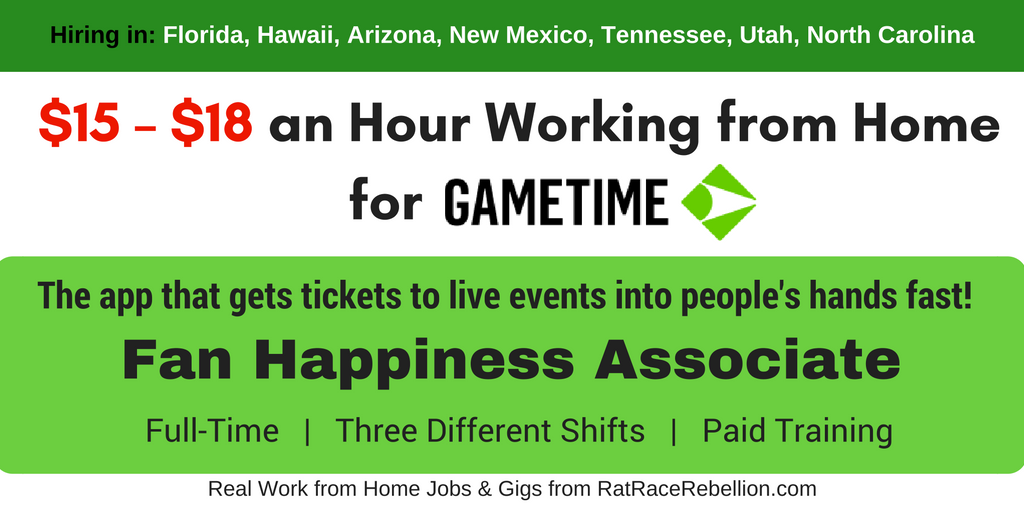 by Chris Durst    Oct. 21, 2016
Gametime helps people "Live it, Last Minute."
It's an app that gets tickets to live events into people's hands fast – no printing required. "Gametime makes finding the perfect live experience remarkably fast and easy (especially last minute). We curate an epic list of the most amazing possibilities your city has to offer. Once you select your event, we examine as many as 10,000 potential seats and present you with just the 50 best values – not an impossibly long list of choices."
The Opportunity At-a-Glance
Hiring in: Florida, Hawaii, Arizona, New Mexico, Tennessee, Utah, North Carolina

(NOT LIVING IN ONE OF THESE AREAS? PLEASE SHARE THIS POST WITH SOMEONE WHO IS!)

Paid training

$15/hour for English, $18/hour for Spanish-English bilingual

Full-time, 40 hours per week

Three different shifts available

The role begins on Monday January 23rd, 2017
The Company
Gametime is a well-funded company that's growing fast, so this is your chance to get in on the ground floor. In their own words:
"Our Goal…..Building the best last minute mobile experience for all live entertainment across the world. Gametime is deeply passionate about building a better mobile world for fans to get faster and easier access for live sports entertainment."

What you'll be doing:
"Our number one Core Value is "Deliver WOW Through Service," therefore, Fan Happiness is one of THE most important jobs at Gametime!  Our customers are amazing and you will be helping them during our busy entertainment calendar year season.
Answering incoming phone calls, emails and texts to assist customers with answering questions relating to the the app, placing new orders, processing returns, and getting customers into events.
Utilizing your super savvy techniques to search the inter-webs for items (think fan specific knowledge!)
Experience with Zendesk and/or other customer ticket systems preferred
Placing the occasional outgoing call to follow up on customer's questions
Providing above and beyond – WOW – service, while helping customers with their needs"
Click here to learn more and to apply.
PLEASE SHARE this post – turn your friends into Rat Race Rebels!