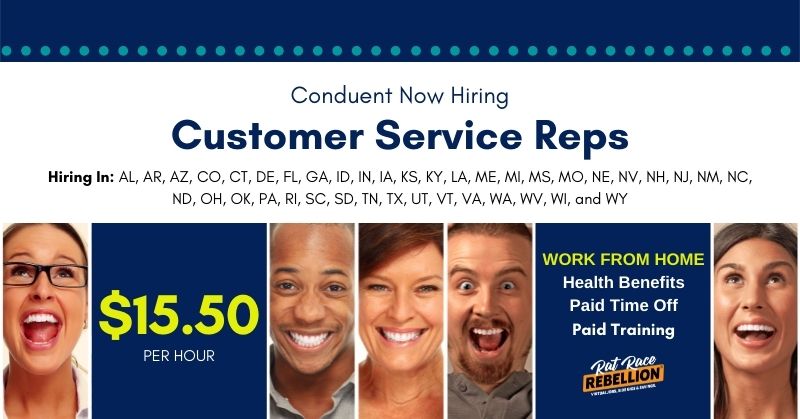 by Chris Durst       Jan. 10, 2022
You may have read our post last week about scammers who are pretending to be from Conduent. While you most definitely should not fall for that scam, the ACTUAL CONDUENT really is hiring people to work from home. Read on for more about these opportunities.
Conduent, the world's largest provider of business process services, is full-time work from home Customer Service Reps.
The company is hiring from AL, AR, AZ, CO, CT, DE, FL, GA, ID, IN, IA, KS, KY, LA, ME, MI, MS, MO, NE, NV, NH, NJ, NM, NC, ND, OH, OK, PA, RI, SC, SD, TN, TX, UT, VT, VA, WA, WV, WI, and WY.
Pay is $15.50 per hour and the job offers health Benefits for you and your family, including medical, dental, vision – starting day one.

Here's what the company has posted about this opportunity:
"About Conduent
Through our dedicated associates, Conduent delivers mission-critical services and solutions on behalf of Fortune 100 companies and over 500 governments – creating exceptional outcomes for our clients and the millions of people who count on them.
You have an opportunity to personally thrive, make a difference and be part of a culture where individuality is noticed and valued every day.
Job Description
Remote Customer Service Associate
Starting Pay at $15.50 per hour
Do you have experience in customer service?
Are you a great listener who is determined to create outstanding experiences for each customer you interact with?
Are you a problem solver who can patiently listen to, understand, and address complex customer issues?
Would you thrive working in the peace and quiet of your own home?
If you answered yes to the questions above, we want to hear from you! We are actively seeking full-time agents to work from home delivering excellent customer service for our clients.
In this role you will be assisting customers with their questions on their accounts and ensuring you resolve their issues in a compassionate and timely manner. You will be working independently from home and will be expected to collaborate with management and co-workers in a remote setting.
To be successful in this role, you should have excellent verbal and written communication skills, maintain the highest standards of quality, and guarantee customer satisfaction on every call. We provide your equipment for working from home and set you up for success with four weeks of paid training.
Call center hours are 9:00 AM/ EST until 9:00 PM/EST 7 days a week. A typical work week will be 8 hours a day, 5 days a week and will include Saturday.Usual work hours are 11:00 AM to 7:30 PM or 12:30 PM to 9:00 PM EST. Training is conducted Monday through Friday from 9:30am AM/EST until 6:00 PM/EST (4 weeks of training). Must have high speed Internet access to work from home and have open availability between 9:00 AM/EST-9:00 PM/EST.
Minimum Qualifications:
Be at least 18 years or older
100% attendance in the first 90 days
Have a High School Diploma, or equivalent
Be able to successfully pass a criminal background check
Have at least six months of customer service experience
Preferably, have previous Contact Center and/or work from home experience
Be able to work independently with discipline and motivation to succeed in a virtual environment
Have excellent English written and verbal communication skills
Be courteous and friendly with a high degree of professionalism
Live in one of the following states: AL, AR, AZ, CO, CT, DE, FL, GA, ID, IN, IA, KS, KY, LA, ME, MI, MS, MO, NE, NV, NH, NJ, NM, NC, ND, OH, OK, PA, RI, SC, SD, TN, TX, UT, VT, VA, WA, WV, WI, WY
In return we offer:
$15.50 per hour
Paid Time Off
Health Benefits for you and your family, including medical, dental, vision starting day one
Ability to develop your skills and grow your career
An opportunity to work for a company passionate about helping people
We are currently NOT hiring in the following geographies:
States:AK,CA, HI, MA, MT
Metro Areas: MN – Minneapolis, IL – Chicago, NY – New York City, OR – Portland, MD – Montgomery County, Seattle, WA"
CLICK HERE for full details and to apply. For more jobs like these, check our Newest Jobs & Gigs page. To be the first to hear about jobs like these, like our Facebook page. May you be working from home soon!
PLEASE SHARE this post – turn your friends into Rat Race Rebels!
[social_warfare]