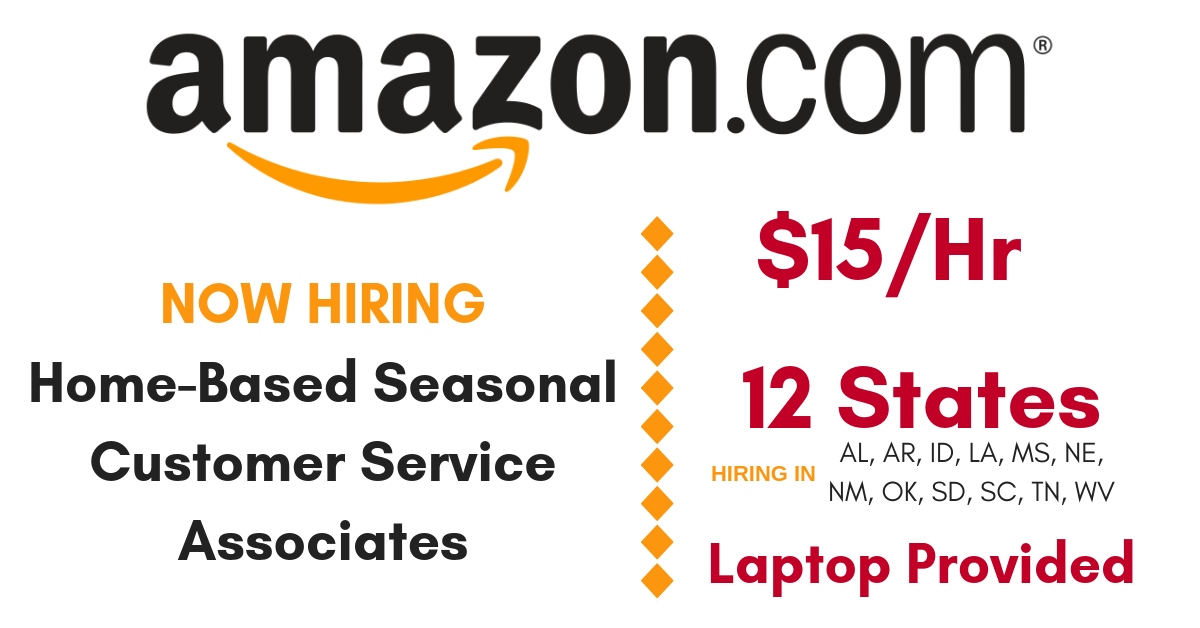 by Chris Durst     Oct. 9, 2018
UPDATE: 10/9/18  7:05pm – It appears that Amazon has received all of the applications they need at this time! Good luck to everyone who applied. We'll let you know when they start hiring again!
If you've been following the news, you may have heard that Amazon just raised their minimum wage to $15.
The company just posted openings for work from home Shipping and Delivery Support (SDS) Customer Service Associates and they are indeed offering that $15/hr. wage. Before, work from home Customer Service jobs were paying about $10-$12/hr.
To be considered, YOU MUST LIVE IN Alabama, Arkansas, Idaho, Louisiana, Mississippi, Nebraska, New Mexico, Oklahoma, South Dakota, South Carolina, Tennessee, or West Virginia.
Here's what the company has to say about these roles:
"Amazon is seeking articulate, strategic applicants with a desire to work directly with customers and drivers to make sure packages are delivered on time. Shipping and Delivery Support (SDS) is the heart of transportation across the Amazon Supply Chain network, supporting multiple regions such as US, CA, MX, UK, India, and many countries within EU. It ensures hassle-free, timely pick-up and delivery of freight from vendors to Amazon Fulfillment Centers (FC), carrier hubs, and customers. The SDS agent exemplifies the Amazon Customer Service goal to be Earth's most customer-centric company by solving driver and customer problems appearing throughout all delivery experiences. This unique role handles customer and driver contacts through different communication channels including phone, email, and chat. Demonstrated ownership, customer obsession, and concise oral and writing skills are crucial requirements for this role.
Scope of an SDS Agent
An SDS agent provides support to drivers on-road and customers receiving shipments handled by Amazon Logistics by researching and troubleshooting with internal tools. A successful candidate will be an excellent communicator and influencer with the ability to help our drivers exceed delivery expectations in a timely manner and handle customer inquiries with great accuracy. An SDS agent also facilitates the flow of information between different internal and external customers (Delivery Associates/Delivery Service Providers/Station Managers/Customer Service Associates/Amazon Logistic Customers) and quickly resolves any potential issues that may impact driver and customer delivery experience. Overall, SDS plays a critical role in ensuring the smooth functioning of Amazon Logistics transportation and thereby has a direct impact on Amazon's ability to serve its customers on time.
What is a Seasonal position in Virtual Customer Service?
Seasonal employees may remain with Amazon in a temporary capacity for up to nine months, or a shorter period of time depending on business need. There may also be opportunities for regular long-term employment based on business needs and performance. Virtual Customer Service (VCS) is open 24 hours per day, 7 days a week. Being able to work a full-time (40 hours per week) schedule that falls within our operating hours is required and expected. This particular role may require a schedule that includes daytime, evening, overnight, early morning, and/or weekend hours. Schedule flexibility will be required and expected for this position. There may be at times mandatory overtime, based on business needs. Associates may work up to, but no more than 60 hours a week. Working hours for all staff increase substantially during our Peak Seasons.[1] In order to support our customers, vacation requests are not granted during our Peak Seasons unless otherwise required by law. You may also be required to work any/all major holidays.
Associates utilize Amazon-provided laptops and headsets to manage their work, including scheduling shifts and taking customer contacts. Associates are measured on schedule adherence, contact quality, efficiency, and process compliance. Associates are required to communicate effectively, both written and verbally, as daily work is managed via phone, email, and/or chat.
Compensation
Except as otherwise required by law, this role pays $15.00 per hour nationwide. [1] Peak season includes mid-summer and November through January. May also include Peak Times such as Prime Day, Black Friday, holidays, etc.
Basic Requirements
In order for us to take your application into consideration, you must live in one of the following states: Alabama, Arkansas, Idaho, Louisiana, Mississippi, Nebraska, New Mexico, Oklahoma, South Dakota, South Carolina, Tennessee, West Virginia.
1+ year(s) in a call center environment dealing with customers.
High school diploma or equivalent.
Ability to support a full-time working schedule based on business needs that may change during the course of your seasonal assignment (Amazon customer service is open 24 hours a day, so your schedule options may include daytime, nighttime, overnight, and/or weekend hours).
You must indicate that you are available for a full-time schedule on your application in order to be considered for this position.
You must provide a quiet, distraction-free space in your home for work.
Fluent English language proficiency required.
Strong typing, phone, and computer navigation skills.
Internet-savvy with the ability to multitask on an Amazon-provided laptop using web browsers, internal resources, and chat tools.
Ability to participate and complete mandatory training (this schedule may be different from your production schedule upon hiring).
Capability to complete I-9 work authorization paperwork in person (requiring you to visit a location Amazon provides you in the pre-hire process.
Successful completion of a background check.
You must not be a current Amazon employee. If you are an internal application, please reach out to your HR representative to discuss transfer eligiblity.

Preferred
Bachelor's degree – Preferably in Engineering, Logistics/Supply Chain or Business Administration.
Action-oriented, flexible problem solver.
Strong judgment and ability to escalate issues as needed.
Ability to empathize with and prioritize customer needs.
Uphold company values and respect every customer.
Exude patience and ownership with each customer.
Ability to resolve conflicts and set appropriate expectations with customers.
Ability to determine customer needs and provide appropriate solutions.
Technical Requirements
Amazon will provide you with a laptop, headset, power supply, and gemalto security tokens.
You are required to use a reliable, wired Internet connection (WiFi prohibited).
Your internet speed must be at least 10mbps download and 5mbps upload."

Click here (link removed – Amazon has received enough applications) for full details and to apply. Employee reviews give Amazon 3.8 stars out of 5 on Glassdoor. For more jobs like these, see our Newest Jobs & Gigs page. To be the first to hear about jobs like these, like our Facebook page. Good luck in your work from home plans!
PLEASE SHARE this post – turn your friends into Rat Race Rebels!
[social_warfare]