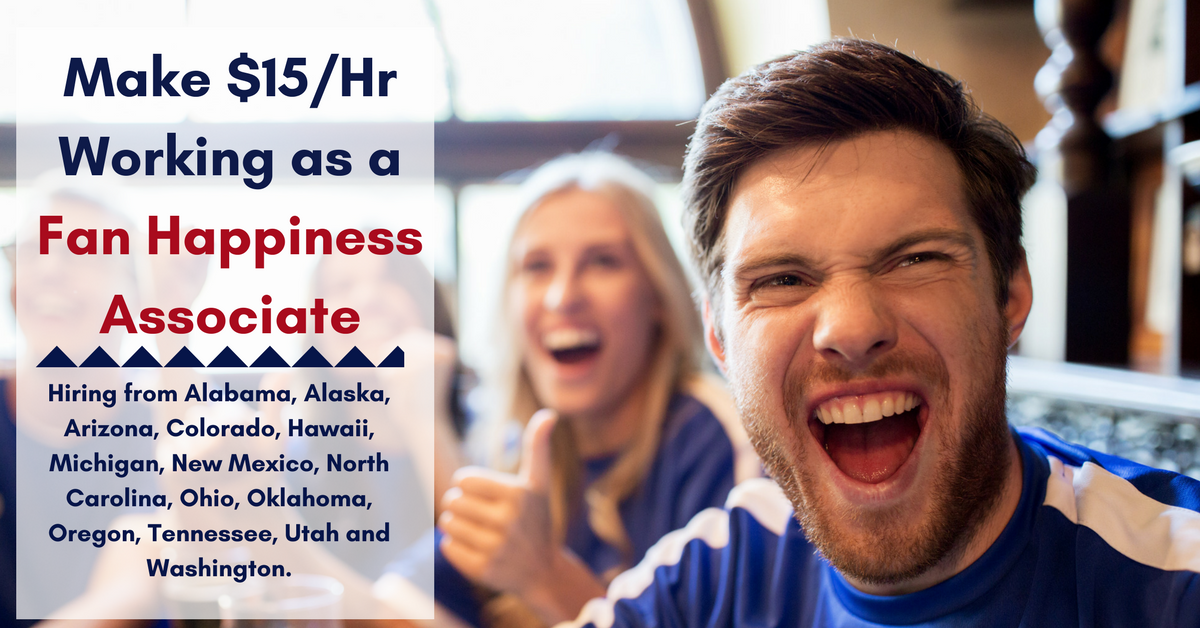 by Chris Durst       Mar. 6, 2018
We recently received an email from the Remote Team Manager for the Fan Happiness team at Gametime and they wanted us to let YOU know that THEY are hiring! Check it out and share it!
Hiring from Alabama, Alaska, Arizona, Colorado, Hawaii, Michigan, New Mexico, North Carolina, Ohio, Oklahoma, Oregon, Tennessee, Utah, and Washington.
In this role for Gametime — an app that lets people get tickets ASAP to live events — you'll be replying to incoming phone calls, emails and texts to help customers. Questions may involve placing new orders, processing returns, how the app works, and getting customers into events. You'll have two weeks of paid virtual training before you begin.
Here's how the company describes the role.
Our Goal: Bringing people together by building the best last-minute, mobile ticketing experience for live events. Gametime is deeply passionate about building a better mobile world for fans to get faster and easier access to live entertainment. Gametime believes that fast and easy access combined with going above and beyond for the fan creates a better world in live entertainment.
The Role: Requires unparalleled attention to detail, fast responses, and an upbeat can-do attitude. We're open 365 days a year. We are looking to hire people with previous work experience in a support role, preferably with a local sports team or mobile tech company. We really care about an ability to speak to sports and music fans confidently with over the top helpfulness.
What you'll be doing:
Fan Happiness is one of THE most important jobs at Gametime! Our customers are amazing and you will be helping them during our busy entertainment season
Answering incoming phone calls, emails and texts to assist customers with answering questions relating to the the app, placing new orders, processing returns, and getting customers into events
Utilizing your super savvy techniques to search the inter-webs for items (think fan specific knowledge!)
Experience with Zendesk and/or other customer ticket systems preferred
Placing the occasional outgoing call to follow up on customer's questions
Providing above and beyond – WOW – service, while helping customers with their needs
What you'll bring to the table:
2+ years of customer experience in a customer facing or support role with a true passion delivering the best in class service; experience in a remote role is a plus
Outstanding communication skills, both verbal and written
Ability to satisfy customer needs while adhering to internal company policies
Ninja like skills on the internet, ability to leap to multiple sites and tasks with lightning speed
You're resourceful; a self-motivator and a self-starter
You're a team player and collaborative
The flexibility of a professional athlete… when it comes to your availability to work that is. We are heading into the busiest time of the entertainment calendar year
A joy of creating a positive team culture via communication channels
Love of sports and music events! It's ok if you aren't a big sports buff but you gotta know how the experience works
College degree
Familiar with Windows
What you didn't know about the team:
This is a work from home role. Our remote associates work directly with the team at headquarters in San Francisco, California
Associates will have weekly 1:1s with the team manager that will allow time to ask questions around process, policy and performance
We use Slack (a web-based communication tool) to keep everyone on the same page
We are a hard working team that values efficiency, collaboration, transparency, and bringing people together
What can I expect?
The shifts are 8 hour shifts with a lunch break, so that is 40 hours a week. There may be opportunities for overtime
You will be working weekends and holidays. We do our best to keep shift schedules consistent but they are subject to change
There is one full week of training starting March 1, 2018 that will run Monday through Friday 9:00 am until 5:00 pm PST. You cannot miss any time during the first eight weeks.
The pay for this role is $15 hr. You will be eligible for benefits
We will be expanding this team throughout the year as we expand events, times and offerings within Gametime; when hiring we interview from this applicant pool
Click here for details and to apply. For more jobs like these, check our Newest Jobs & Gigs page. To be the first to hear about jobs like these, like our Facebook page. Good luck in your next steps toward working from home!
PLEASE SHARE this post – turn your friends into Rat Race Rebels!
[social_warfare]