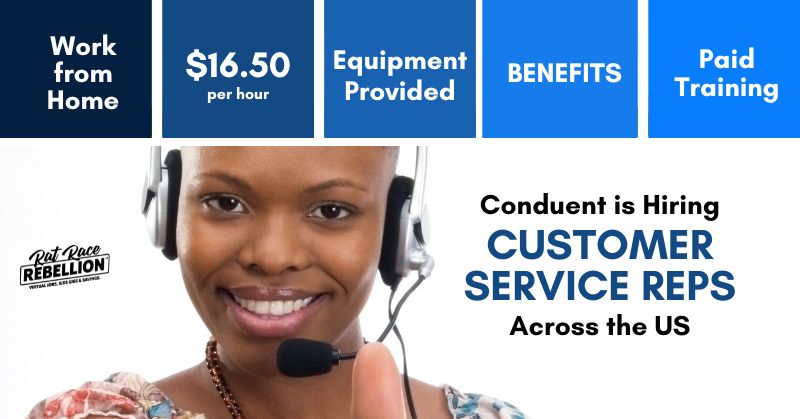 by Chris Durst      Aug. 15, 2022
Conduent, the world's largest provider of business process services, is hiring Work from Home Customer Reps for their retail client(s).
Starting pay is listed at $16.50 per hour, and the company offers benefits for you and your family, including medical, dental, and vision.
The company will provide you with a computer and equipment, but you must have a good high-speed internet connection.
Here's what the company has posted about this opportunity:
"About Conduent
Through our dedicated associates, Conduent delivers mission-critical services and solutions on behalf of Fortune 100 companies and over 500 governments – creating exceptional outcomes for our clients and the millions of people who count on them.
You have an opportunity to personally thrive, make a difference and be part of a culture where individuality is noticed and valued every day.
Job Description
Customer Representative – Retail
Work From Home
Starting pay rate is $16.50 an hour.
Training is Monday through Friday.
Work Shift will be assigned after training which may include a weekend day.
Plenty of growth opportunities within the financial service team!
Health benefits for you and your family including medical, dental, and vision.
Paid time off.
About the Customer Representative – Online and Software role:
As a member of the team, you will help people every day by taking calls, actively listening to understand customers' needs, and answering their questions. You will manage a high volume of incoming calls from customers while navigating through multiple systems.
Our call center associates are members of a supportive team. Your excellent customer service and communication skills will help us create positive experiences for our customers and clients. Your punctuality and dependability are key to our clients' success.
A few of the questions you may receive as a financial service call center representative are the following:
Can you support and assist me with navigating this specific software?
Would you be able to help enroll or change my course?
I need help with scheduling a tax prep appointment, can you help me?
Responsibilities of the role:
Client Software Support:
Support will include any Client Software related issue or question, from either Retail or Digital clients. Agents will use the provided knowledge base as well as tools and resources provided.
Advisors Support
Tax Prep Appointments – Setting up tax appointments for new and previous clients with tax professionals to prepare yearly taxes and any other tax related issues and questions. Includes digital and face-to-face appointment scheduling/support.
Phone Appointments (call back/voicemail) – clients request a call back or tax professional voicemail about tax concerns. Office Locator and Information –
Navigating the client through the office locator to be able to find an office within proximity of their location. This also includes information regarding the office.
Tax Refund Status – identifying tax refund status using to diagnose issues and to provide refund timeframes.
Income Tax Course Support
Income Tax Course features and benefits. Answers to frequently asked questions and instructions to enroll/complete inquiry form depending on the time of year.
Account navigation and support – creating account, transcript, launching courses, enrolling, etc.
Enroll/change/drop ITC course
Complaints pertaining to an ITC course – direct communication with field and deescalating client concerns
Troubleshooting during enrollment, assignments, testing, etc.
Duties
Executes routine inbound and outbound call center activities concerning the business products/services, using a standard script and established guidelines and under supervision, in order to meet Service Level of Agreements (SLAs).
Ascertains nature of the transaction/call and assesses whether it can be handled in place, needs to be transferred, or further follow-up is required, in order to provide client with appropriate resolution.
Provides customer with appropriate standard information requested.
Derives all necessary information from customer to update database.
Understands when to seek help and/or escalate to a more senior role.
Requirements
We're looking for people with a passion for helping others, natural empathy and the determination to deliver a comprehensive solution to these financial service related calls. Customer service experience is a plus, but not required. To be successful in this role, you will have:
At least one year experience with technical problem solving experience.
Ability to successfully complete virtual training class without missing a single day. 100% attendance is required for this position if offered.
Excellent communication skills.
Must type at least 35 wpm.
Keyboarding and software proficiency.
Great problem-solving skills.
Ability to effectively multi-task.
High school diploma, GED or college degree.
Successful completion of background check is required for this position.
Successful completion of room inspection.
Equipment and workspace requirements
We will provide you with a computer and equipment
You must have high-speed internet connection.
Must be able to hardwire your work computer directly to your home modem via ethernet
Must have a quiet workspace
Below is what you'll need to do to be considered for this position. It will take less than 20 minutes and includes everything required at this stage!
Apply to the role and provide your basic profile information (2 minutes)
Answer prescreen questions to be sure you meet the minimum requirements for the role (3 minutes)
Complete a typing test (2 minutes)
Take short assessment to determine your fit for the role and set everyone up for success (10 minutes)
For the typing test and assessment you will need to have access to a computer with a keyboard. If you do not have access to one at this moment, please complete the other steps and then find a local public computer to complete steps 3 and 4. You can access a computer with a keyboard a local coffee shops, library, shipping stores or just search for "public computers near me". Once you access to a computer, you can login to your account and complete the application process.
If you do not complete all the steps we will send you an email reminder. If you don't hear from us please check your spam folder for messages from the recruiting team."
CLICK HERE for full details and to apply. For more jobs like these, see our Daily Jobs & Gigs page. To be the first to hear about jobs like these, like our Facebook page and check your feed for our posts. May you be working from home soon!
PLEASE SHARE this post – turn your friends into Rat Race Rebels!
[social_warfare]