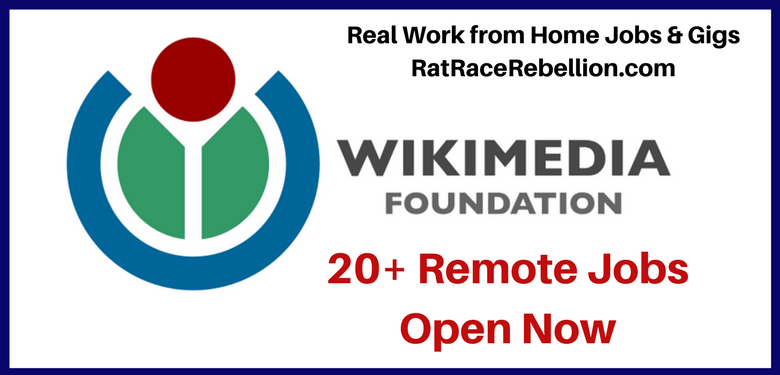 By Mike Haaren – Co-Founder – March 30, 2017
Work from Home Jobs – 20+ Open Now at The Wikimedia Foundation – Benefits
The Wikimedia Foundation, based in San Francisco, is the nonprofit organization that operates Wikipedia. It raised $77M in 2015-2016 – funding has increased each year since 2009 – with over 5M people making donations. Since it never hurts to know how a potential employer is doing financially, you can find more detail here.
The foundation regularly posts a variety of remote jobs. "Our team is widely distributed, so remote work and experience with remote teams is welcome," the foundation says. As we write, over 20 are open. Some come with benefits, including fully paid medical, dental and vision coverage. ("Benefits for eligible staff, and benefits may vary by location.")
Current openings include:
— Project Assistant (Strategy)
— Community Liaison
— Community Advocate
— Fundraising Email Associate
— Fundraising Donor Services Associate
— Fundraising Banner Designer
— Multiple Software Positions
— And more.
To go straight to the jobs, click here. Then just scroll down and check for "Remote" under job titles. (Don't filter using the drop-down menus, or you won't see all the remote jobs.) Employee reviews on Glassdoor give Wikimedia 3.4 stars out of 5. On Indeed it has insufficient reviews. For more work from home jobs and gigs, be sure to check our Newest Jobs & Gigs page, where we post new leads each morning except Sunday. Good luck!
PLEASE SHARE this post – turn your friends into Rat Race Rebels!