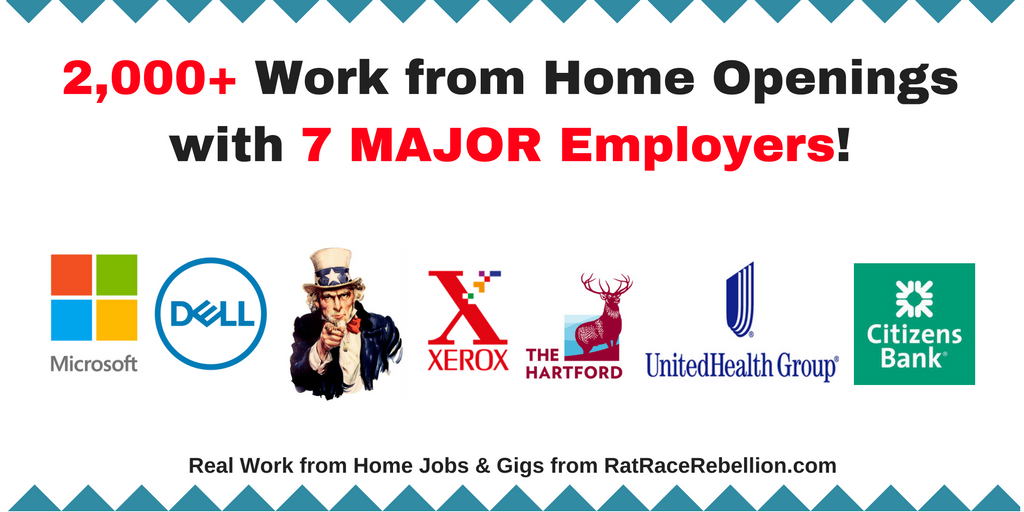 by Chris Durst          Dec. 19, 2016
While you may not recognize the name of every company that offers work from home jobs, many major companies hire thousands of home-based workers every year.
Following are just 7 of those companies who have over 2,000+ POSITIONS AVAILABLE RIGHT NOW!
Xerox – 179 virtual jobs open now
Xerox has a robust telework program and typically has hundreds of openings for virtual workers.
Positions are very diverse and include IT, management, client services, compliance and many more.
You can see their virtual opportunities here.
---
Citizens Bank – 63 work from home jobs open now
Citizens routinely lists 50-100 work at home jobs on their corporate hiring page.
Positions are primarily financial, including mortgage loan officers, sales managers, underwriters and other financial roles.
You can see their work at home jobs here.
---

UnitedHealth Group – 528 telecommuting jobs open now
Another major player in the work from home movement, UnitedHealth Group has a huge telecommuting workforce. Generally, they have upwards of 400 home-based positions posted to their job board.
While many of the positions are healthcare-related and may require an RN or other license, they have many non-medical positions as well. These include IT, analysts, management, financial, customer care, and many others.
You can see their current telecommute openings here.
---
Dell – 200+ remote jobs open now around the world
Dell is not new to telecommuting — they've had a rich work from home program for many years.
Their remote opportunities include IT, sales, consultants, engineers, managers, and many others.
To see the openings they currently have posted, click here.
---
Microsoft – 23 telework openings at this time
As they explain it, their managers "on a case-by-case basis to evaluate flexible work arrangements, including part-time, job-sharing, and telecommuting based on employee and business needs."
Currently, their site has over 100 jobs that indicate "This Job is eligible for the following work arrangements: TeleWork." Bear in mind, some positions are full-telecommute and will allow you to work from home all of the time. Others will be partial-telecommute (work from home some days, in the office on others), and will therefore require that you live in a particular location.
As you might expect, many of the positions are tech-related, but they also list sales and management positions. If you don't find the perfect job for you, share this post with a "techie" friend or family member who could benefit.
Click here to see the current telework job listings with Microsoft.

---
The Hartford – 100+ remote positions open now

The Hartford is a well-known investment and insurance company that's on the Fortune 500 company list. They've been hiring home-based employees for a while now, but we've seeing an increase in the number of remote positions in recent months so we're sharing their opportunities with you!
Their work from home jobs include Claims Reps, Executives, Underwriters, Attorneys, Consultants, Engineers, Adjusters, Managers, Developers, Case Managers and others.
To see their remote/work from home job openings click here, THEN look under the "Remoter Worker Option" column for "Yes."
---
US Federal Government – 1,000+ telework eligible jobs open now (full and partial telecommutes)
The federal government — like any other employer — has to compete to get good job applicants. As more and more companies let employees work from home, "Uncle Sam" has to do it, too. As the government's giant Office of Personnel Management (OPM) says, "Teleworking has never been more important."
To see their current telework jobs, click here.
PLEASE SHARE this post – turn your friends into Rat Race Rebels!