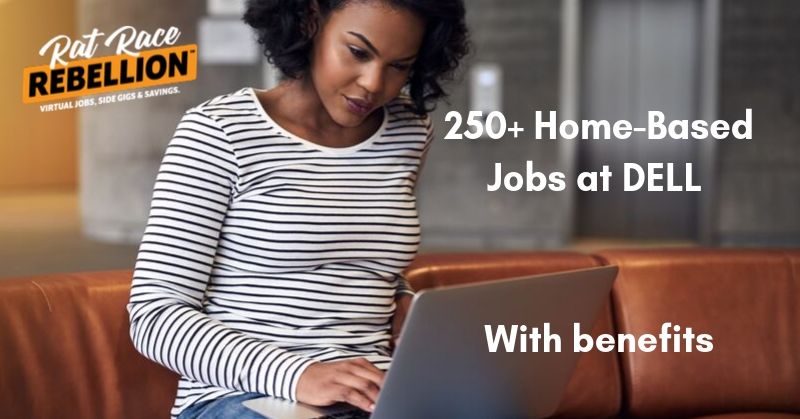 By Mike Haaren – Rat Race Rebellion Co-Founder – Sept. 18, 2019
Remote Jobs – 200+ at Dell Open Now, with Benefits
"Dell really wants you to work from home." — CNNMoney
If you're looking for a home-based job with a larger company, Dell's home-friendly policy might make it a good fit. "We're pushing a culture where your location simply doesn't matter anymore," said Dell's Global Director of HR, Mohammed Chahdi, in a CNNMoney interview. It's a few years old now, but still worth the read.
Dell has long been a leader in home-based jobs. Since the company sells laptops and other technology to enable remote work, it makes sense.
Dell's CEO Michael Dell has also said that he wants to see half of Dell's employees working from home by 2020.
Benefits
The company provides benefits, which depend on location. (Dell is international, so benefits vary.) For more on benefits, click here.




In addition to the work at home option for its jobs generally, Dell almost always has jobs open designated as "remote," with 250+ listed now. Roles include Executive Assistant; Specialist, HR Chat; Customer Support Manager; Product Specialist; Account Executive; Consultant; Software Developer and many more.
To see the "remote" jobs click here. For Dell jobs generally, click here (over 3,500 open). For more jobs like these, check our Newest Jobs & Gigs page. To be the first to hear about jobs like these, like our Facebook page. Our Facebook members also share tips on how they got hired and their experiences with the companies we cover. See you there!
PLEASE SHARE this post – turn your friends into Rat Race Rebels!