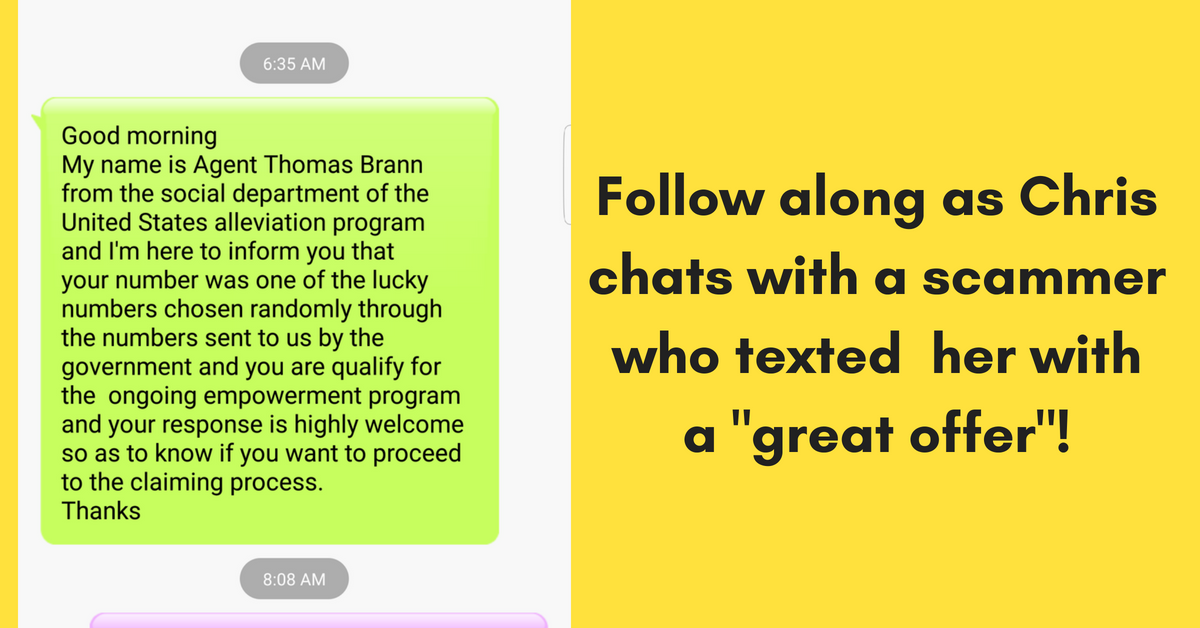 by Chris Durst     May 15, 2018
So, I woke up this morning to find a text message that hit my phone at 6:35 a.m. It was from "Agent Thomas Brann" from the "Social Administration of the Unites States Alleviation Program." [Um… no… there is no way a federal agency is texting people out of the blue to give them money. Especially not at 6:35 in the morning! An early time usually indicates the communication comes from outside of the US, in a country that's ahead of us on the clock.
Also, the "Social Administration" and "Alleviation Program"? How does that work? Do they lull you into a sense of false security through socialization and then alleviate you? Should I be afraid?!!]
If you've been following Rat Race Rebellion for a while, you KNOW I couldn't just leave this alone. I always like to lead these types on a bit. Feigning gratitude is always a good way to kick things off!
A tell-tale sign of a scammer texting you is "canned" language that posts faster than they could possibly text (or even speech-to-text) it. Also, as you'll see in the following screenshot, scammers often repeat a post verbatim in their haste to convince the recipient to move forward.
Oh, please excuse my "adult" language in this screen! I sometimes throw in an insult early in the conversation just to see how they react. Scammers cannot afford to be offended when there's still a chance to pull you into their scheme.
Ad: Get Paid to Watch Videos – MyPoints: Work from anywhere. Scroll down at site for details.
As you can see, he was not fazed by the name-calling and moved quickly to assure me he is not a scammer. [Because when a scammer tells you they are "not like others" who are we to question?]
So, I decide to press him a bit further. Just to see how far he's willing to go to prove he's legitimate…
Nice picture! It's been used hundreds of times on the internet by people trying to convince others to join in on get rich quick schemes. Usually, it's accompanied by hashtags like #DreamTeam, #lifestyle, #lovemyjob, #luxlive, #millionaires and others.
Ad: Video Watchers — $5 Signup Bonus – Swagbucks: Get cash for watching vids, or using Swagbucks' search engine (powered by Yahoo) for your searches, or taking surveys. One more legitimate extra-cash option.
By the time I respond, I've already researched the image and know it's bogus. I decide to draw him into another lie by asking which person he is in the photo.
He seems really confused about how their process actually works. The photo shows a stack of cash but, when I ask if they send cash he replies, "No we don't send cash."
I ask if they send a check, he replies, "We deal with cash."
As you can see below, it gets even more confusing…
I keep putting him through his paces. Making him "prove" he's real.
Now he's starting to press me to hurry. He wants the deal to be done. So, I give him a name – FAYE KINNITT [Fakin' it  😉 ].
Ad: Get Paid to Answer Simple Questions – Ipsos i-Say: Answer simple opinion questions for points redeemable for rewards like PayPal cash or a wide variety of gift cards. Another legitimate extra-income option.
I provide him with a fabricated address (which I double-checked to ensure there is no such address).
Then, I balked at the request for certain details.
And I give him an age of 74 [which I am not, but hope to have the good fortune to be some day!] I do this to see if there's any compassion for a senior citizen.
Then I tell him I'm not comfortable giving him all of the details and ask him to move on. [Since you can just do that with any government agency, right? "I'm not comfortable with my tax bill this year. Let's just move on, ok?"]
He easily moves past the mandatory details and gets on with the process.
Amazing how quickly this "Agent" vacated the policies, isn't it?!
And…
drum roll please… I "won" $100,000!! And all I have to do is pay the "case file fee" and I'll have my money in 14 hours!!
Where do I sign up?!!
And now we get down to the SCAM part of the equation. This scammer (and his fellow scammers, as they rarely work alone) are collecting money from people who think they have to pay a fee to get the money released.
So, in another "the government would never go for it" request, I tell him I can't pay the requested $850 and ask if they'll settle for $500.
Another scammer using money wiring services to get your money quickly.
[I mention the "elder bus" in another effort to appeal to his compassion but, it's non-existent.]
Ad: Get Paid Up to $50 to Download Nielsen's App – Nielsen (The TV/Radio ratings company) – "For each mobile device you register you will receive up to $50 a year," the company says. For consumer trend data, Nielsen will pay you to install an undetectable app on your smartphone, computer or tablet. The app follows your web use. Your name is separated from the data, and devices run as usual. User IDs and passwords are not collected, the company adds.
He sent me the name and address where I am supposed to wire the money to. It's a US location, so this tells me he either has a contact in the states or, more likely, he has another scam victim set up to pick up the money for him. That person will be instructed to keep a set amount for himself and forward the rest to him overseas.
And now, he essentially swears me to secrecy. Scammers know that, if you tell the wiring agent you're sending money to get money you "won" they'll spot it for a scam. Likewise, if you tell your friends and family, they will probably try to convince you it's a scam. They can't risk the loss.
I try to worry him by mentioning that it should be okay to mention it to the folks at Walmart. He shuts that down fast.
So, why shouldn't I tell anyone? Why because he is worried about their delivery person being attacked, of course! Duh! I should have figured that out!!
Naturally, I praise him for being a man of such high integrity and concern!
Ad: Drivers Needed, Almost Any Car OK – UberEats: If you've got a car and are looking for a side gig, UberEats pays people to deliver restaurant orders. Set your own hours. Hiring across the US…
Then, just for fun, I decide to tell him just how much I truly appreciate him!
Hysterical! LOL! What can I say – he's under my spell!! 😉  Pretty sure it's not a number associated with the scammers, so please don't start texting the number!!
Just too much fun to let it slide, so I keep riding on the Love Train! Oh, and notice my final point on this screen shot, "You can trust me as much as I can trust you."
We say our goodbyes and it's quiet for a while.
At 10:45 a.m. (remember, my elder bus is supposed to get me to Walmart at 11), my phone alerts me to a new text. My new love interest wants to make sure I'm on track for an on-time payment.
He's quite anxious to get the deal done.
Ad: Survey Takers – PineCone Research: Earn $3 per survey (15-20 mins., typically). This is one of our top survey site picks. They may also send you free products to test.
Keeping him on the ropes just a bit longer. I want him to know how carefully I am guarding our little secret…
He's clearly getting really agitated and impatient now. Almost time to put a fork in him!
LOVE that he is telling me to skip the line to hurry the process! 🙂
3… 2… 1…
COLORFUL LANGUAGE ALERT! Don't scroll down if "bad word" offend you. Just know that I let him know that I was onto him and had been playing with him, he sent me an "F" bomb, and I wished him a wonderful day! 🙂
For REAL work from home jobs check our Newest Jobs & Gigs page. To be the first to hear about jobs like these, like our Facebook page and check your feed for our posts. May you be working from home soon!
PLEASE SHARE this post – turn your friends into Rat Race Rebels!