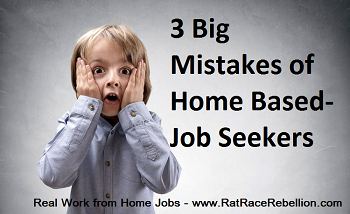 By Chris Durst
A wide range of people would love to work from home. Home-based moms, burnt-out commuters, "hip digitals," people with disabilities, boomers looking to supplement retirement funds — the list goes on. But we see the same job-hunting mistakes cropping up often.
Here are three of the most common errors that home based-job seekers make, and how to avoid them.
1. Not applying immediately to a job lead. Many people don't realize how quickly good work at home jobs get filled. When we started helping virtual job seekers in 1999, a job might stay open for weeks. There were so many scams that few people trusted WAH job leads anyway, and most job seekers didn't even know that legitimate home-based jobs existed.
Now, American Express regularly hires work at home Customer Care Representatives ("Customer Care Professionals") and virtual Travel Agents. The company even has a separate Virtual Careers category on its Careers page.
Apple hires work from home chat agents and phone-based customer service agents, aka At-Home Advisors. Hilton, Hyatt, Dyson, Xerox, Yelp, Amazon, U-Haul — these brands and many more hire home-based workers.
Meanwhile, millions of people are discovering that working from home now offers many more choices than "envelope stuffing" (always a scam), or just mystery shopping or typing. In fact, we've documented well over 100 work at home job titles, and new ones pop up all the time. ("Happiness Hero" is my favorite.)
Work at home job opportunities are also reposted and shared quickly via social media, text, WAH sites and forums, etc. So the number of job seekers who see the jobs has dramatically increased.
Result? When you see a virtual job you like, apply asap!
2. Taking it personally when employers don't reply. The days of courteous notes from HR on 20 lb. bond in creamy envelopes are way back there with big cars, healthy Elvis, and job security. Software rules. Software scans digital applications (yours) submitted in online forms. Companies are as lean as scarecrows on a diet, and time-starved employees are wearing 5,000 hats. Score another one for the rat race.
But don't let it demoralize you. Keep adding skills — you can take free courses online — and experience to your resume. Get an edge with our free Early-Bird Work from Home Job Updates. (Just text HOMEJOBS to 22828.) Apply to companies that fit your goals, even if they haven't advertised an opening. (Why? Most jobs, virtual or onsite, aren't advertised!)
3. Trusting ads that offer high pay for little work. Many job seekers see ads touting "Work at Home Data Entry — $300 for 15 minutes a day!" or "Be a Mystery Shopper — Make $1000 or More Shopping at Your Favorite Stores!" These are scams. (There are legitimate Data Entry jobs and Mystery Shopping jobs, but they don't pay big sums. Data entry usually pays minimum wage or less. Mystery shopping typically pays a few dollars per assignment, with reimbursement for money spent during the "shop.") So don't fall for the bait.
In other words, "If it looks too good to be true…" You know the rest.