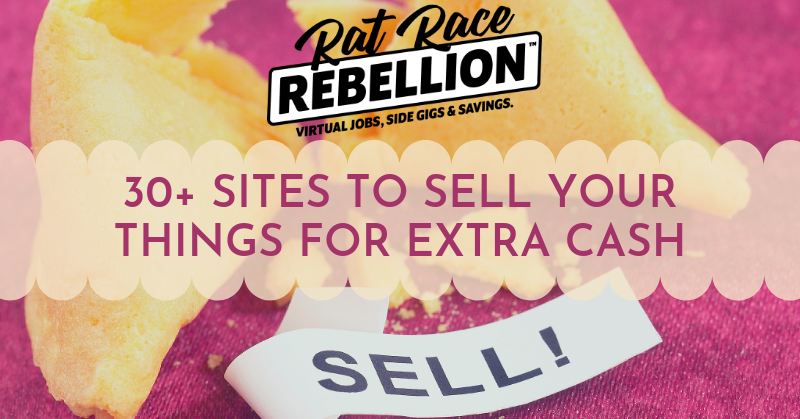 By Chani Osthoff, Assistant Editor, Rat Race Rebellion
If you're anything like me and missed Spring Cleaning by, well, an entire season, then this post is for you! Selling things you no longer want or use is a great way to rake in some extra money and clear out some space for shiny new things. It's easy, too, if you know where to go. We scoured the Internet for the best places to sell it all and dropped them in below. Then we decided to post this on a Friday preceding a long weekend, so you wouldn't have any excuses. Enjoy! (The links below include affiliate links, which help us keep the computers running. Thanks!)
Antiques
When you think of places you'd go to sell authentic vintage clothes and really old collectibles, you're probably picturing something like a shady pawn shop—with more dust. But the future is now, and now there are places for selling your old junk online. TIAS is "the largest 'fixed price' source of antiques and collectibles on the Internet."  It's free to create an account if you're just selling a handful of things, though they will take a commission from any sales you complete on their site. If you have a lot of things to sell, you can create a shop for $39.95/month.
Another option is Ruby Lane, though they're quite a bit pricier—their FAQ states that they charge $69/month minimum to open a shop there.
If you have antiques but aren't sure of their worth, there's a subreddit for that.
Apparel & Accessories
This is probably the one that most people have trouble with. Maybe you've been holding onto some of your old clothes for a friend. Maybe you plan to eventually get around to taking them to the community center. Until a few months ago, I was holding on to my pre-pregnancy jeans with the excuse that I would need them when I finally lost weight. My pregnancy was almost ten years ago now. Finally, I told myself it was time to drop the excuses. My compromise was that I would sign up at HealthyWage when I was finally ready to lose weight and buy a new "skinny wardrobe" with my earnings. I have now reclaimed 25% of my closet space. I'm only upset I didn't get rid of it all sooner!
There are quite a few places you can do this. The one I used was thredUP, which is essentially an online thrift shop for women and children's clothing and accessories. You can request a "clean out bag" to be shipped to you. Then fill up the bag with your clothes and send the bag back, free of charge. Once the items have been sold, they pay you a percentage based on the price it was sold for (there's a detailed chart in their website's FAQ).
Just Between Friends hosts large consignment events in big cities all over the US. Their focus is on children's clothing, but they also sell maternity clothes, infant care items, kid furnishings, toys, party supplies, arts & crafts, books, DVD's, video games, game consoles, strollers, car seats, and sporting goods. You have to show up in-person to drop your things off, so this is a great option if you have children who have recently hit a growth spurt. You can sell the clothes your littles have outgrown and purchase new ones all at the same place!
If you don't have a mass amount of apparel and accessories to get rid of, there is Tradesy. You can download their app, snap a photo of your item, tap in a description, and put it up for sale all in minutes. They take a 19.8% commission on sales over $50.
If your items are from a high-end brand, they might sell faster on a site specifically geared toward selling luxury apparel. Bag Borrow or Steal is a great place to list your designer handbags. For clothes and other accessories, LePrix, Poshmark, and Luxury Garage Sale are all great options.
If you have a wedding dress to sell, there is a variety of places to choose from.
PreOwnedWeddingDresses has been around since 2004 and boasts the largest selection of them all. They also allow you to post bridesmaid, mother-of-the-bride, and flower girl dresses for sale. Instead of a commission, they charge a flat $25 fee for each wedding dress you sell through them and $5 for any other dress.
Stillwhite specifically sells wedding dresses. They also charge a flat fee rather than a commission: $20 for a regular listing or $30 for added exposure.
Nearly Newlywed sells wedding dresses and engagement rings. For dresses, you pay a $25 listing fee as well as 40% of the sale. In exchange, they handle customer service, promotion, payments, insurance, and shipping. They also offer highly discounted cleaning services for dress listers!
Books
Bookworms and former college students, this one's for you! If you have some books that are functioning more as bookends these days, here are a few places to sell them:
Cash4Books is my personal favorite; they specialize in used college textbooks. For one, you don't have to figure out commissions or fees—you enter the ISBN on their site and Cash4Books will tell you what they will pay you for it, period. Then you ship it to them with a free shipping label. They pay you once it's received and processed (13 days on average). They have an app, too.
If your books are in demand at Powell's Books, they will pay you via credit to be used for on-site purchases or a reduced amount sent to Paypal. They require a minimum of seven books or $8.99 worth of credit to be sent in at one time. Like Cash4Books, they will cover shipping and there are no extra fees to worry about. Powell's is a solid alternative for selling used books.
BookScouter specializes in connecting excellent-quality textbook sellers with interested buyers. Each buyer has their own feedback rating and set prices, so you can use those to sell confidently.
Gift Cards
Prior to Rat Race Rebellion, I worked a 9-5 desk job at a company that just loved to hand out gift cards as rewards for performance. I'm a thrifty gal, so this was exciting at first. Then I realized that the gift cards were for places a hundred miles away or that I had no interest in visiting. Like an idiot, I must have given away or tossed over $200 worth of gift cards in my time there. Don't make my mistake! There are places that will buy your gift cards… not for the full credit, of course, but something is so much better than nothing.
Gift Card Granny has our heart here, and not just because of the cute name. On their page for selling gift cards, all you have to do is enter the vendor name and the gift card balance. Gift Card Granny will return offers from several different online gift card buyers, saving you the trouble of searching through all their sites individually. The results will show you the amount they're offering as well as the payment method. Also, if you're looking to buy gift cards, Gift Card Granny offers frequent savings on their deals page. Aren't grandmas just the best?
One online gift card purchaser I didn't see on Gift Card Granny's results was CardCash, despite their having one of the highest rates on the three gift cards I tested. If you want to make sure you're getting the best bang for your gift buck, check there as well!
Hair
No, that's not a typo. People buy hair online. It's a thing, okay? The pay you'll get for your luscious locks depends on how many inches, the color of your hair, whether it's "virgin" (untreated and natural) or not, how healthy it is, and a couple of other factors. Hairsellon is the resource for this sort of thing. They even have a handy "hair price calculator" on their site to help you figure out how much your hair is worth. Maybe it's time for a trim?
Tech
Considering we live in a tech-centric world, it's no real shock that there is a myriad of sites out there for buying and selling used tech. We advise you to sell your unwanted devices now rather than later, as tech tends to age pretty quickly. After a bit of digging, here are the sites we recommend for selling your gadgets:
SellCell is first up since it's a listing site rather than a buyer. Go there, enter in the device you want to sell, and it will display what sites you can sell it to and for what price. They support their best-price guarantee by saying they will pay you double the difference if you discover a better price elsewhere within 24 hours.
Although Gazelle only seems to buy more recent models of electronics, they have the benefit of allowing you to drop your device off at one of their kiosks for instant cash. I took a quick glimpse at their map not expecting to see any near me, as I live in a pretty rural area. But I was pleasantly surprised to find over ten of them in the nearby city I do all my shopping in.
A lot of people are moving to cloud-based services like Amazon and Google for their movies and music, but it seems there are still plenty of people buying the hardware out there. If you've gone digital, SecondSpin will buy your working CDs, DVDs, and Blu-ray discs.
Swappa will purchase a wide variety of gizmos that many of the other sites will not, like cameras, watches, and home tech.
YouRenew buys and sells used smartphones. What makes them unique is their claim that they will pay you even if your device isn't worth anything. If you have a badly damaged or really old phone, they say they will still pay you to send it in for recycling using their free shipping label.
Finally, if you're feeling generous, ExchangeMyPhone gives you the option to donate your smartphone earnings to one of several charities.
Everything Else
Whatever you're trying to sell, chances are that it can be sold on eBay. They allow you to list up to 50 items per month with no fees, but they do take a small commission when an item sells. You will have to manage the shipping and handling yourself, but you'll be selling to an audience of over 170 million buyers. You get to decide whether you want to auction your items off to the highest bidder, set a "Buy It Now" price, or both.
Listia is an interesting alternative to eBay. On their site you sell items for a currency called XNK. You can then use that currency to purchase other items on the site, though some of them will require you to pay for shipping and handling on top of their XNK price. You can also earn this currency by inviting your family and friends to use the app!
If you're looking to sell locally and avoid shipping altogether, LetGo offers you a place to do just that. Their website and app are both really popular tools for people looking to buy and sell all manner of things to others nearby. It's free—no fees or commissions—but you will have to meet with your buyers in-person. We strongly recommend you always do this in a public and busy place, just to be safe!
Get to Selling!
It is our sincerest hope that you can now confidently go about selling your things to earn a little spare cash. If you do, we'd love to hear your results. You can send us an email or tag us on Instagram @therealratracerebellion.
For more ways to make extra cash, see our Daily Jobs & Gigs page. To be the first to hear about options like these, like our Facebook page and check your feed for our posts. Good luck in your next steps!
PLEASE SHARE this post – turn your friends into Rat Race Rebels!