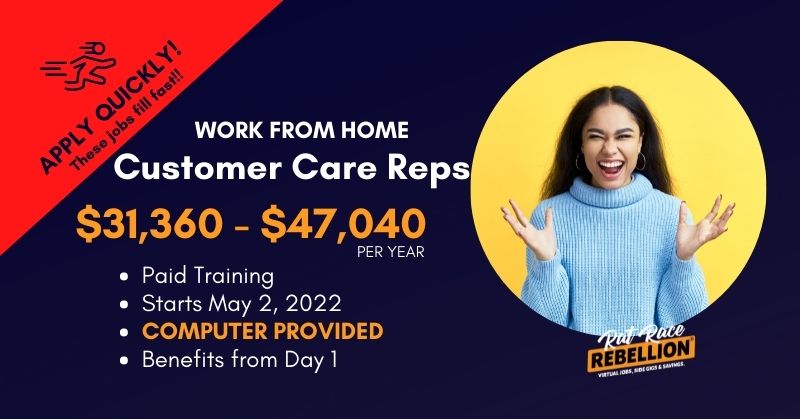 by Chris Durst       Mar. 10, 2022
UPDATE! As noted, these jobs fill quickly and the company has now received all of the applications it needs for these openings. Good luck to all who applied!
Please Note — The last time we posted this job it filled quickly, so apply or share ASAP if interested.
The Hartford has posted NEW openings for Remote Call Center Customer Service positions.
Start Date: May 2, 2022
No college required.
EQUIPMENT PROVIDED.
The annualized base pay range for this role is: $31,360 – $47,040
As with many insurance companies, The Hartford also offers comprehensive benefits.
No state limitations are noted in the ad, however, their previous listing indicated there may be some restrictions.
Here's what the company has posted about this opportunity:
"You are a driven and motivated problem solver ready to pursue meaningful work. You strive to make an impact every day & not only at work, but in your personal life and community too. If that sounds like you, then you've landed in the right place.
Role Summary: Answer inquiries from existing customers and clients and other affiliated partners regarding insurance questions or problems you will handle a variety of inbound telephone calls supporting AARP Personal lines auto insurance. No selling involved and you will receive ongoing training and support as you build your career at The Hartford. ​
Start Date: May 2nd, 2022
Training Hours: Monday – Friday 10:30am – 7:00pm EST (8 weeks with no time off)
Post Training Hours: Monday – Friday 12:30pm – 9:00pm EST and Every Other Saturday 9:30am – 6:00pm EST
After training, when working every other Saturday, employees will receive Thursday off during those weeks
​​This role could be a good fit if you:​
Enjoy helping customers over the phone​
Have the ability to learn insurance product and processes in a remote training environment​
Thrive in a fast-paced work environment​
Are able to commit to the training and work schedule​
Have a dedicated workspace free from distractions during work and training hours​

The Hartford could be good fit if you if you value organizations that:​
Embrace differences by inspiring inclusion and investing in people​
Encourage people to share their experiences and ideas while building stronger relationships with one another through Employee Resource Groups including virtual chapters.​
Commit to mitigating climate change, conserving natural resources and taking steps to reduce carbon footprint each year.​
Positively impact the lives of 10 million people by year-end 2022 by encouraging our workforce to invest their time, talent, and generosity in the communities they live and work in.​
Place ethics & integrity above all else; doing the right thing every day​
Reward performance and develop leaders to engage, coach and support staff by utilizing well defined learning and development.
How We Focus on Your Wellbeing:​
This is a work from home position providing you with the opportunity to balance a fulfilling work and personal life​
Medical, Dental, Vision, Life and Disability Insurance. Effective day 1. ​
19 days paid time off in your first full year and Paid holidays.​
Tuition reimbursement – up to $5,250 (undergraduate) and $6,000 (graduate) for tuition and registration fees for degree programs that support your career development (subject to additional requirements).​
Student Loan Paydown Program – eligible to participate after 6 months of service. The Hartford will make a direct contribution of $125 per month – with a lifetime maximum up to $10,000 – as a supplemental payment towards your student loan in order to help you manage the stress of student debt and help you pay down your student loan faster.​
Paid volunteer opportunities​
Click on this link to learn more about our comprehensive benefits package and award-winning well-being program: https://www.thehartford.com/careers/benefits ​
You'll benefit from this experience by:​
Working in a high-performance culture – where people are inspired and enabled to be and do their best​
Embarking on a career with an organization committed to supporting the growth and development of our employees, our greatest asset​
Partaking in 8 weeks of paid training
You need to have:​
Two years of relevant work experience in service related industry ​
Ability to work in a fast-paced environment while navigating multiple programs and effectively use on-line resources​
Excellent verbal, written and interpersonal communication skills​
Proven problem-solving skills​
For full-time, remote positions: (1) high speed broadband internet service is required, we do not recommend or support DSL, wireless, Mifi, Hotspots, Fiber without a modem and Satellite; (2) Internet provider supplied modem/router/gateway is hardwired to the Hartford issued computer with an ethernet cable; and (3) minimum upload/download speeds of 5Mbps/30Mbps will be required. To confirm whether your Internet system has sufficient speeds, please visit:http://www.speedtest.net from your personal computer. ​
We also prefer but do not require:​
Remote work experience
Office experience​
Spanish-English bilingual a plus
Once you have applied to this position, the next step in the process will be for you to complete an online assessment to assess your skills against the job requirements. This assessment is just one part of the selection process and measures some of the key competencies that are critical for successful performance on the job.
Compensation
The listed annualized base pay range is primarily based on analysis of similar positions in the external market. Actual base pay could vary and may be above or below the listed range based on factors including but not limited to performance, proficiency and demonstration of competencies required for the role. The base pay is just one component of The Hartford's total compensation package for employees. Other rewards may include short-term or annual bonuses, long-term incentives, and on-the-spot recognition. The annualized base pay range for this role is:
$31,360 – $47,040
Benefits
Our company's success is due to our employees' dedication and passion for their work. They are our greatest asset. That's why we are committed to offering employees and their families a comprehensive benefits package and award-winning well-being programs. By helping our employees achieve their full potential, we unlock our own. Visit https://www.thehartford.com/careers/benefits for details."
CLICK HERE for full details and to apply. For more jobs like these, check our Newest Jobs & Gigs page. To be the first to hear about jobs like these, like our Facebook page and check your feed for our posts. May you be working from home soon!
PLEASE SHARE this post – turn your friends into Rat Race Rebels!
[social_warfare]