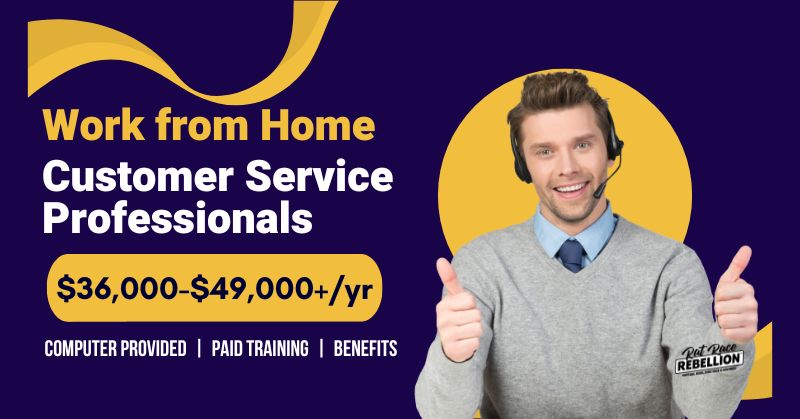 by Chris Durst       Oct. 21, 2022
Prudential, the insurance company, continues to recruit nationwide for work from home Customer Service Professionals for their Servicemembers' Group Life Insurance program.
Update – Looks like the company has received all the applications it needed and has deleted the job listing. Good luck to everyone who applied! For more jobs like these, see our Daily Jobs and Gigs page.
**************
While they are hiring nationally, the company has only posted the pay rate for Colorado. That rate is "$36,600 – $49,700 + discretionary incentive bonus + benefits." The rate may vary from state to state, but this will give you a rough estimate of the range.
No state hiring restrictions mentioned. It appears that the company will be providing a computer.
Paid training is also included with the job.
Cell phone or landline OK. College isn't required.
Here's what the company has posted about the openings:
The Office of Servicemembers' Group Life Insurance (OSGLI) administers the Servicemembers' Group Life Insurance program (SGLI). SGLI offers life insurance products to active-duty service members, Veterans, and their families. Prudential has been aiding our service members since 1965.
Prudential is interviewing for the Office of Servicemembers' Group Life Insurance (OSGLI) Customer Service Center, which handles all correspondence and phone calls to and from service members, veterans, and their families. This position is accountable for explaining benefit coverage, documenting, and investigating complaints.
Prudential has been ranked by G.I. Jobs Magazine as a "Top 100 Military Friendly Employer" and we encourage veterans to apply.
Essential Job Functions:
Provide information to policy holders, parents, spouses, and beneficiaries
Receive, evaluate, and answer customer inquiries which are predominately routine but may require deviation from standard screens, scripts, and procedures
Use computerized system for tracking, information gathering, providing information, referrals, routine transactions and/or troubleshooting
Answer product, account, policy, and service inquiries, resolve problems, and promote products and services by responding verbally and/or in writing
Assess needs and suggest/promote alternative products or services
Handle most calls and transactions independently, escalate calls properly when appropriate
Practical assimilation of Prudential's Leadership Competencies
Qualifications
1-3 years of directly related customer service experience and well-developed transaction processing experience
College degree or equivalent business/military experience preferred
Strong people skills with an ability to think like the customer
A passion for delivering top quality service
Proven record of dependability, punctual and reliable attendance is critical to the success of a fast moving, inbound service center
Ability to learn and retain a significant amount of technical information in a relatively short period of time
Receptivity to detailed performance feedback
Proficiency with a keyboard and window-based applications, including Internet
Proven self-motivation skills
Active listening skills
Excellent oral and written communication skills
Ability to excel in a team environment, as well as work well independently
Excellent organization and prioritization skills
Ability to work from home when needed. Upon the successful completion of training and meeting all operational metrics, an alternate work schedule is possible allowing work from home. Associates are expected to have the technology and resources available at home to be able to perform all the functions of their job when the business requires them to work from home.
Please note: training will typically fall between the hours of 9:00am – 5:00pm Eastern Time, Monday – Friday; however, the OSGLI Customer Service Center is open from 8:00am to 5:00pm Eastern Time, Monday – Friday. To be considered, candidates must have the flexibility to be able to work either of the two shifts (7:50am – 3:50pm or 9am – 5:00pm Eastern Time) within those hours. Actual shift assignments will not be determined prior to hire. Over-time may be mandatory during peak times.
The OSGLI department is located at Prudential's office in Newark, NJ. However, this position will work virtually, therefore new hires must be able to provide the following:
High speed internet service must be available in your area. You must be willing to troubleshoot any issues or outages with your home internet service, contacting your service provider as necessary. The internet service cannot be wireless, and the internet speed requirement is: 3.0 mg downstream and 768k upstream.
Must have the capability to handle calls with a cell phone (would need to have unlimited data and minutes) or a landline. You will be logging into Avaya therefore your personal phone number will not be identified to customers.
Quiet area in your home with minimal distractions and noise free.
*Note: Prudential is required by Colorado law to include the salary range for this role when hiring a Colorado resident.
Salary range specific to Colorado: $36,600 – $49,700 + discretionary incentive bonus + benefits. Eligibility to participate in a discretionary annual incentive program is subject to the rules governing the program, whereby an award, if any, depends on various factors including, without limitation, individual and organizational performance. In addition, employees are eligible for standard benefits package including paid time off, medical, dental and retirement.

CLICK HERE for full details and to apply. For more jobs like these, check our Newest Jobs & Gigs page. To be the first to hear about jobs like these, like our Facebook page. Good luck in your work from home plans!
PLEASE SHARE this post – turn your friends into Rat Race Rebels!
[social_warfare]