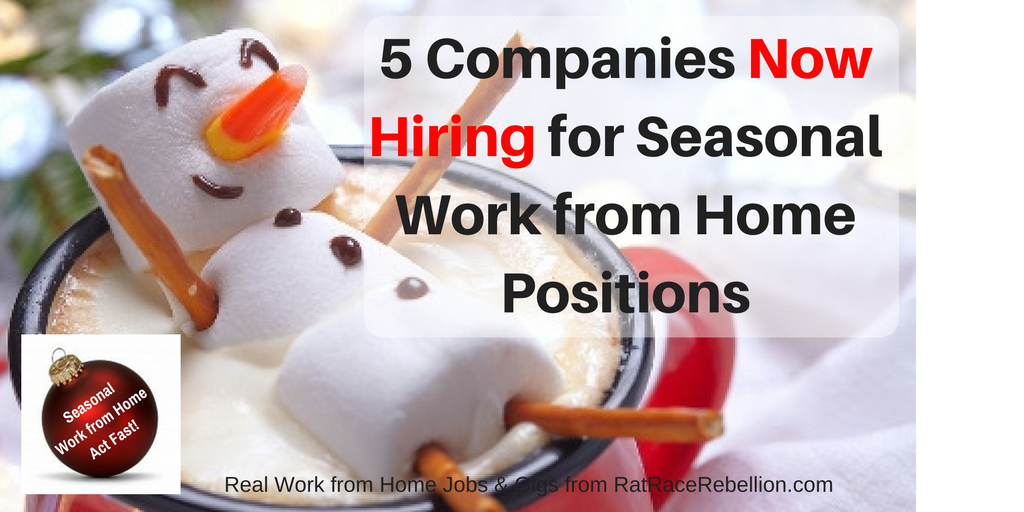 by Chris Durst    Sept. 12, 2016
Remember at the end of July I gave you a "heads up" that companies would soon be starting their seasonal hiring? Well, the time is upon us and the seasonal opportunities are coming in from all directions.
A word to the serious job-seeking Rebels – APPLY QUICKLY! Training will start soon to ensure you'll be ready for the holiday rush. Wait too long, and the opportunity may pass you by.
Now, the jobs…
Williams-Sonoma
Position(s): Full Time Seasonal Customer Service Rep
Pay: $11/hour
Note: Must be able to attend on-site training in The Colony, TX
"The Full-Time Seasonal Customer Service representative is our front line expert in solving our customer's concerns and building lasting customer loyalty. Our CSRs accomplish this by providing customers with world class customer service through confident resolutions for returns, replacements, credits, status of their order, placing orders, and other aspects of customer service."
Click here for more on these jobs with Williams-Sonoma.
---
Amazon
Position(s): Seasonal Customer Service Associates
Pay: $10/hour
Note: In order to be considered for this position you must live in one of the following states: Arizona, Colorado, Delaware, Florida, Georgia, Kansas, Kentucky, Michigan, Minnesota, North Carolina, North Dakota, Ohio, Oregon, Pennsylvania, South Carolina, Tennessee, Washington, West Virginia, Wisconsin, Virginia.
"In the Reserves Program, you have the freedom to work the schedule that YOU build by choosing from a pool of available hours, posted weekly to our online scheduling portal. From the start of the year through the fall, you will have the opportunity to work anywhere between 1 and 30 hours per week, with the average Reserve working 12 hours per week. Hours are not guaranteed, but are chosen on a first-come, first-serve basis and are made available according to business needs. Working hours will increase during our peak season (November through January), and you may be required to work between 20 and 40 hours per week during this time.  You may also be required to work on any/all major holidays."
Click here for more on these jobs with Amazon.
---
Sykes
Position(s): Retail Customer Service Representative
Pay: $9 – $10/hour
Notes: Hiring in many states across the US and Canada
"In this position you will use your empathy, patience and resilient nature to resolve issues.  You will be providing support to customers of a nationally known online retailer.  You will be doing order support, product selection guidance and troubleshooting, all while maintaining a strong brand presence with all customers.  Your goal will be to satisfactorily resolve the customer's need at the end of each interaction."
Click here for more on these jobs with Sykes.
---
Liftopia
Positions: Seasonal Customer Support Representative
Pay: $15/hour
Notes: Full-Time, no geographical limitations mentioned on their site
"As a Seasonal Customer Support Representative, you will help individuals from all over the world get on the slopes by assisting them in making purchases and responding to issues with existing orders via phone, email, and chat.  This position is a great gateway to the ski and tech industries."
Click here for more on these jobs with Liftopia.
---
VIPdesk Connect
Position(s): Brand Ambassador – Skullcandy Part Time
Pay: Total compensation averaging $10.00 -11.00/hr (hourly rate of $10.00 per hour plus bonus available based on key metrics)
Notes: Must live in Arizona, Florida, Georgia, Indiana, New Jersey, Ohio, Texas, Utah or Virginia.
"A Brand Ambassador is a Customer Service Representative. Skullcandy is the original lifestyle and performance audio brand. With Skullcandy designing, marketing and distributing audio and gaming headphones, as well as other accessory-related products, the Brand Ambassador (Customer Service Representative) is responsible for assisting Skullcandy's customers via phone and e-mail. The Brand Ambassador will help customers by answering questions about products, product availability, Skullcandy policies, Skullcandy events and promotions, and provide general customer service resolution on behalf of Skullcandy. The Brand Ambassador will use his/her passion and knowledge of Skullcandy's brand and related experience to ensure an authentic experience that promotes loyalty to Skullcandy."
Click here for more on these jobs with VIPdesk Connect.
PLEASE SHARE this post – turn your friends into Rat Race Rebels!
BE SURE TO CHECK OUT OUR OTHER RECENT POSTS FOR MORE JOBS