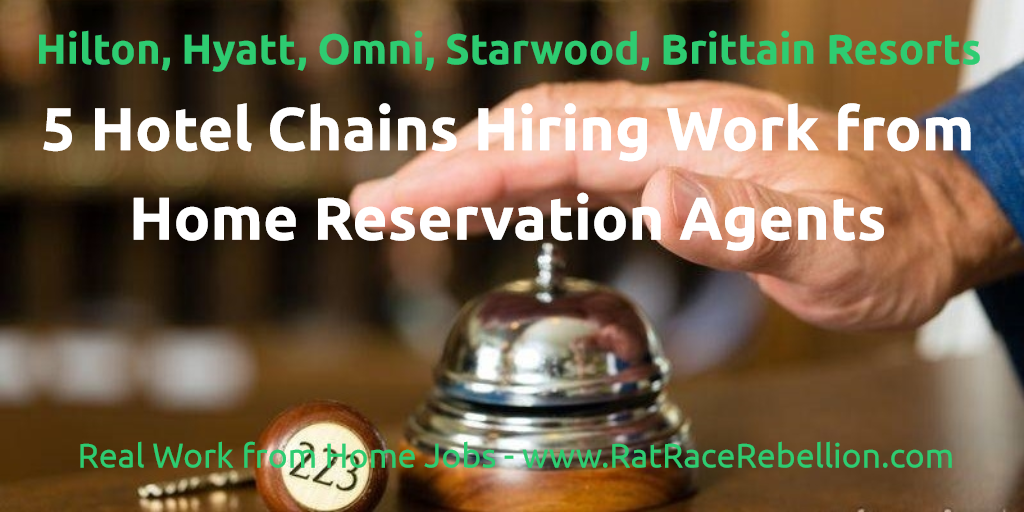 by Chris Durst May 23, 2016
We're seeing a growing number of hotels jump on the work from home bandwagon when they are looking for great reservation agents and customer service reps.
Following is a list of five major hotel chains that regularly post job openings for home-based workers. Bear in mind that some may require that you live in a specific geographic area, but others will not have restrictions, so read their job descriptions all the way through.
Omni Hotels & Resorts
With over 50 hotels across the US, Omni periodically posts job openings for Reservation Sales Associates. They require on-site training, so you would need to live near the hiring location. That said, they state that the average pay is $14/hour, so it's worth keeping them on your search list.
To see their current openings, click here and enter "work at home" in the "keywords" field.
---
Starwood Hotels and Resorts
Through their "@home Program," Starwood Hotels frequently posts jobs for Reservation/Call Center agents. They have a nice list of benefits too. Positions may be limited to certain cities and states as an on-site training period is necessary before working from home begins.
Click here to see their current openings.
---
Brittain Resorts and Hotels
Periodically posts openings for Virtual Reservation Agents. All training takes place online.
Click here to see their current positions.

---
Hilton
As we've mentioned in past posts and job listings, Hilton is a very active hirer of home-based reservation specialists (and customer service reps). So much so, that they have a page dedicated to their work from home positions.
Read about their work from home program and check current job listings here.
---
Hyatt
Hyatt posts positions for Guest Services Associates on a periodic basis, and they currently hire from about 23 states.
Visit their site to see if they have open positions.
♥ Share the love! If you know someone looking for work from home, please share the post. They'll love you and we will too! Thanks!