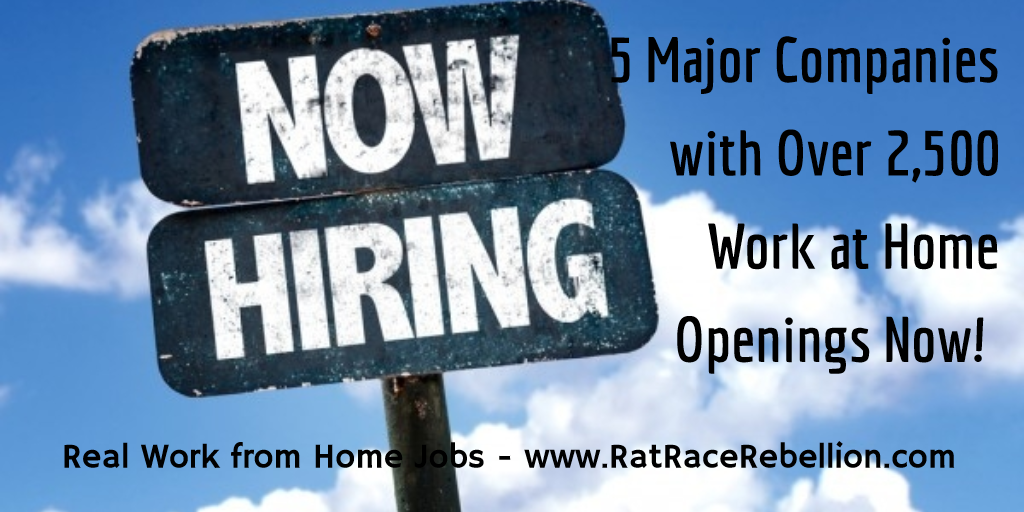 by Chris Durst    04/20/2016
While you may not recognize the name of every company that offers work from home jobs, many major companies hire thousands of home-based workers every year.
Following are just 5 of those companies who have over 2,500 POSITIONS AVAILABLE RIGHT NOW!
Xerox
Xerox has a robust telework program and typically has hundreds of openings for virtual workers.
Positions are very diverse and include IT, management, client services, compliance and many more.
You can see their virtual opportunities here.
Citizens Bank
Citizens routinely lists 50-100 work at home jobs on their corporate hiring page.
Positions are primarily financial, including mortgage loan officers, sales managers, underwriters and other financial roles.
You can see their work at home jobs here.
American Express
Hiring in the US and abroad, American Express also has a very active telework program. Their site usually lists 500+ work from home jobs at any given time.
Positions vary greatly as the company offers such a wide variety of services from finance to travel and beyond.
You can see their work at home opportunities here.
UnitedHealth Group
Another major player in the work from home movement, UnitedHealth Group has a huge telecommuting workforce. Generally, they have upwards of 400 home-based positions posted to their job board.
While many of the positions are healthcare-related and may require an RN or other license, they have many non-medical positions as well. These include IT, analysts, management, financial, customer care, and many others.
You can see their current telecommute openings here.

Dell
Dell is not new to telecommuting — they've had a rich work from home program for many years.
Their remote opportunities include IT, sales, consultants, engineers, managers, and many others.
To see the 700+ openings they currently have posted, click here.