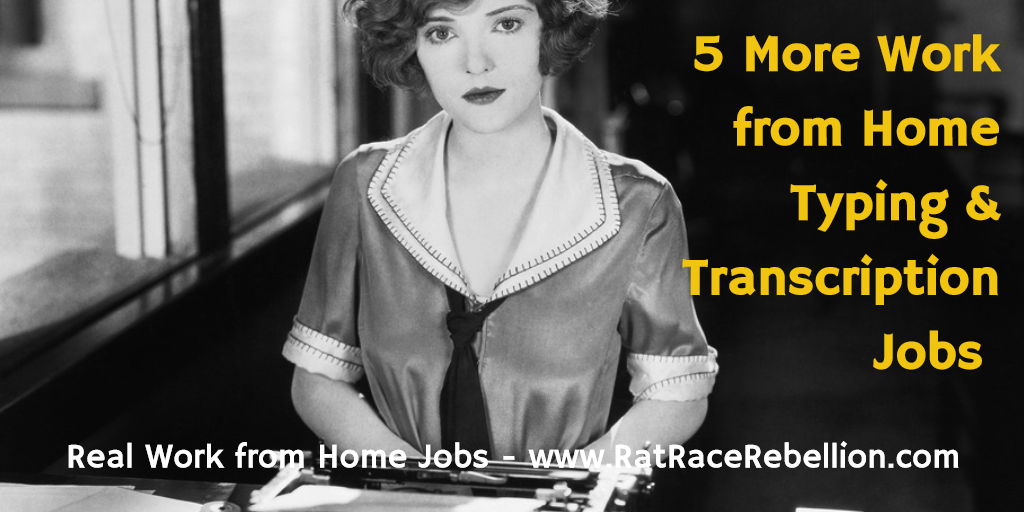 by Chris Durst   05/01/2016
In a previous post – 5 Work from Home Transcription Jobs with "No Experience Necessary" – Mike told you about… well… 5 Work from Home Transcription Jobs with "No Experience Necessary."  🙂
Since we get so many queries about this kind of work, here are five more companies that hire work from home transcribers.
1-888-TYPE-IT-UP
If you are an accurate transcriber and can meet their "AFR" standards (accuracy, formatting, reliability) standards, 1-888-TYPE-IT-UP could be a great place to make some money.
According to their site, they pay at least $36 per audio hour. Pay rates vary per file depending on the client's budget and your past performance.
They pay twice monthly mid-month and on the last day of the month.
If accepted, you will need a foot pedal (cost approximately $55).
Quicktate and iDictate
Transcribe "voicemail messages, memos, letters, legal files, medical files, recordings of phone calls, conference calls and other audio files."
From what we were able to find on compensation, they pay about 1/4 of a cent per word (4 words for a penny). That's not high pay but, depending on how it could be a nice little egg to add to your extra money basket.
Pays weekly. Position requires a background check which will cost you about $15 (as an independent contractor, IRS regulations prohibit the company from paying for your background check).
Way With Words Ltd.
This UK based company gladly hires US-based transcribers. You do not need to have any experience with transcription, but you do have to pass their test to prove your skills and accuracy.
Pay for entry-level transcription begins at $0.35 per audio minute and goes up to $1.34 per audio minute. Pay is sent via PayPal.
FocusForward Transcription
FocusForward works with both English and Spanish language transcriptionists. They prefer transcribers who are familiar with Express Scribe and "an excellent grasp of grammar and punctuation rules."
Pay range for English is $0.40 to $0.65 per audio minute and is about double that for Spanish.
TranscribeMe
Transcribe from audio and video files with no minimum amount of work that you are allowed to do. There are opportunities to move up to other positions too – transcriber to quality assurance to reviewer and so on.
You are not required to have any special equipment or software.
Pay starts at $20 per audio hour and they claim their average earnings per month is $250 per month.
Remember to check out our Transcription – Non-Medical page for more opportunities.