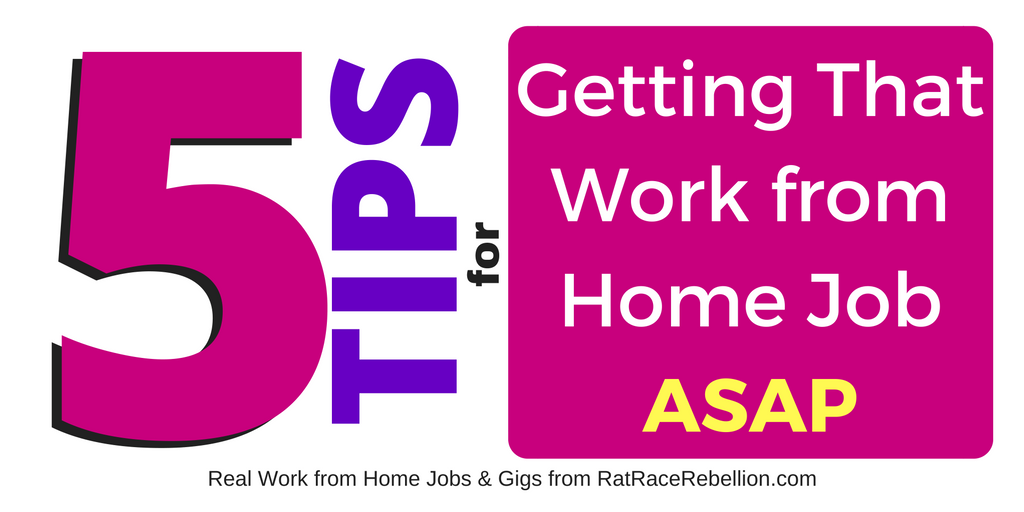 By Mike Haaren – Oct. 6, 2016
Finding Work from Home Jobs ASAP
Finding your work from home job may take awhile, but you can definitely shorten the hunt. Here are five tips for minimizing the search.
You have to play "the numbers game." Landing most types of WAH jobs is a numbers game. In other words, you need to get a lot of applications into a lot of pipelines. Conversely, applying to a job every now and then will usually lengthen the search.
Tell your BF, GF, bestie, dog, whatever, to smack you. Job hunting causes self-pity. (We've all been there; the rejections make it inevitable.) And if you're like me, self-pity = Häagen-Dazs, or Toblerone, or a barrel of Nutella. (I go in with flippers and a mask.) Result? Shapewear. And on a man, that's grim. Then more self-pity. More Nutella-diving. And so on. So the cat, who I rescued from a tack room at the Bowie race track in Maryland (my sister's an exercise jockey), and doesn't take any crap, smacks me, and I sober up. Indispensable.
"Push back against the age as hard as it pushes against you." The writer Flannery O'Connor, a Georgia woman who battled but finally succumbed to lupus at 39, made the point. My own point is, the job hunt these days is a tough process. Companies don't reply to applications unless they like you. Resumes go stale much faster than before. Competition for choice jobs can be very stiff. PUSH BACK. Learn new skills before you have to. (This can be free. For resources, click here.) Apply for more jobs. Network offline as well as on-. Make the world take you on YOUR terms. Your life, your terms.

"My prince will come" is not a good job-finding strategy.

Don't wait for the "perfect" job. This ain't a Disney princess movie. That prince may be out there, but you'll need more than glass slippers for him to come knocking. And there are lots of evil step-siblings out there, too, to snatch him on the way. It's like husbands/wives/partners — a "good" job you get is better than a "perfect" job you never met.
See job, apply. Good work from home jobs usually fill quickly. (We've seen some disappear in one day.) When you see a job you like, apply ASAP. And check job resources frequently. An early bird may get a worm, but the bird who was there all along gets more.
PLEASE SHARE this post – turn your friends into Rat Race Rebels!
BE SURE TO CHECK OUT OUR OTHER RECENT POSTS FOR MORE JOBS