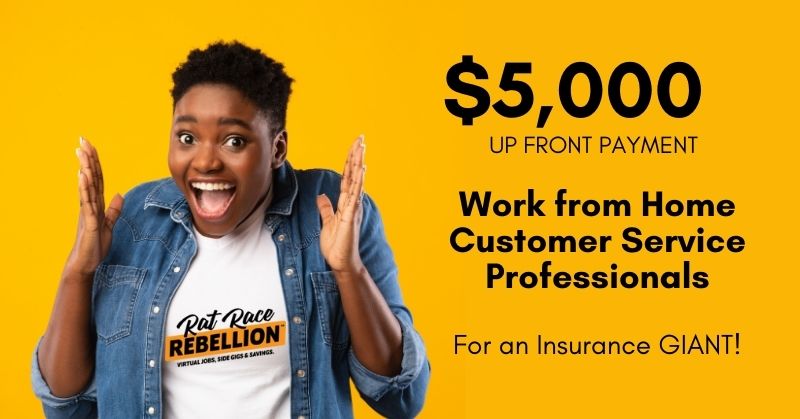 by Chris Durst    Mar. 10, 2022
Prudential, an insurance giant, has posted nationwide (US) openings for work from home Customer Service Professionals.
They are offering a $5,000 "up front cash payment" though the job listing doesn't expand on the criteria for receiving that payment.
Pay rate is not posted in the job listing, however, Prudential is known to pay a competitive rate and an attractive benefits package.
While you must provide the internet connection, it appears that the company will be providing a computer.
Here's what the company has posted about this opportunity:
"Prudential aspires to make lives better by solving the financial challenges of our changing world! At Prudential, our Financial Wellness Advocates are the first point of contact with our customers and our goal is to provide a customer centric, multi-channel, low effort experience for customers with complex financial needs.
We offer paid training and benefits on day one including tuition reimbursement, paid volunteer days, generous paid time off; vacation, paid holidays, personal days and a reward and recognition plan that includes pay for performance compensation.
We are looking for individuals who are self-starters, dependable to their core, who have the right grit, tenacity and initiative to show up and work hard. And are also:
Customer obsessed and engaging communicators who enjoy working directly with the customer and a team
Committed to owning customer issues from start to finish
Able to learn, retain, and solution on numerous product offerings across several different businesses.
Intrigued by technology and uses it to drive customer self-service and to help identify and drive opportunities to enhance processes
Able to think on their feet and be flexible with creating solutions for variety of personalities and customer types
Capable of shaping the customer experience and efficiently troubleshooting challenges across multiple channels
Able to identify other potential customer needs and offer tailored solutions that improve financial wellness
Keen problem solver that connects with each customer with compassion
What you can expect:
Build a career with a great company with exposure to multiple parts of the business
Fast paced, dynamic environment
Tiered promotional opportunities based on performance
Qualifications:
Experience with Contact Center and disability is desirable but not required.
Excellent verbal and written skills.
Previous customer service experience preferred.
Strong commitment to providing exceptional customer service.
Outstanding active listening skills and the ability to engage customers to determine their unique financial needs and preferences.
Proficient PC and keyboarding skills with ability to multi-task between multiple computer applications.
Knowledge of group insurance, or other experience in the Financial Industry preferred.
College degree preferred.
Additional Information:
This position will work virtually, therefore new hires must be able to provide the following:
High speed internet service must be available in your area. You must be willing to troubleshoot any issues or outages with your home internet service, contacting your service provider as necessary. The internet service cannot be wireless, and the internet speed requirement is: 3.0 mg downstream and 768k upstream.
Must have the capability to handle calls with a cell phone (would need to have unlimited data and minutes) or a landline. You will be logging into Avaya therefore your personal phone number will not be identified to customers.
Quiet area in your home with minimal distractions and noise free.
This is more than a contact center ……this is an opportunity to improve lives through financial wellness
Each customer interaction is unique, and we value the opportunity each one brings. Our representatives work in a collaborative environment assisting customers over the phone, online, and through email. This can range from troubleshooting a question on website navigation to conversations on complex financial decisions. Regardless, your mission remains the same; help customers make clearer decisions about their financial future. We can't promise it will be easy, but it will be time well spent establishing a career with an award-winning industry leader. If you think you have what it takes, apply now. You will gain skills and experience working on behalf of a dynamic industry leader in the Fortune 500 that will enhance your career."
CLICK HERE for full details and to apply. For more jobs like these, check our Newest Jobs & Gigs page. To be the first to hear about jobs like these, like our Facebook page. Good luck in your work from home plans!
PLEASE SHARE this post – turn your friends into Rat Race Rebels!