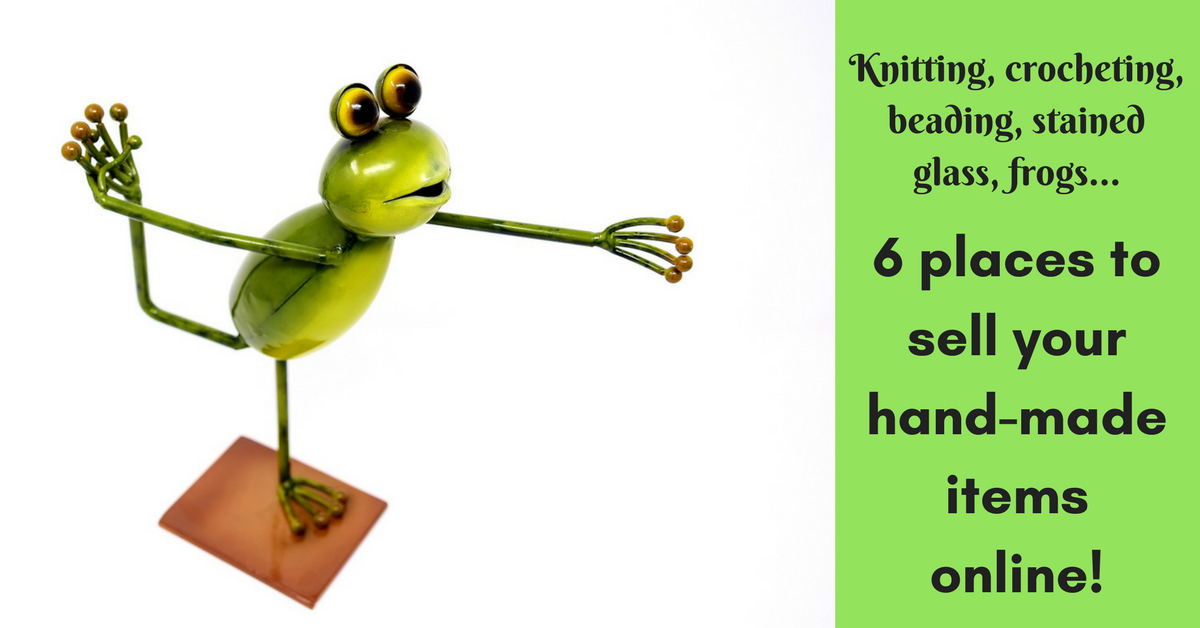 by Chris Durst     April 6, 2018
If you're good at making hand-made items of any kind (knitting, crocheting, sewing, painting, beading, jewelry making, stained glass, pottery, basket weaving, doll making, ETC…), the net offers some excellent ways to promote and sell your items!
Here are six sites (in no particular order) that will help you showcase your work. Try one or try several and start selling today!
---
Handmade at Amazon
In their own words: "Handmade is a store on Amazon for artisans to sell their unique, handcrafted goods reaching hundreds of millions of customers worldwide. To be approved, all of your products must meet our definition of handmade, listed in our FAQ. Applications are reviewed by our team within 48 hours. "
Fees: "$39.99 a month + additional selling fees." Click here for more detail.
---
GLC Mall
In their own words: Your new craft store will give you the opportunity to connect to a worldwide customer base looking for arts and crafts 24 hours a day, seven days a week; you will also become part of a growing online community of crafters, artists, artisans and designers.
The GLC Arts and Crafts mall has no hidden fees, that means – No Commissions, No Setup Fees.
We have 3 store Plans:
Basic Store – List up to 100 items for a flat rate of $3.50 per month
Semi-Pro Store – List up to 250 items for a flat rate of $6.95 per month
Pro Store – List Unlimited items in your store for a Flat Rate of $12.00 per month




---
Hyena Cart (Eco-friendly and hand-made items)
In their own words: "Hyena Cart gets its name from enthusiastic shoppers, clamoring after high-demand quality eco-friendly items. Because of this, the shopping platform supports auctions, drawings, and fast inventory control."
There are three ways to sign-up to sell items on Hyena Cart, depending on whether you will be sharing a store, running your own store, or selling used items…
Fees:
Inital set-up fee – 1 penny (Current promo, "for a limited time." Normally $10.)
Monthly fee – $5
---
ShopHandmade
In their own words: "At ShopHandmade we're here for two reasons: We enjoy handmade crafts and we want to help people enjoy crafting and enjoy giving handmade items. Handmade items are personal, special, and unique in this world."
Fees: None
---
Etsy
In their own words: "Etsy is the global marketplace for unique and creative goods. It's home to a universe of special, extraordinary items, from unique handcrafted pieces to vintage treasures.
"In a time of increasing automation, it's our mission to keep human connection at the heart of commerce. That's why we built a place where creativity lives and thrives because it's powered by people. We help our community of sellers turn their ideas into successful businesses. Our platform connects them with millions of buyers looking for an alternative—something special with a human touch, for those moments in life that deserve imagination."
Fees:
No monthly fees
$0.20 (20 cents) listing fee (listings are active for four months or until they sell)
3.5% transaction fee (commission on items sold)
3% + .25 cents payment processing fee (the fee for processing the payment because you will be using their merchant account to process credit card payments)




Artfire
In their own words: "Show millions of online shoppers what you're made of! We take the hassle out of selling online so that you can spend more time creating and running your business. Open your shop in minutes!"
Fees:
Several plans available. Highlights:
Standard Shop: $4.95/mo., $0.23 per item listing fee; up to 250 active listings; listings are active for two months or until they sell; 9% final valuation fee
Popular Shop: $20/month; up to 1,000 active listings; 3% final valuation fee
Featured Shop: $40/month; no listing fees; up to 2,500 active listings; 3% final valuation fee
PLEASE SHARE this post – turn your friends into Rat Race Rebels!
[social_warfare]