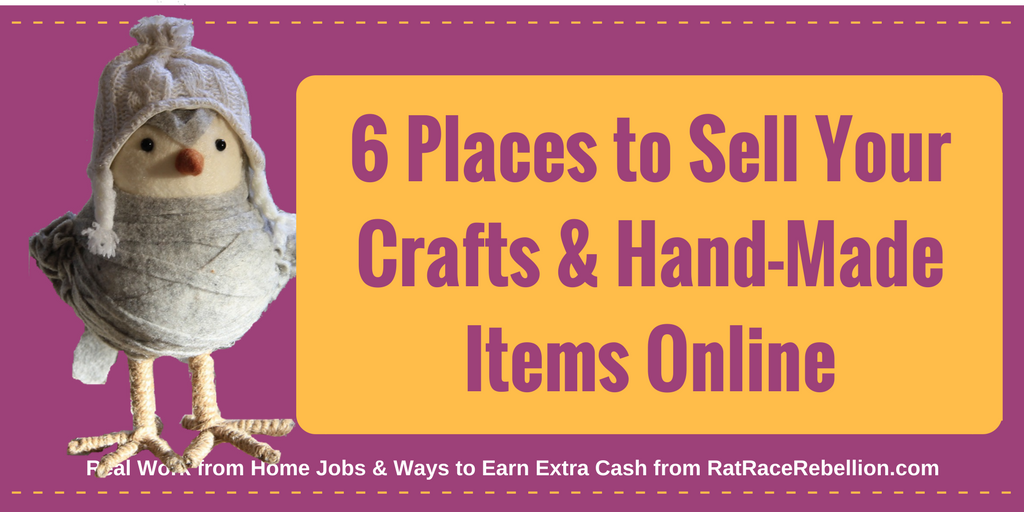 by Chris Durst     Jan. 10, 2017
If you are great at making hand-made items of any kind (knitting, crocheting, sewing, painting, beading, jewelry making, stained glass, pottery, basket weaving, doll making, ETC…) the internet offers some excellent ways to promote and sell your items online!
Here are six popular sites (in no particular order) that will help you showcase your work to the world! Try one or try several and start selling today!
---
 Handmade at Amazon
In their own words: "Handmade at Amazon is a new store on Amazon.com for invited artisans to sell their unique, handcrafted goods to our hundreds of millions of customers worldwide.
We know that each handcrafted item is special so we built a new experience specifically to highlight your handmade products. When you set up shop, you'll create an Artisan Profile page to tell customers your story with beautiful imagery and plenty of room to describe your craft. You'll also set up pages for each of your products, featuring stunning images and new customization features so customers can explore everything you have to offer."
Fees: Click here to see their fee schedule.
---
GLC Mall
In their own words: Your new craft store will give you the opportunity to connect to a worldwide customer base looking for arts and crafts 24 hours a day, seven days a week; you will also become part of a growing online community of crafters, artists, artisans and designers.
Fees:
They offer three store plans.
Basic Store – List up to 100 items for a flat rate of $3.50 per month
Semi-Pro Store – List up to 250 items for a flat rate of $6.95 per month
Pro Store. List Unlimited items in your store for a Flat Rate of $12.00 per month
---
Hyena Cart (eco-friendly and hand-made items)
In their own words: "We're a collection of hundreds of unique stores that sell one-of-a-kind eco-friendly and hand-made products ranging from cloth diapers and kids' apparel to jewelry and toys."
Fees:
Inital set-up fee – $10
Monthly fee – $5
---
ShopHandmade
In their own words: "At ShopHandmade we're here for two reasons: We enjoy handmade crafts and we want to help people enjoy crafting and enjoy giving handmade items. Handmade items are personal, special, and unique in this world."
Fees: NONE
---
Etsy
In their own words: "The heart and soul of Etsy is our global community: the creative entrepreneurs who use Etsy to sell what they make or curate, the shoppers looking for things they can't find anywhere else, the manufacturers who partner with Etsy sellers to help them grow, and the Etsy employees who maintain and nurture our marketplace."
Fees:
No monthly fees.
$0.20 (20 cents) listing fee. (Listings are active for four months or until they sell.)
3.5% transaction fee (commission on items sold)
3% + .25 cents payment processing fee. (the fee for processing the payment because you will be using their merchant account to process credit card payments)
Example:
You list and sell an item that you have priced at $25
$25 – $0.20 (listing fee) – $0.88 (commission) – $1 (payment processing fee) = $22.92 (your income)
---
Artfire
In their own words: "Show millions of online shoppers what you're made of! We take the hassle out of selling online so that you can spend more time creating and running your business. Open your shop in minutes!"
Fees:
Several plans available.
Small shop: No monthly fee; pay $0.24 cents per item you list, up to 250 active listings; 9% commission
Popular Shop: $20/month; no listing fees, up to 1,000 active listings; 3% commission
Featured Shop: $40/month; no listing fees, up to 2,500 active listings; 3% commission

PLEASE SHARE this post – turn your friends into Rat Race Rebels!