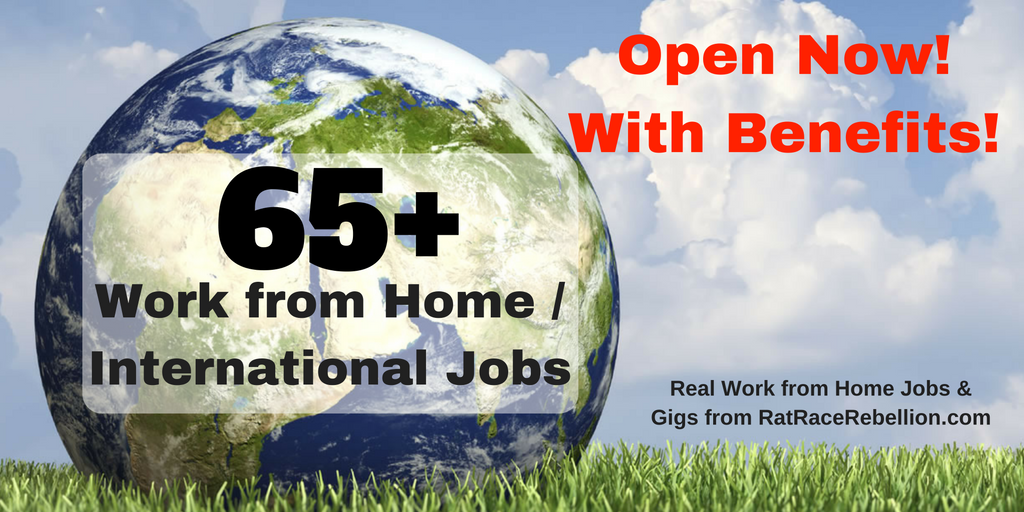 By Mike Haaren – Aug. 22, 2016
Work from home jobs of all kinds are open now, and more and more companies are entirely virtual — and international. Toptal and Automattic are just two examples, and they're both growing.
Toptal has a core virtual team to support its business of providing companies like Apple with developers and designers. There are "no mandatory hours, no offices, no useless meetings. Benefits include health insurance and the ability to travel and reside anywhere you like."
Here's a list of part-time and full-time work from home jobs open at Toptal now:
Accounts Payable
Accounts Receivable Lead
AdWords Scripts Specialist
Communication Specialist
Content Writer / Product Marketing
Continuous Improvement Analyst
Corporate Communications Writer
Corporate Controller
Corporate Recruiter
Delivery Manager
Director of Business Development
Director of Product Design
Display Advertising Specialist
Enterprise Client Partner
Europe Community Lead
General Counsel
Growth Designer
Growth Specialist
Head of Client Experience
Head of Community
Head of Enterprise Communications
Head of Partnerships
Head of People Operations
HR Manager
Lead Editor of Toptal Business
Lead Project Manager
Learning and Development Specialist
Online Community Lead
Outreach Specialist
Payroll Manager
Phone Support Specialist
Product Manager
Public/Private Partnerships Lead
Public Relations Manager, London
Public Relations Manager, New York City
Sales Analyst
Sales Engineer
SEO Specialist
US Talent and Community Lead
VP of Finance
VP of Operations
VP of Strategy
Tech jobs
Big Data Engineer
BPM Engineer
Data Scientist
Desktop Application Developer
Front-end Developer
Illustrator
iOS Developer
QA Automation Engineer
Ruby on Rails Developer
UX Designer
For more detail, click here.
Open Jobs and Benefits at Automattic
Automattic, the company behind WordPress, is also global. They have 490 workers in 50+ countries. "Everyone works from the location they choose," the company says.
Automattic offers an impressive list of benefits. These include (quoting):
— Open vacation policy (no set number of days per year). We encourage all employees to take the time they need for vacation, to pursue their own interests, to stay healthy, and to spend time with friends and family.
— Home office setup and coworking allowances. Working from a coffee shop? You can use your coworking allowance for the requisite latte!
— We happily provide or reimburse hardware and software you'll need, as well as books or conferences that promote continued learning.
— Company-sponsored life insurance.
— Open maternity/paternity leave. If you've been with Automattic for 12 months, your leave is fully paid.
— WordPress-branded laptop at your four-year anniversary. A spiffy set of wireless headphones at your seven-year anniversary.
— Paid two to three-month sabbatical encouraged every five years.
— We cover all costs of company travel, so dust off that passport! Your team will get together one to three times per year in locations around the globe.
— Other benefits are country-specific, and include health, vision, and dental insurance; matching retirement/pension contributions; childcare vouchers; income protection; travel insurance; and discount offers.
Automattic's current list of open jobs includes:
Code Wrangler
Customer Marketing Wrangler
Enterprise Growth Engineer
Events Wrangler
Happiness Engineer
Happiness Engineer (ES)
JavaScript Engineer
Legal Counsel
Marketing Designer
Mobile Developer
Performance Marketing
Product Designer
Technical Account Engineer
Theme Wrangler
Woo Happiness Engineer
For more on Automattic and its jobs, click here.
PLEASE SHARE this post – turn your friends into Rat Race Rebels!
BE SURE TO CHECK OUT OUR OTHER RECENT POSTS FOR MORE JOBS