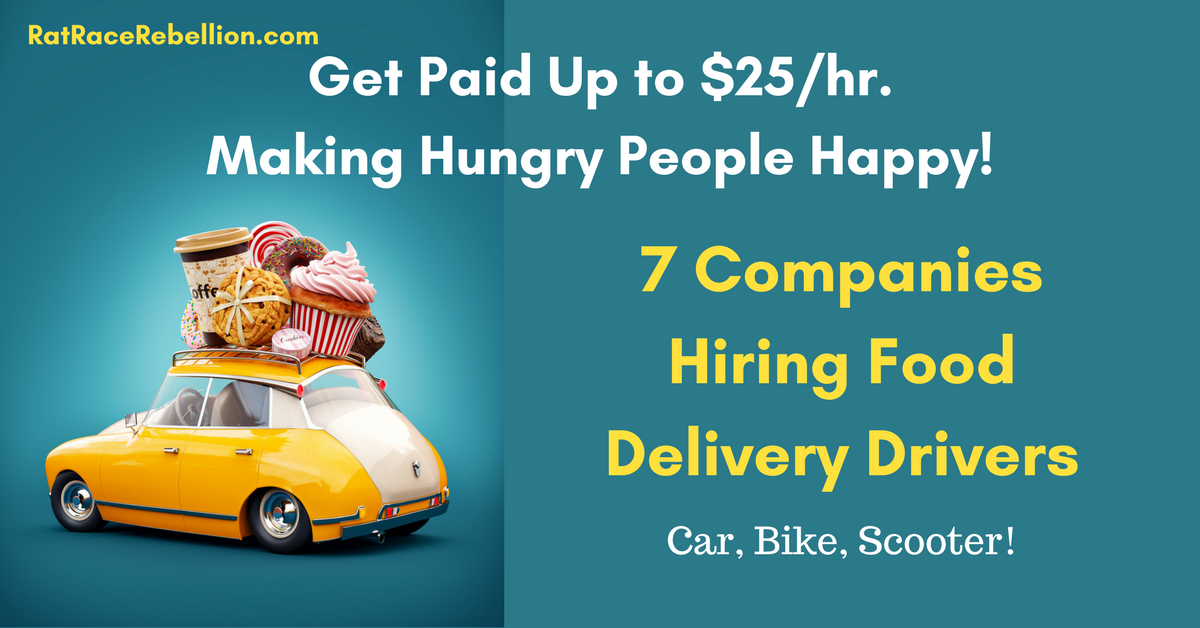 by Chris Durst Feb. 8, 2018
If you're looking for a side gig that gets you out of the house, food delivery services are popping up everywhere. Every time someone clicks "deliver," a driver (or biker) goes into action — picking up the food and delivering it to the customer FAST!
Following is a list of seven companies that post job listings for food delivery people! If you are courteous, quick, and available, apply today with the services in your area!
Caviar
"Caviar is a service that provides delivery from local restaurants to homes and offices. Founded in 2012, Caviar has helped thousands of people earn income as bike couriers and drivers."
The Gig: "Caviar couriers"
Where: Metropolitan areas across the US
More:
Earn up to $25/hr! Money is deposited directly to your bank account each week.
Anyone with a vehicle (car, truck, bike, scooter, or motorcycle) and a customer-service mentality is eligible.
Couriers are compensated for each delivery with a task-based fee. Money is deposited into your bank account each week.
Caviar is expanding into new markets very rapidly. "We are currently in more than a dozen metropolitan cities across the United States. If Caviar is not in your area yet, please continue to check back."
---
DoorDash
"DoorDash allows every small business to deliver. We offer a delightful convenience to families and individuals who want delicious food delivered to their door, and we help restaurants grow by bringing them more customers."
The Gig: Dashers
Where: Various cities across the US and Canada (full list below)
More:
This is an independent contractor position – choose when you want to work.
Being very familiar with your iPhone or Android is key to this job.
Dashers reportedly make up to $25/hr.
"We currently operate in Atlanta, Boston, Charlotte, Chicago, Columbus, Dallas / Ft. Worth, Denver, Houston, Indianapolis, Los Angeles, Minneapolis, Manhattan, Brooklyn, Orange County, Phoenix, San Diego, San Francisco, San Jose / Silicon Valley, SF East Bay, Seattle, Toronto, Vancouver, Washington, D.C, San Antonio, and Nashville."
---
UberEats
"Uber Eats is our new food delivery platform that makes getting great food from your favorite local restaurants as easy as requesting a ride."
The Gig: Couriers
Where: Various cities across the US and Canada
More:
Hourly pay varies widely, depending on such factors as the metro area, whether "surge" and "boost" rates are in effect, how you manage your orders, and tips.

Almost any vehicle OK – less strict than regular Uber.
Pay every Thursday by direct deposit to your bank account.
Work when you want; the service runs 24/7.
---
Grubhub.com
"Deliver people food from their favorite Grubhub restaurants. Become the hero people need."
The gig: Delivery partners
Where: Cities across the US
More:
Pay reportedly averages $12-$13/hr.
Work when you want.
"Grubhub has more orders than any other order platform."
---
Munchery
"There's only been two options for dinner: cook in or go out. We're Building the Third Option of Food."
The Gig: Delivery drivers, bike couriers
Where: "Munchery cooks and delivers chef prepared meals throughout the Bay Area, Seattle, New York, and Los Angeles."
More:
Personal, well-maintained car.
Munchery t-shirts!
Competitive compensation packages, tips, and mileage reimbursement ($0.54/mile).
Data reimbursement.
Employee Discount Program (never worry about dinner again).
---
OrderUp
"At OrderUp and Groupon To Go, we're reimagining the delivery process through technology for consumers, restaurants, and especially you – the drivers… It's all about community and building a fun, flexible, and rewarding culture that everyone can take part in."
The Gig: Driver Partners
Where: Dozens of cities across the US
More:
Drivers are paid once a week via direct deposit (for work from the prior week). Drivers earn a commission on the delivery fee we charge consumers, plus 100% of tips.
Fast start – many of our drivers are on the road in as little as 7-14 days.
---
Postmates
"A Postmate is like a friend who can stop by a restaurant or store and pick up anything you need."
The Gig: Delivery drivers
Where: Many cities across the US
More:
Earn up to $25+/hr. on your own schedule.
Own a bike, car, truck, scooter or motorcycle; have a valid driver's license and an upbeat attitude.
Pay is by direct deposit 4-7 business days after the delivery.
For more jobs like these, check our Newest Jobs & Gigs page. To be the first to hear about jobs like these, like our Facebook page. May you be working soon!
PLEASE SHARE this post – turn your friends into Rat Race Rebels!