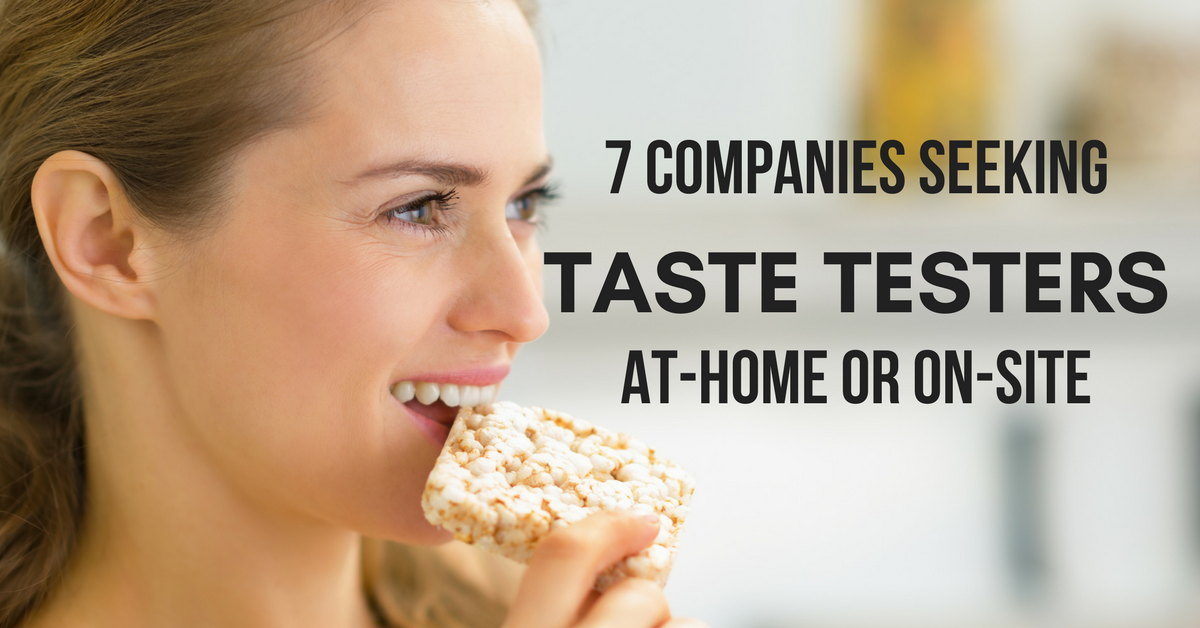 by Chris Durst     Dec. 5, 2017
Calling all Foodies! Get paid to taste food!

Most of us have heard about "food testers" and "taste testers" and wondered how someone gets such an awesome job.
Well, following are some opportunities for you to join the people who taste food and beverages and give companies their opinion.
These are NOT full-time positions, and some may require you to do your tasting on-site while others will be in your home.
Dig into the following websites, pick any and all that appeal to you, and register! Bon appetit!
---
Focus & Testing
Based out of Los Angeles, Focus & Testing is one of the leading taste test centers in the US specializing in food and beverage research.
To register, select your metro area, Los Angeles, Columbus, OH, or "Other." You will be taken to another screen, which will ask you general information as you join as a research participant and taste tester.
---

L&E Opinions
L&E Research is a nationally-known marketing research firm that has been conducting marketing research for more than 20 years.
They use testers for all kinds of products, so register and keep your eye out for the taste testing gigs!
---
McCormick (US, Canada, UK)
If you look in your spice cabinet, you'll likely see the McCormick label. As a McCormick consumer taste tester, you may be asked to sample a range of foods, snacks and beverages—during tasting sessions in the day or the evening—at their Hunt Valley, Maryland, location or from your home. You'll be paid, too. How much depends on the type and duration of the taste test, and you can participate up to four times per year.
---
The Taste of Solae
This one is all about soy! Solae uses taster input to improve the taste and quality of soy-based products for consumers. Solae's taste panels have helped drive soy innovations in frozen desserts, vegetarian meals and even beef jerky.
Pay is in the form of gift cards.
Testing is done on-site at the DuPont Nutrition site in St. Louis, MO.
---

Northland Sensory Insights
"Our taste tests are conducted during the day, evening and weekends. Taste tests can last from 15 minutes up to one hour. You will be required to travel to our facility located in Mt. Prospect, Illinois."
---
Contract Testing, Inc.
Note: This company also invites you to register your children as testers since the company also tests products designed for children!
"When you test with us, depending on the product, you will be asked to taste, touch, smell and/or look at products and answer questions about them. Sometimes you are asked to take products and try them at home but, for the most part, testing is done at one of our field sites, conveniently located in your area. Most tests are done on a computer."
---

Consumer Product Testing Centre – Alberta, Canada
"The Consumer Product Testing Centre (CPTC) is part of the Food Processing Development Branch of Alberta Agriculture and Forestry. We work with Alberta's agri-food industry to develop new food products and processes that help add value to Alberta's agricultural commodities. Evaluation of many of these new food products takes place at the CPTC where taste panellists sample the foods and give their consumer opinions. This feedback assists the product development teams to determine how acceptable these products are for the market.
"CPTC staff maintains a secure database of people over the age of 18 who are periodically recruited to participate in taste panels. Those who meet the demographic requirements for the particular test are asked to participate at a scheduled time and date. All participants receive an honorarium, starting at $15 depending on how much time the test will take, and the type of product that is evaluated."
For more gigs like these, check our Newest Jobs & Gigs page. To be the first to hear about gigs like these, like our Facebook page. Good luck in your next steps toward working from home!
---
PLEASE SHARE this post – turn your friends into Rat Race Rebels!
[social_warfare]