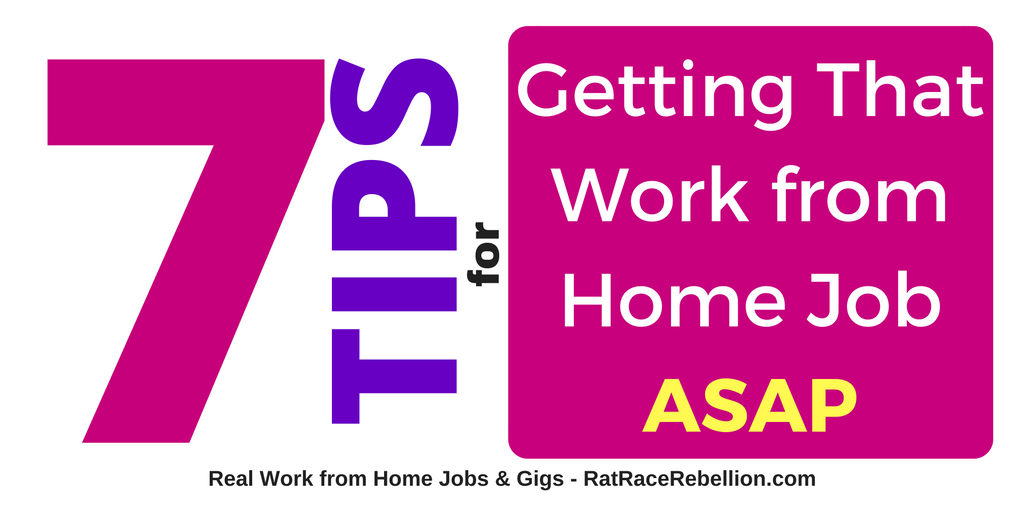 By Mike Haaren – Dec. 2, 2016
Finding Work from Home Jobs ASAP
Finding a work-from-home job may take awhile, and longer if you're looking for a high salary and generous benefits. But you can definitely shorten the hunt.
Here are 7 tips for landing that job or gig ASAP.
Volunteer virtually — and learn new skills, too (for free) — to strengthen your resume.

 Resumes go stale now faster than ever. What can you do? Volunteer, to update your experience and to network, too. You can volunteer virtually, you don't have to "commute." For some virtual volunteer jobs, click here. Learn new skills regularly, too, and get training and certifications. These can be free. For resources, click here.
You have to play "the numbers game." Landing most types of WAH jobs is a numbers game. Applying for one job every three days — or three jobs every day — will clearly produce different results! So the reminder you want to write on your bathroom mirror in bright red lipstick is, Apply! Apply! Apply!

Don't be a Job Diva.

Don't wait for the "perfect" job. It may take months to show up, if it appears at all. Then you have to actually get it. Too many "ifs"! Identify jobs that meet your core needs, and apply. Better to be working at a job you "settled for" — and have money coming in, and morale rising — than to fail to pay your bills or keep food on the table.

Don't be paralyzed by "What job would be best for me?"

Job seekers often lose time and momentum by agonizing over job and career choices. To help you identify the kinds of jobs and careers that would fit you best, see our free Values-Based Job Search Workbook.
Don't host that pity party. Job hunting causes self-pity. It's inevitable — it comes from the rejections, and the mistaken belief that everybody else is working and getting ahead. (It only seems that way because you're out of work.) Surround yourself with positive people, people who support you, care about you, and want you to succeed. Avoid the pessimists, the soured, the disgruntleds. They are Kryptonite to your Super Self. Act accordingly!
Don't take it personally when employers don't reply. More and more companies are replying only to applicants they want to interview. It's rude and regrettable, but it's a fact. Just keep applying and move on, and "Yes" will come.
See job, apply. Good work from home jobs usually fill quickly. (We've seen some disappear in one day.) When you see a job you like, apply ASAP. And check job resources — like our Daily Jobs page — frequently. Good luck!
PLEASE SHARE this post – turn your friends into Rat Race Rebels!
[social_warfare]