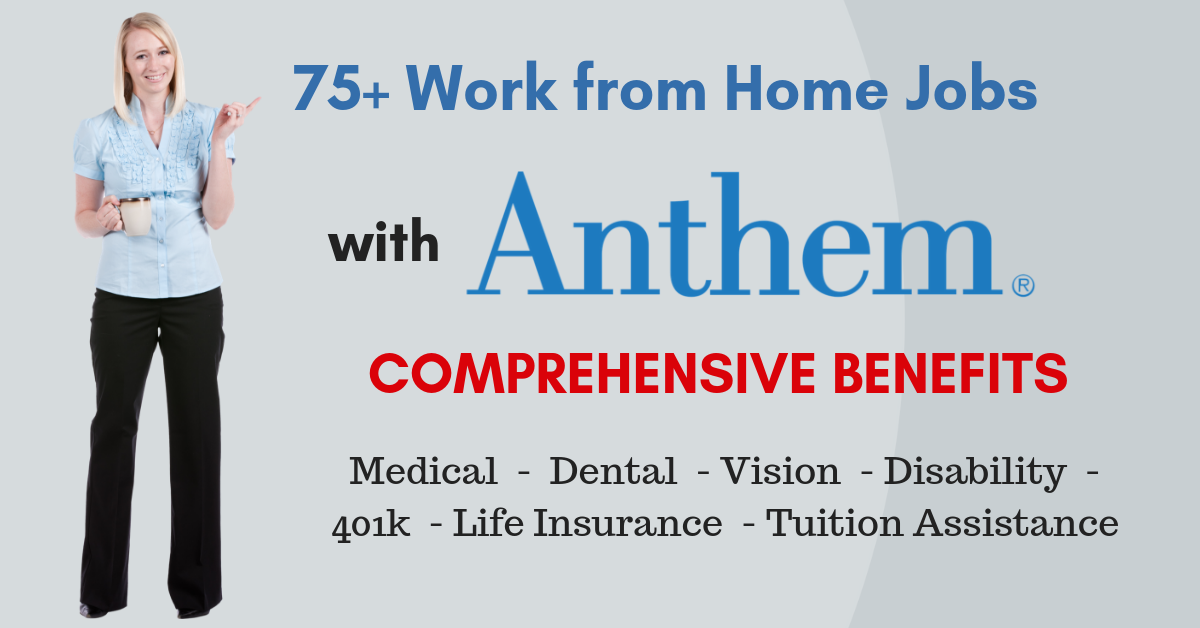 By Mike Haaren – Rat Race Rebellion Co-Founder – Nov. 7, 2018
Work from Home Jobs at Anthem
If you'd like to work from home for an established company that offers benefits, Anthem may fit the bill. It's one of the largest health benefit companies in the US, with 56,000 employees and assets of $70B. It frequently hires work from home employees and is regularly listed as a top employer for telecommuting.
A current search for work from home, remote and telecommuting positions on their site yields over 75 jobs. Jobs include Marketing Communication Coordinator, LTSS Service Coordinator ($1,000 sign-on bonus), Health Coach, Nurses, Consultants, IT and many more. Salaries vary by position.
Benefits
Benefits at Anthem include (summarized from their benefits page):
Medical Plan: You are eligible the first of the month following one calendar month of employment. The company offers you comprehensive coverage at competitive prices. Your choice of options depends on your location. If you are enrolled in medical coverage, you will also have
access to special features of the medical plan, such as behavioral health services and
prescription coverage. Through our wellness credit program, you pay less for your medical
coverage when you show you're committed to taking care of your health. Anthem shares
the cost of the medical benefit with you. You'll receive 100 percent coverage of the
cost of many preventive care medications in all of our medical plans.
401(k) Plan: All associates, including temporary staff on the company's payroll system, are eligible to participate in the 401(k) plan as of your date of hire. The plan allows three types of
associate contributions; before-tax, after-tax (Roth) and rollover contributions. You can
contribute up to 60 percent of your pay, subject to the annual income limits established by
the IRS. Unless you opt out, you will automatically be enrolled in the 401(k) plan at a 4
percent before-tax rate when you join the company. After you have been with the company for one year, the company matches 100 percent on the first 3 percent of pay you contribute and 50 percent on the next 2 percent you contribute. You are immediately vested in the company match. Catch-up contributions are also available if you are age 50 or older
Dental Coverage
Vision Coverage
Disability Benefits
Employee Assistance and Work/Life Program
Associate Wellness
Flexible Spending Accounts
And other programs
* For more on company benefits, click here.
To access the jobs, click here and enter REMOTE in the "Find jobs by keyword" field." You can find others by searching with keywords (without quotes) "remotely," "work from home," "[email protected]" and "telecommute." It takes a little digging, but there are many to choose from. To see more jobs like these, check our Newest Jobs & Gigs page. May you be working from home soon!
PLEASE SHARE this post – turn your friends into Rat Race Rebels!
[social_warfare]