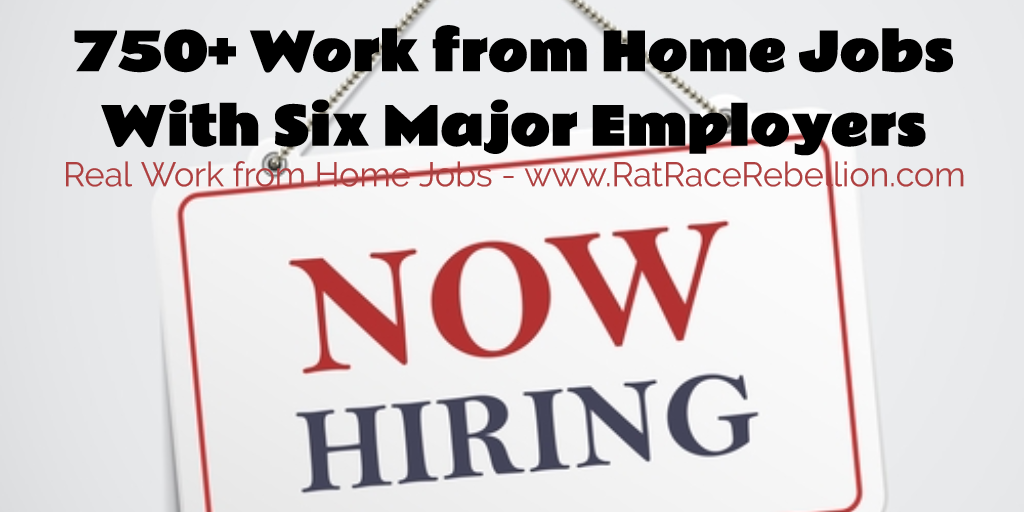 by Chris Durst   04/27/2016
If you read our recent post about 5 Major Companies with Over 2,500 Work at Home Openings Now, you know that there are some big name companies with very robust work from home programs.
Here are six more companies that are also hiring hundreds of home-based workers.
Apple
Apple seems to be expanding the number of work from home positions they offer through their "At Home" program. Currently, there are three primary types of jobs they offer home-based workers.
At Home Advisors – Their customers' first point of contact. Answer questions about Apple products and services.
At Home Team Managers – Supervision of the At Home Advisor teams.
At Home Area Managers – Supervise the Team Mangers who oversee the At Home Advisers. 🙂
---
---
Aetna – (Select "Search openings," then choose "Yes" in the "Potential Telework Position" menu and hit the "Search" button to see open telework jobs.)
Aetna employs thousands of home-based workers already, and they regularly have hundreds of telework positions open at any given time.
Positions are diverse and include such openings as case managers, analysts, proposal managers, trainers, consultants, nurses, IT, management, and others.
---
Humana – (Scroll down the page and check the "Virtual/Work at Home" box in the "Work Environment Type" area.)
Another player in the healthcare sector. Like Aetna, Humana has a wide variety of work from home positions. They are often looking for RNs, and also hire for management, IT, sales reps, case managers, and other jobs.
---
ADP
ADP is one of the largest business outsourcing companies in the world and they always have some home-based positions available. Openings include sales managers, relationship managers, consultants, IT and other positions available around the world.
---
---
Kaplan – (Select "Search openings," then type VIRTUAL into the "Keywords" field and click the "Search" button at the bottom of the form.)
With over 1 million students worldwide, Kaplan is one of the world's largest education providers.
They always have a variety of remote positions posted to their career page, including faculty, program managers, student advisors, IT, content developers, and more.
---
About.com
About.com is the largest source of expert content on the internet. They hire freelance subject matter experts to post information on thousands of different topics.
At any given time, they have over 100 "Available Topics" they are looking to find experts for. Topics range from autos, careers, and education to movies, TV, food, health, home, and style.
Stay tuned to RatRaceRebellion.com for more work from home jobs!