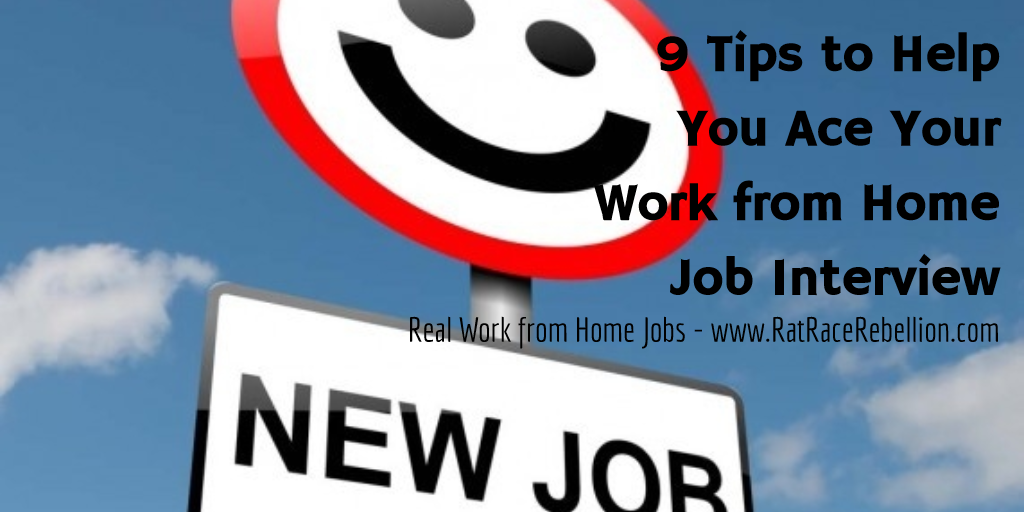 Depending on the company and the location of the position, an interview for a work from home position may be conducted by telephone rather than in person.

Regardless of whether the interview is over the phone or face-to-face, it's important that you be polite and professional.
Be ready! You should try to anticipate the questions that will be asked and have solid answers prepared.
Be prepared to discuss your strengths and weaknesses, reasons for applying to the company, career goals, and compensation requirements.
When asked WHY you would like to work from home, you should not focus on potential "negatives" and distractions ("to be with my children during the day"), but rather on the benefits ("I am a self-motivated worker who is more productive when working in my own space").
Take the time to learn about the company so that your questions and answers will be relevant and in keeping with the corporate objectives and culture.
Attitude is important! A positive attitude during a job interview can be a big step toward winning over your interviewer.
For phone interviews, be sure to have anyone you share your home with remain quiet for the duration of the call. Noisy children and pets during the interview process will send all of the wrong messages about your ability to provide a professional and productive workspace.
Standing up during a phone interview often makes people feel more confident.
Ask the interviewer when it is expected that a decision will be made, and ask if you may follow up after a certain period.
After the Resume / Interview
Unfortunately, the days of job application follow-up are not what they used to be. Not so long ago, a job applicant could expect a letter informing them that either the job was theirs or it had been given to another applicant.
In today's hurried world, many HR managers have discarded this practice in exchange for a "we'll contact you if you are selected" policy instead.
This new practice can be extremely frustrating for the job seeker, but it is important to adhere to any "follow up" instructions in the job ad or that were given verbally during the interview.Be patient and get more than one job iron in the fire, so you don't feel as though everything rests on the outcome of this one job application.