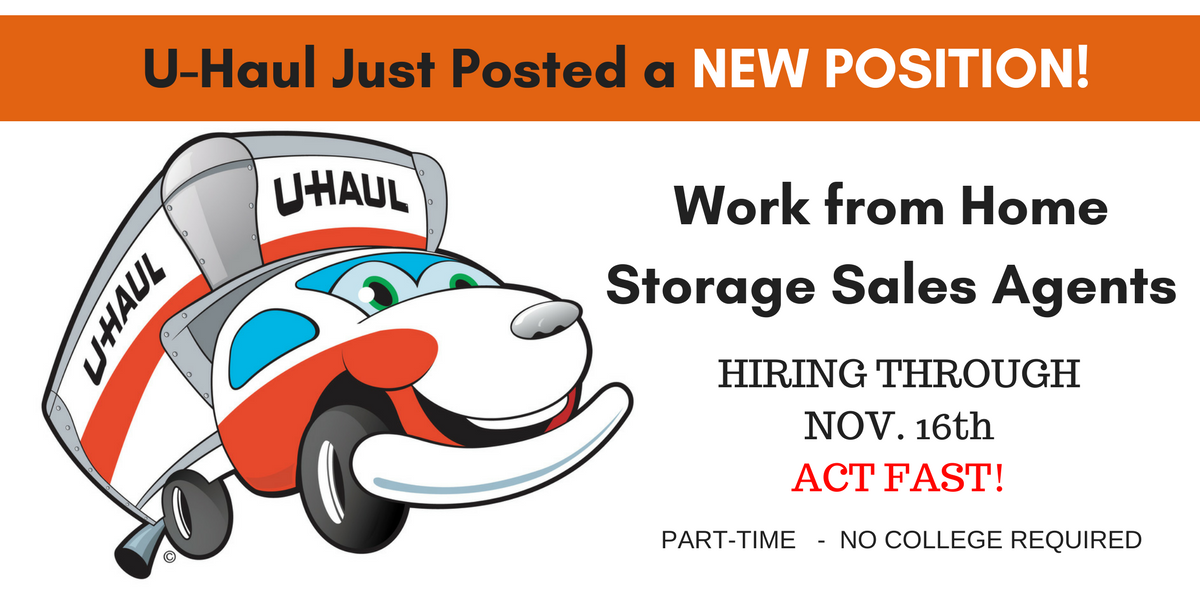 by Chris Durst Nov. 10, 2017
U-Haul just posted a NEW POSITION – Storage Sales Agents – and they're only hiring for this role through November 16, 2017.
ACT FAST!
In its earlier job listings, U-Haul included the text, "Work from anywhere in North America." This is absent from its new listings, but we assume it's still true. Our Facebook members who work at U-Haul say these jobs are multi-state. (We'll post here if we learn otherwise.) Per the new listings, you must be available to work Arizona hours.
Here's what they company has to say about these roles:
"Availability Requirements for this position–
(If your availability does not match the needs for this position, please view other openings.)
Must be available minimum 6 hours a day at least 4 days during the week from 6am-6pm (AZ time).
Must be available on Sundays from 12pm-10pm (AZ time)
Training Requirements for this position–
100% attendance is required for the first 90 days of employment
Orientation November 27th & 30th 12pm-2pm (AZ time)
Educational period begins Monday December 4th- Monday-Friday 12:30pm-5:30pm (AZ time) for 3 weeks
Must be available to work Holidays.
Our state-of-the-art Call Center provides a variety of in-bound call support. Call center team members take back-to-back, incoming customer calls and provide customers with general assistance before, during and after their rental.
Answer incoming calls regarding storage/rental inquiries, accept tenant payments and make reservations for storage rooms, U-Haul trucks, trailers, towing devices, and U-Box portable storage.
Answer calls for both company owned stores and our affiliates.
Handle details and maintain documentation for all aspects of storage transactions including payments.
This job might be for you if:
If you are looking for a part-time work
You enjoy helping people and love being rewarded for your performance
You thrive in a fast paced environment with a focus on quality and attention to detail
You live for a challenge, are goal oriented, be willing to learn different systems, and easily navigate between multiple screens
You communicate efficiently through an instant messaging Program
You can work independently delivering practical solutions and you thrive in a collaborative team environment
You have the perfect home-office which includes being free of distractions and background noise
You have a good understanding of U.S. geography
Join our team today and embark on your home career with ample room for growth and exciting opportunities.
Technical requirements: that must be maintained at all times for any work from home position:
A non-wireless USB headset with a microphone: will be required to be compatible with the phone system. (Preferably Plantronics or Sonnhesier)
Internet Requirements: Broadband/high speed internet delivered to the home via a wired connection and a wired connection to the PC/Laptop inside the home.
Internet Speeds:
MINIMUM: 2MB upload, 5MB download, PING below 70
RECOMMENDED: 5MB upload, 10MB download. PING below 70
Computer Requirements PC/Laptop:
Windows 8 or 10
4G RAM (minimum) 8G RAM (preferred)
5GB hard disc space available (or greater).
Core i3, i5 or i7 or AMD FX, A8, A10, A6, E1, Athlon or Phoenom
Anti-Virus:
Install/use the Company provided anti-virus software. When connected to VPN anti-virus policies are governed by UHI. When not connected to VPN anti-virus policies are governed by the user. This is a PCI (Payment Card Industry) compliance requirement.
The following are not allowed for any work from home position due to security, compatibility or performance concerns:
A wireless internet connection. A wireless Internet service (Ex: mobile hot-spot/tethering, satellite, last-mile).
Windows XP or Vista operating system.
A Celeron or Pentium processor.
A rental or public computer/laptop.
A public internet connection.
May not have any other anti-virus programs installed/running other than the Company provided anti-virus software.
Using non-work related programs while working."
Click here to learn more and to apply! To be the first to hear about jobs like these, like our Facebook page. Facebook members also share tips on applying for jobs and their experiences with the companies we cover. Good luck in your work from home plans!
PLEASE SHARE this post – turn your friends into Rat Race Rebels!