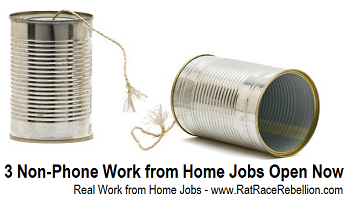 By Mike Haaren
Not everyone wants — or is able — to work from home using the phone. Like more and more people, maybe you don't have a landline (a requirement for many customer service jobs), or there's too much background noise for a phone-intensive job. Or maybe you just don't like talking on the phone for long stretches of time.
But many home-based jobs require little or no phone time. Here are three open now.
Search Engine Evaluators – Leapforce — like iSoftStone, ZeroChaos, Lionbridge and others — hires part-time people as independent contractors for entry-level search engine-related work. You'll be evaluating the relevance and accuracy of search results at a reported rate of $13.50 per hour. This can increase to $17.60 an hour after six months of good performance, contractors say.
Work from home search engine and online ad evaluation jobs have been around for years. (Google Ad Raters were first hired by WorkforceLogic years ago, before it was acquired by ZeroChaos.) They're legitimate — if sometimes sporadic — ways to make part-time income. For the Leapforce job open now, click here. For more jobs like this, click here.
Work from Home Researchers ("Not available in CA, NY or MA due to state regulations") – Wonder continues to recruit online Researchers. (Some of our Facebook members have been hired.) You can pick the questions you work on, and per the company, the pay per question usually ranges from $8 to $36.
Some former Researchers report that it takes too long to prepare acceptable answers, since five sources have to be listed for low-paying answers, too. On the flip side, it may also depend on how fast you work and whether you really enjoy researching. Active Researchers earn $2,000 or more per month, the company says. "Due to state regulations, we are not able to accept applicants based in NY, MA or CA." To go to the job listing, click here. For Wonder's FAQ page, click here.
Part-Time Social Media Evaluators – Appen continues to list this job as a "Hot Opportunity," and has been recruiting on CareerBuilder and other sites. Evaluators have to "improve the relevancy of the newsfeed for a leading global social media client…." You'll need to commit to 1-4 flexible hours a day, 5 days a week. At least one of those days must be a weekend day.
Mixed reviews on hourly pay, which is based on performance. Reported earnings range from $2 to $14 per hour. That's a big range, needless to say. But large numbers of people work for Appen, and it's not unusual to see a wide range of earnings feedback in "crowdsourcing" arrangements. In other words, "your mileage may vary." Click here to go to the job.