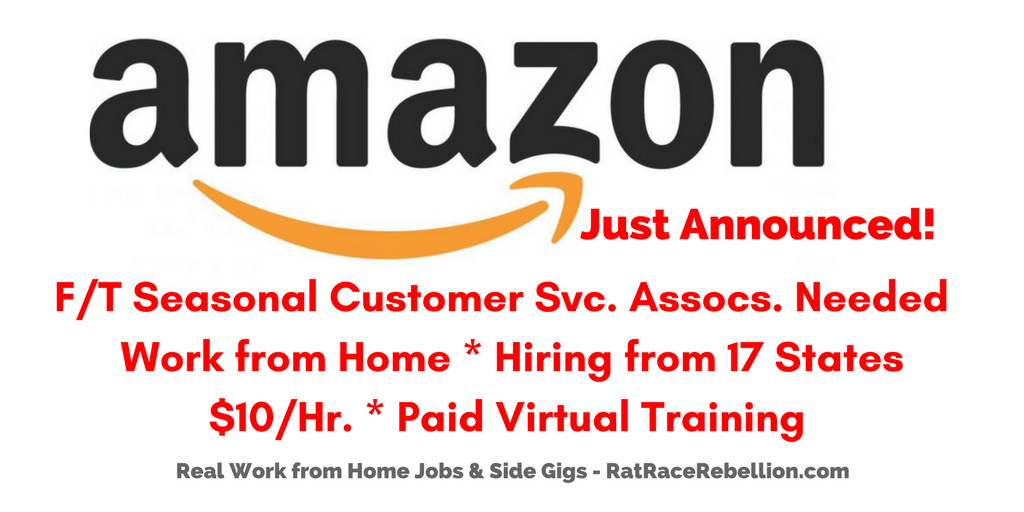 By Mike Haaren – Co-Founder – Updated Sept. 7, 2017
Work from Home Jobs – F/T Seasonal Customer Service Associates – $10/Hr. + Bonus Opportunity – Paid Virtual Training – Chromebook & Headset Provided – Hiring from 17 States – "Possible Long-Term Employment"
Update Oct. 5, 2017 – Looks like Amazon has received all the applications it needs for now, and the job has been taken down. For more jobs like this, check our Newest Jobs & Gigs page. And don't miss the next Amazon job posting — just like our Facebook page  and check your feed for our posts. May you be rocking your Rebellion soon!
***Short-Fuse Alert – These jobs usually go fast, so apply or share quickly if interested!
Amazon just announced hiring again for Seasonal Customer Service Associates. These are full-time positions at $10/hr., plus a bonus opportunity, with paid virtual training. You'll be helping Amazon customers via phone and chat. Our Facebook members hired for the job report that a Chromebook and headset are provided.
The positions may last up to six months. "There may be opportunities for regular long term employment," the company adds.
Employees give Amazon 3.5 stars out of 5 on Glassdoor. Reviews on Indeed give the company 3.7 stars out of 5.



Hiring States
For these openings, Amazon says it's hiring from these *states:
Alabama, Arkansas, Georgia, Idaho, Kansas, Kentucky, Louisiana, Mississippi, Nebraska, New Mexico, North Carolina, Oklahoma, South Dakota, South Carolina, Tennessee, Utah and West Virginia.
*If your state isn't included, see our Newest Jobs & Gigs page for more jobs like these.
Requirements
HS diploma or equivalent
Fluent English
Basic typing, phone, and computer navigation skills
Ability to navigate the Internet, multiple browsers, email, and Instant Messenger tools
1+ years in a service environment dealing with the public
Ability to participate and complete mandatory training
Ability to complete I-9 work authorization paperwork in person (You may be able to do this at a local UPS or similar store: "Just let them know and they will work with you. I had the same issue and I just had to go to UPS to get my forms notarized and faxed," one of our FB members noted.)
Two of Our Facebook Members Share Their Recent Hiring Experiences
One of our Facebook members, Carrie Rich Hadnot, shared her "I Got Hired" experience today on our Facebook page. Thank you, Carrie! (Be sure to like our page to get our job posts fast and find "the inside scoop" like Carrie's.)
"I applied for this position at the end of June and heard back at the end of August. Due to my degree and experience, I was not required to do any type of interview. I received an email inviting me to a 'hiring event' which was a WebEx online meeting room with the presenter going over the particulars of the job. All you do is listen, you do not speak or participate. If you get to this step you are hired.
"Afterwards you will get an email to submit your background check and complete the new hire paperwork. The I-9 has to be completed partially online (just the part with your contact info) and submitted via either an in person Amazon office or a local business that has contracted to provide the service-they need to see your documents. My location was 20 miles away.
"After completing the I-9 form, I got an email that allowed me to pick my post training schedule from among several. They were all 2nd shift schedules (not sure if this changes). Training is 4 weeks and mine is from 10a-7p Eastern. They will send out emails a couple times of week during the hiring process to remind you of steps you need to complete.
"This seasonal position will be anywhere from 3 to 6 months in length with the possibility of staying on longer depending on your performance. The tech requirements state that you must have an internet download speed of at least 10mbps and an upload speed of at least 5mbps. I have not had to show any type of proof of this yet and I have completed all the other listed hiring tasks. I'm not sure if not having this is a deal breaker. The email I received states you must, 'Confirm Adherence to System Requirements.' This seems like very high upload speed for this type of work."
Another RRR Facebook member, Lori Wilson, also shared her experience (thank you, Lori!):
"I attended another [Amazon] hiring event and it was WAY different than the last one. It was pretty cool, lots of info and they said they are not doing interviews. They are fast tracking people who did well on the assessment, straight into giving them an offer for employment. It's a 3-6 month contract, with potential for overtime.
"They DO Offer benefits, but you have to work for 90 days before you can get benefits. I was offered the position officially, however I will be declining it because they said the pay does *NOT* Change from $10 an hour once you completed training – unless you are in a state that the min wage is higher than $10/hr.
"*IF* you are offered a full time permanent position, you could go to $12/hr or more. He said that 1% of the hires get offered a permanent position. There were almost 200 in this group and he said about 5,000 people have been hired so far and they are still hiring."




To go straight to the job listing, click here. For more jobs like these, check our Newest Jobs & Gigs page. To be the first to hear about jobs like these, like our Facebook page and check your feed for our posts. May you be working from home soon!
PLEASE SHARE this post – turn your friends into Rat Race Rebels!
[social_warfare]