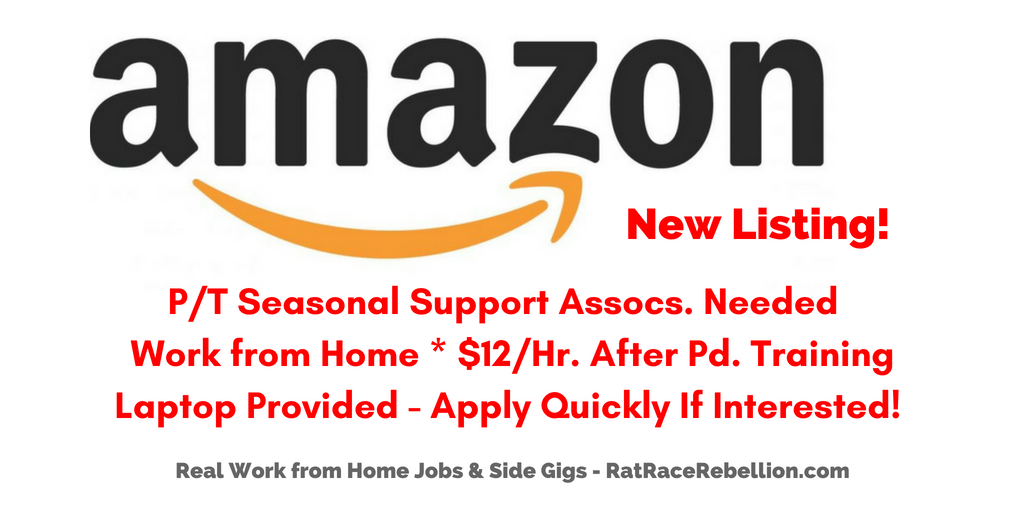 By Mike Haaren – Co-Founder Rat Race Rebellion – July 11, 2018
Work from Home Jobs – Amazon Hiring Again – P/T Seasonal Support Associates – Laptop Provided – Virtual Training at $10/Hr., $12/Hr. After – HS Diploma or GED Required
Short Fuse Alert – Apply or share quickly if interested, these will probably fill fast!
Amazon has announced more hiring for work from home part-time Seasonal Support Associates. "May also be opportunities for long-term employment."
In this job you'd be supporting Amazon's shipping and delivery. Requirements include a HS diploma or GED and a customer-service orientation.
Pay
In Amazon's words, "Except as otherwise required by law, this role pays $10.00 per hour through four weeks of training; a minimum of 28 hours is expected each week during training. Upon successful completion of training, and except as otherwise required by law, the pay will increase to $12.00 per hour at the beginning of the next payroll period."
Hiring States
For these jobs, Amazon is hiring from Alabama, Arkansas, Idaho, Georgia, Kentucky, Louisiana, Mississippi, Nebraska, New Mexico, North Carolina, Oklahoma, South Dakota, South Carolina, Tennessee and West Virginia. (If your state isn't included, be sure to see our Newest Jobs & Gigs page for more jobs. We post a new mix every morning except Sunday!)




In Amazon's words:
What is a Seasonal Flex position in Virtual Customer Service?
Our Virtual Customer Service is open 24 hours per day, 7 days a week. Seasonal employees may remain with Amazon in a temporary capacity for up to nine months, or a shorter period of time depending on business need. There may also be opportunities for regular long-term employment. As a seasonal Amazon Customer Service Part Time (PT) Flex employee you will work a flexible schedule to meet the needs of our business and customers. Work schedules will be selected through shift bids which take into consideration business need and your performance. The average amount of hours scheduled per associate will be 20-29 hours per week, with expectations to work additional hours during Peak Seasons.  Available shifts will include morning, afternoon and evenings, typically including one or both weekend days. Schedules will change throughout the duration of your employment. There may be mandatory instances of additional scheduled work time, based on business needs or large scale events. Being available to work a flexible schedule that falls within our operating hours is required and expected.
Associates utilize Amazon-provided laptops and headsets to manage their work, including scheduling shifts and taking customer contacts. Associates are measured on schedule adherence, contact quality, efficiency, and process compliance.  Associates are required to communicate effectively, both written and verbally, as daily work is managed via phone, email, and/or chat.




Basic Requirements
•    You must live in one of the following states: Alabama, Arkansas, Idaho, Georgia, Kentucky, Louisiana, Mississippi, Nebraska, New Mexico, North Carolina, Oklahoma, South Dakota, South Carolina, Tennessee, West Virginia.
•    Ability to support a flexible working schedule every three weeks to meet business needs.
•    You must provide a home work area that is free of any and all distractions. You must be able to devote your full undivided attention to the Amazon customer.
•    High School Diploma or equivalent.
•    Your home address must be in one of the states we are currently hiring. Any applicants with home addresses outside of hiring states will not be considered.
•    Fluent English language proficiency required.
•    Demonstrates effective, clear and professional written and oral communication and attention to detail.
•    Customer service oriented.
•    Enthusiasm and strong self-motivation.
•    Ability to embrace constant change with flexibility and good grace.
•    Demonstrate appropriate sense of urgency and adaptability in response to changing business needs.
•    Demonstrates effective communication, composure, empathy, and a positive professional attitude.
•    Exemplary performance record, particularly with regard to quality & productivity.
•    Technical (Computers & Internet): MS Office applications specifically Excel, familiarity with web browsers, and demonstrated capability to work with tailored in-house applications.
•    Good knowledge of working over internet and an ability to successfully navigate websites.
•    Demonstrated ability to work in a team in a very dynamic environment.
•    Schedule Flexibility is a must. Virtual Customer Service is open 24 hours and day and 7 days a week.
•    Must be willing to support any schedule during our DAY, NIGHT, or MIXED hours shifts.
•    Understand and accept schedule changes due to Daylight Savings.
•    Capability to complete I-9 work authorization paperwork in person (requiring you to drive to a location Amazon provides you in the pre-hire process).
•    Customer Focus- Ability to approach problems logically and with good judgment to ensure the appropriate customer outcome.
•    Ability to empathize with and prioritize customer needs.




Click here for full details and to apply. Employee reviews give Amazon 3.8 stars out of 5 on Glassdoor. For more jobs like these, see our Newest Jobs & Gigs page. To be the first to hear about jobs like these, like our Facebook page. Good luck in your work from home plans!
PLEASE SHARE this post – turn your friends into Rat Race Rebels!