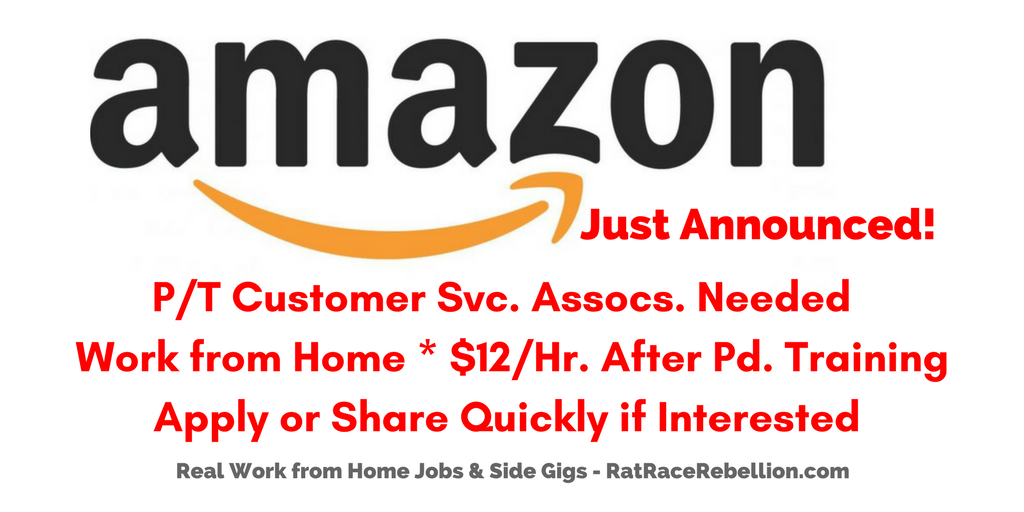 By Mike Haaren – Rat Race Rebellion Co-Founder – March 17, 2018
Work from Home Jobs at Amazon – Part-Time Customer Service Associates – $12/Hr. – Paid Virtual Training
***Short Fuse Alert – These jobs usually fill fast, so apply or share now if interested!
Update – Looks like Amazon has received all the applications it needs and has removed the job listing. Congratulations to the folks who got hired! And good luck if your application is pending! To be the first to see jobs like these, be sure to like our Facebook page and check your feed for our posts. We'll post again when Amazon reopens hiring, so stay tuned!
***
Amazon is hiring again, seeking more part-time Customer Service Associates. Pay is $12/hr. after virtual training, $10/hr. during training. Training is four weeks.
Key requirements are a HS diploma, and at least one year's experience in a service-oriented job dealing with the public.
Hiring States
For these jobs, Amazon is hiring from Alabama, Arkansas, Idaho, Louisiana, Mississippi, Nebraska, New Mexico, Oklahoma, South Carolina, South Dakota, Tennessee, West Virginia. (If your state isn't included, see our Newest Jobs & Gigs page for more jobs like these.)




The job in their words:
Position Details
This position will start on Monday, April 23rd. Paid training will take place during your first four weeks from Monday through Thursday for a total of 28 hours per week. You will have the opportunity to choose one of two training schedules based on availability:
Monday-Thursday, 6am-2pm PST
or
Monday-Thursday, 2pm-10pm PST
*Only candidates who can commit to starting on Monday, April 23rd, and working one of the above training schedules should apply. More positions will open as more classes become available.
Basic Requirements
•    Ability to support a flexible working schedule every three weeks to meet business needs.
•    You must provide a home work area that is free of any and all distractions. You must be able to devote your full undivided attention to the Amazon customer.
•    You agree that you will not provide child or adult care during hours of scheduled work.
•    Your address must be in one of the states we are currently hiring. Any applicants with home addresses outside of hiring states will not be considered.
•    High School Diploma or equivalent.
•    Fluent English language proficiency required.
•    Strong typing, phone, and computer navigation skills.
•    Ability to navigate the internet, multiple browsers, email, and instant messenger/chat tools.
•    Ability to follow detailed verbal and written instructions.
•    1+ years in a service environment dealing with customers.
•    Ability to participate and complete mandatory training (this schedule may be different from your production schedule upon hiring).
•    Capability to complete I-9 work authorization paperwork in person (requiring you to drive to a location Amazon provides you in the pre-hire process).
•    Customer Focus- Ability to approach problems logically and with good judgment to ensure the appropriate customer outcome.
•    Ability to empathize with and prioritize customer needs.




For details on the job and to apply, click here. For more jobs like these, be sure to check our Newest Jobs & Gigs page. To get our job postings ASAP, like our Facebook page  and check your feed for our posts. May you be rocking your Rebellion soon!
PLEASE SHARE this post – turn your friends into Rat Race Rebels!