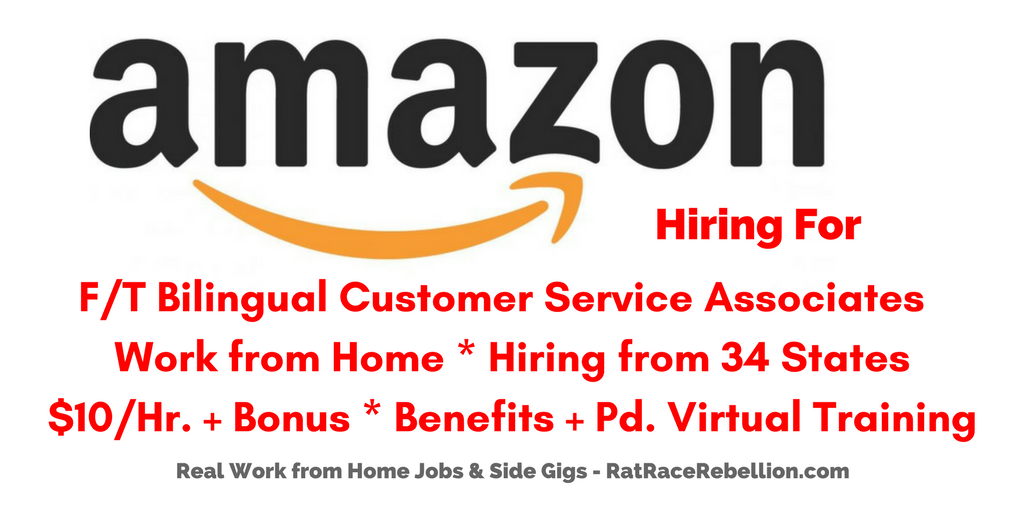 By Mike Haaren – Co-Founder – Aug. 30, 2017
Work from Home Jobs – Bilingual Spanish – Bilingual French – Bilingual Italian – Bilingual German – Bilingual Japanese Customer Service Agents Needed – Pays $10/Hr. + Bonus Opportunity – Paid Virtual Training – Benefits
Amazon is hiring full-time bilingual Customer Service Associates. You'll be helping customers primarily by phone and chat.
Hiring States
For these openings, Amazon is hiring from Alabama, Arizona, Arkansas, Colorado, Florida, Georgia, Idaho, Illinois, Indiana, Iowa, Kansas, Kentucky, Louisiana, Maine, Maryland, Michigan, Mississippi, Nebraska, Nevada, New Jersey, New Mexico, New York, North Carolina, North Dakota, Ohio, Oklahoma, Pennsylvania, South Carolina, Tennessee, Utah, Virginia, West Virginia, Wisconsin and Wyoming. (If your state isn't included, see our Newest Jobs & Gigs page for more jobs like these.)




Requirements
In addition to bilingual fluency, requirements include:
*High School Diploma or equivalent
*Basic typing, phone, and computer navigation skills
*Ability to navigate the Internet, email, and Instant Messenger tools
*1+ years in a service environment dealing with the public
*Ability to complete training
*Ability to complete I-9 work authorization paperwork in person (Don't worry, this can be done at a local UPS or similar store: "Just let them know and they will work with you. I had the same issue and I just had to go to UPS to get my forms notarized and faxed," one of our FB members noted.)
Benefits
In Amazon's words, "we offer as a company a full range of benefits for our employees and their eligible dependents." Here's a summary, quoted from Amazon's benefits page:
Health
For health care we offer a choice of four medical plans as well as prescription drug benefits.
Additionally, employees can make demands on additional dental or vision plan.
Finance
For occupational retirement provision there is the possibility of a 401(k) savings plan with a company match.
Additionally, we offer a company-paid life and accident coverage as well as some optional additional dependent coverage.
Amazon employees receive a company-paid short- and long-term disability plan.
There is also a health-care and dependent-care flexible spending account.




Employee Assistance Program
All Amazon employees and their eligible family members can take advantage of a free and anonymous Employee Assistance Program (EAP) for work-related or private issues (e.g. legal or financial questions, family issues or other work-life topics).
Additionally, we offer a child and elder support as well as pet assistance.
Eligible U.S. employees can be reimbursed for qualified adoption expenses, such as adoption fees, attorney fees, court costs, and travel costs, up to $5,000 for a single-child adoption or up to $10,000 combined maximum for a sibling-group adoption.
Timeoff
Our employees can flexibly shape their individual working hours in the framework of trust.
Employees get vacation time and up to six paid personal days per year.
Additionally, there are six annual holidays per year.
Up to 4 weeks of paid pre-partum medical leave, followed by 10 weeks of paid maternity leave. Additionally, all new parents who have been at Amazon for a year or more can take a 6-week paid parental leave.
Leave Share program gives parents the flexibility to share all or part of this paid parental leave with a working spouse or partner whose employer does not provide paid parental leave.
Ramp Back Program allows new birth mothers or primary care givers to ease back to work with up to 8 weeks of flexible time and a choice of part-time options.
Stock
Eligible employees receive Restricted Stock Units (RSUs) from Amazon.com Inc. as part of our global compensation model. All Amazon employees participate directly in the success of the entire company.




Employee reviews on Glassdoor give Amazon 3.6 stars out of 5. For details on the job and to apply, click here. For more jobs like these, be sure to check our Newest Jobs & Gigs page. To get our job postings ASAP, like our Facebook page  and check your feed for our posts. May you be rocking your Rebellion soon!
PLEASE SHARE this post – turn your friends into Rat Race Rebels!