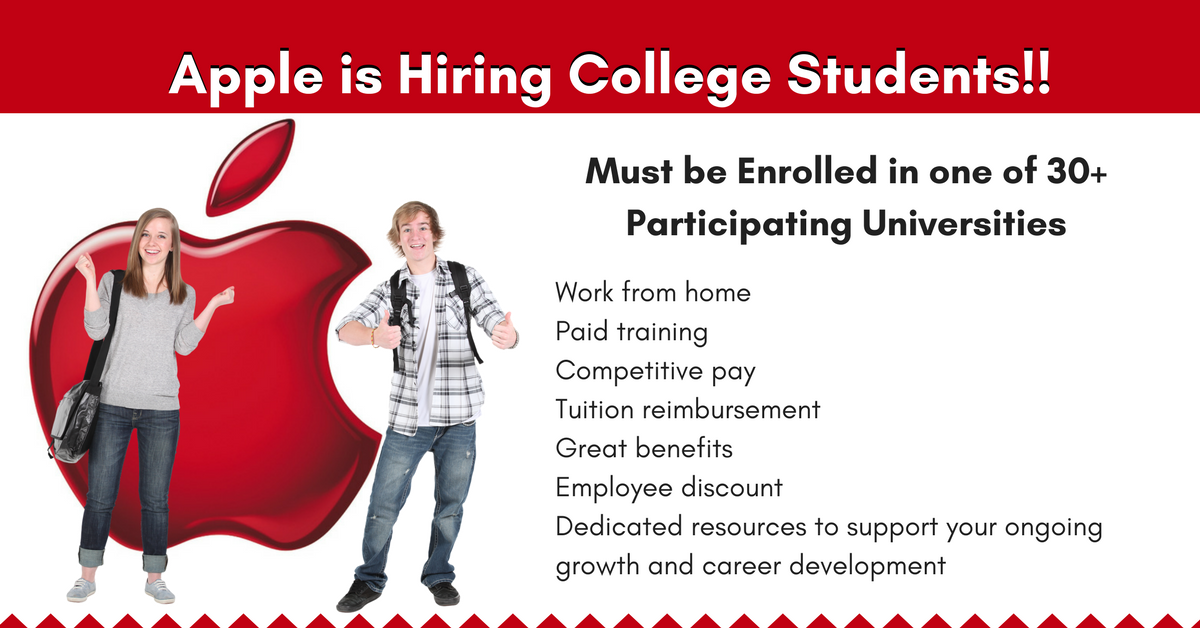 by Chris Durst     Sep. 7, 2018
Apple sometimes posts positions for Apple At Home Advisors. Many of our Rat Race Rebels have landed jobs with Apple, and reports overall are very positive.
Apple also has work from home positions for college students who are enrolled at participating universities. Currently, those universities include:
University of Texas at El Paso
University of Illinois
Florida A&M
Prairie A&M
University of Texas, San Antonio
University of North Carolina, Chapel Hill
Texas State University
University of Georgia
University of Wisconsin
Alabama A&M
California State University
University of Texas, Austin
Indiana University, Bloomington
Clemson University
Florida State University
Colorado State University
University of Alabama
University of Texas, Arlington
San Diego State University
Pennsylvania State University
Arizona State University
University of Florida
University of Houston
University of Central Florida
Georgia State University
Central Michigan University
Auburn University
The Ohio State University
University of Cincinnati
West Virginia University
University of Kentucky
Alabama State University
University of California, Merced
University of Oregon
University of Arizona
Oregon State University
University of Southern Mississippi
Kennesaw State University
Michigan State University


Here's how Apple describes the job:
"We expect everything from an Advisor that our customers do and we want Apple to be a reflection of the world around us.
You're a problem-solver and easily connect with customers! You exceed their expectations with your guidance, knowledge, and real passion for technology. You're enamored by the way things operate, and have the ability to figure out how technology works when things go wrong. You have excellent verbal and written communication skills, as well as the ability to effectively prioritize and manage your time.
You can multitask across systems and applications, analyze, isolate and resolve a variety of complex technical issues, and comfortably navigate a technical environment. You effortlessly engage, explaining step by step solutions with patience and an approach tailored to each individual customer. You're not only here to help fix technical issues, but also provide an incredible customer experience. Because you'll work independently from home, you'll need the discipline and ability to work remotely from coworkers and management. If this sounds like you, you could be the next AppleCare At Home College Advisor.
This is a work from home position, we can only consider you if you're enrolled at participating universities.
Key Qualifications
Real passion for customer service and ownership of the customer experience including comprehensive issue resolution
Able to effectively tailor communication and style to differing audiences
Able to self manage and work independently in a fast-paced, constantly changing environment
Thrives on a team where expertise is shared and feedback is welcomed
Effective time management including ability to multi-task, organize and prioritize
Able to research and grasp technical information across multiple tools while talking with customers
iOS, Smartphone, Tablet, PC or Mac experience
Aptitude for acquiring skills in technical troubleshooting and an eagerness to learn and take on new challenges
Description
As an AppleCare At Home Advisor, you'll be supporting many of our popular products, from iPhones to iPads to MacBooks to desktop Macs. As our customers' first point of contact, you'll be the friendly voice of Apple, providing world class customer service, troubleshooting, and technical support. We'll rely on you to listen to our customers and use your technical knowledge, creativity, and passion to meet their needs — and remind them that behind our great products are amazing people. Because we believe our individual backgrounds, perspectives, and passions help us create the ideas that move all of us forward. We'll train you to be the best.
This position comes with competitive pay, tuition reimbursement, great benefits, eligibility to participate in our company stock plan, time off, an employee discount, and dedicated resources to support your ongoing growth and career development.
Education
Student must be enrolled at a participating university.
Additional Requirements
Available to attend approximately 6-9 weeks of required online training on a fixed schedule that may include weekends (Training may be either 24 or 40 hours per week depending on hire date)
Successful completion of a pre-employment assessment and background check
Successfully complete initial training
Able to meet minimum typing speed of 40 WPM in conversation with customers
AT HOME REQUIREMENTS
A quiet workspace, ergonomic chair, and desk
High-speed Internet service (5 megabits download and 1 megabit upload) from a reliable provider.
Click here for full details and to apply with Apple. For more jobs like these, be sure to check our Newest Jobs & Gigs page. To get our job postings ASAP, like our Facebook page  and check your feed for our posts. May you be rocking your Rebellion soon!
PLEASE SHARE this post – turn your friends into Rat Race Rebels!
[social_warfare]