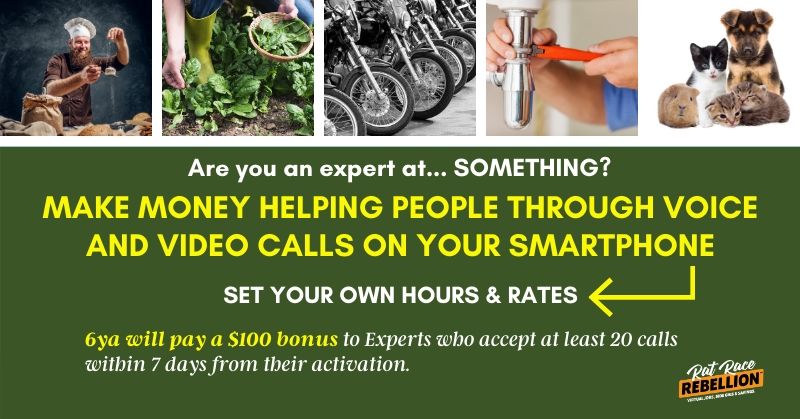 by Chris Durst        Apr. 28, 2020
The 6ya app allows experts to earn money by providing quick help to customers over the phone.
You set your own available hours, set your own rate of pay, accept voice an video calls directly to your smartphone, and monitor your earnings through the app.
You must be a citizen or legal resident of the United States and at least 21 years old to join 6ya as an expert.
Be prepared to verify your expertise!
If you have expertise in any of the categories listed below, this could be a good way to turn that expertise into income.
Smartphones & Tablets
TV & Video
Online Services
Computers & Hardware
Audio
Cars & Trucks
Software
Home Appliances
Smart Homes
Game Consoles
Phone & Fax
Telecom & Cable
Electrician
Printers
Office Equipment
Plumbing
Lawn Mowers
Smart Watches
Heating & Cooling
Sports
Home Security
RVs
Handyman
Pest Control
Boats
Cameras
Digital Marketing
Virtual Reality (VR) Sets
Water Heaters
Insurance
Pool & Spa
Mobility
Vapes
Tools & Hardware
Sewing Machine
Golf
Relationships
Garage Doors
Drones
Health & Wellness
Spirituality & Healing
3D Printing
Pets
Social Studies
Science
Tractors
Watches
Cooking & Baking
Computer Programming
Coaching
Financial Planning
Exercise Equipment
Cycling
Aviation
Astrology
ATVs
Camping Equipment
Business
Baby Gear
Mathematics
Locksmith
Knitting & Crochet
Parenting
Musical Instruments
Motorcycles
Furniture & Decor
Fishing Equipment
Firearms
Jewelry
Gardening Tools
Gardening
Here's some information from the company's FAQ page:
Do I need a Smartphone or can I accept calls from a landline?
In order to become a 6ya Expert and accept calls you must have a supported iOS or Android smartphone.
Can I decide when to accept calls or not?
Absolutely. Once you complete your Expert account creation and download our App, you'll have the ability to set your availability and Do Not Disturb option both manually or recurring.
How long do these calls last?
On average, most calls do not exceed 5 minutes. However, the customer is not restricted nor expected to cut the call short.
What is the difference between Direct and Service Calls?
Verified Experts will be routed calls from 6ya customers who request to a call through the 6ya App, but any Expert can share his/her profile to their circle of customers or friends and can generate direct calls.
How much will I earn?
Since you set your own rate for Direct Calls, your earnings will be directly determined by the number of calls you take. At any given time your 6ya app will show your current earnings when logged in on Expert mode. Calls that are routed to you by 6ya will generate a predetermined per-call rate. Note that both Direct and Routed calls under 1 minute are free to the customer and do not generate any fee.
How Do I get paid?
As part of your profile and account creation, you will be asked to set up your method of payout. Currently Experts can receive their earning via PayPal, bank transfer or mailed check.
What is the cost of using the service?
The only fee you will be charged for using 6ya to provide Expert on Demand services is 10% of your earnings through the platform regardless of the number of calls you accept through the system. There are no other flat or recurring fees you will be charged.

CLICK HERE to learn more and to become listed as an expert. For more jobs and ways to make extra cash, see our Daily Jobs & Gigs page. To be the first to hear about jobs like these, like our Facebook page and check your feed for our posts. May you be working from home soon!
PLEASE SHARE this post – turn your friends into Rat Race Rebels!