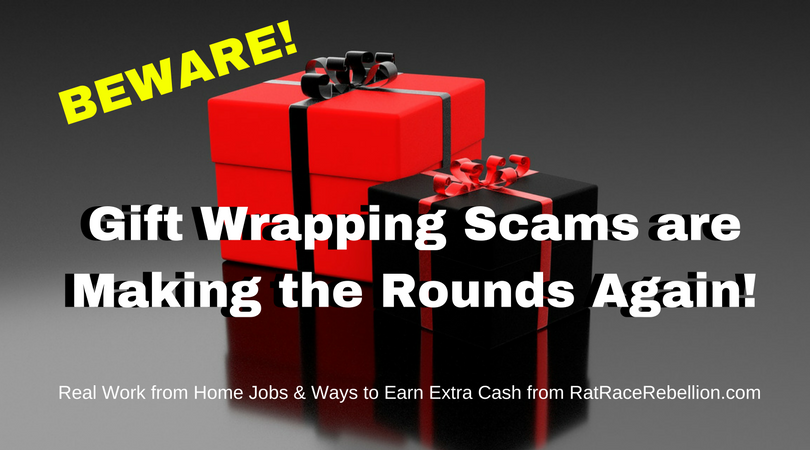 by Chris Durst   Mar. 1, 2017
Earlier this week, one of our Facebook fans contacted us because he had been offered a job as a "Wrapping Associate" with "Wayne & Pierce Printing." Something didn't sit quite right with him, so he asked us to check them out before he jumped in and gave them his personal information.
We're glad he did because there were some huge RED FLAGS that pointed to a scam! We're sharing it with you so you'll be aware just in case you get a similar "offer."
For educational purposes only, here's the link to the site – DO NOT APPLY, IT'S A SCAM!
REPACKAGING SCAMS 101
Right off the top, it's important that you know that "Wrapping" jobs — where the company proposes to send items to your home for unpacking, gift wrapping, and shipping — are usually "REPACKAGING SCAMS."
Essentially, they want you to receive packages and sometimes even go to a retailer to pick up items they have purchased. Then, you will:
Unpack the items
Remove ALL paperwork – instructions, warranties, everything
Scan and send them receipts, and copies of all paperwork removed from the package
Pack the items in a different box and wrap in wrapping paper (not all repackaging scams involve gift wrapping)
Send the items to an overseas address
Any alarms going off? They should be!
The items you are receiving have been purchased with stolen credit cards and you, if you reship them, have just become involved in the distribution of stolen goods.
But that's not all – it's the scam that keeps on giving!
When you remove the paperwork and repackage for shipping, you are also defrauding Customs. How? The items are being sent as "gifts" instead of purchased merchandise.
In a nutshell, your "job" is to commit a federal offense. Oh, and did I mention, you won't really get paid either?
---
READY FOR THE RED FLAGS?! You're gonna love this!
1. New site. The company claims to have been established in 2000, but the domain/web address was only purchased in December of 2016. Any legitimate international company, as this one claims to be, would have had a web presence long before December 2016.
---
2. Fake Testimonials. The "testimonials" at the bottom of the home page are not real – they are "Testi-PHONY-als," bought and paid for.
See the man on the right? He sells video testimonials on Fiverr.com. You can see his profile here if you're interested. I'm sure I could dig up the other one, too.
---
3. Fake Team Photos – These folks have gone to great lengths to set up a site that looks legit. They even went so far as to put up an "Our Team" page with photos. The problem is, the photos were stolen from across the internet. For example, "Colin," the "Vice President, International" (international what, you might ask – to which I would answer, who knows?), well, we found "Colin" in the portfolio of a real photographer in Moscow, Russia.
Likewise, "Henry B. Wesley" is actually a pharmacist and university professor who, unbeknownst to him, had his photo lifted from the university website. (I've shot him an email to let him know that scammers rely on his trustworthy face to draw in victims.)
---
So there you have it, dear Rebels. Steer clear of this scam and any others that carry the same or similar earmarks.
Stay safe!
PLEASE SHARE this post – turn your friends into Rat Race Rebels!