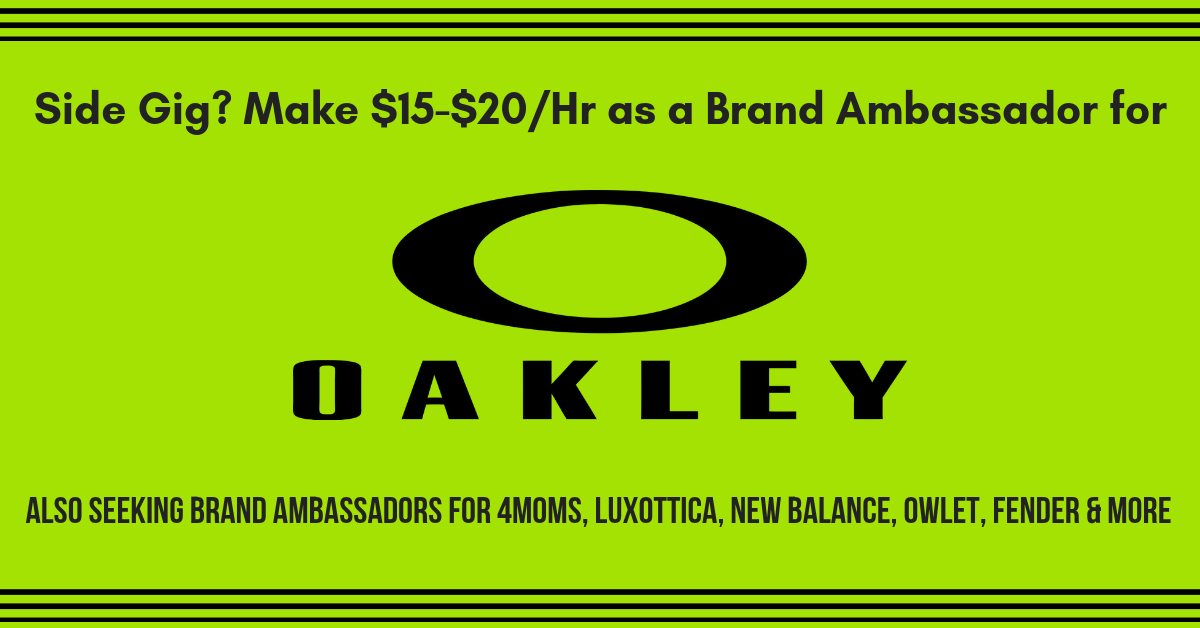 by Chris Durst              Oct. 17, 2018
Looking for a side gig? This job isn't home-based but it's very flexible, looks like fun and well worth a mention!
ThirdChannel is looking for "Brand Ambassadors" who absolutely love the brand they are representing. The brands they serve include Vogue, Coach, Oakley, Tory Burch, 4moms, Onnit, New Balance, Costa, Ray-Ban and more.
Here's what the company has to say about their Luxottica/Oakley Brand Ambassador role:
Looking to supplement your income, but don't want to give up your flexibility? Become a Brand Ambassador for Luxottica—the largest eyewear company in the world—which retails brands including Oakley, Ray-Ban, Coach, Vogue, and Tory Burch! You'll engage with consumers and associates in stores, and help drive sales by interacting with consumers, obtaining data, and helping to market the brand.
What you DO:
— Manage a monthly calendar of retail store visits
— Work on product displays, pull product out of back stock, and merchandise/replenish displays as needed
— Use ThirdChannel technology on a smartphone to collect crucial data
— Engage with consumers and provide sales support/brand education to retail associates
What you GET:
— $15-$20 an hour depending on location
— Additional compensation for travel time to and from store
— Opportunities to connect with Luxottica brand executives through professional development sessions
— Sales and marketing experience
— Opportunity to earn bonus product and raises based on tenure in position
What you NEED:
— Reliable transportation
— A mobile device with browser access
— Excellent communication and organizational skills
— Ability to give and receive supportive feedback
— Passion for building relationships with consumers and store associates
— Relevant merchandising or retail experience
Click here for full details on the Oakley role and others > THEN click on the logo of the brand you want to be an Ambassador for.  (Click on the Oakley logo for more on Luxottica and Vogue, Coach, Tory Burch and Ray-Ban.) Click here to see a video about what being a ThirdChannel Brand Ambassador is all about.