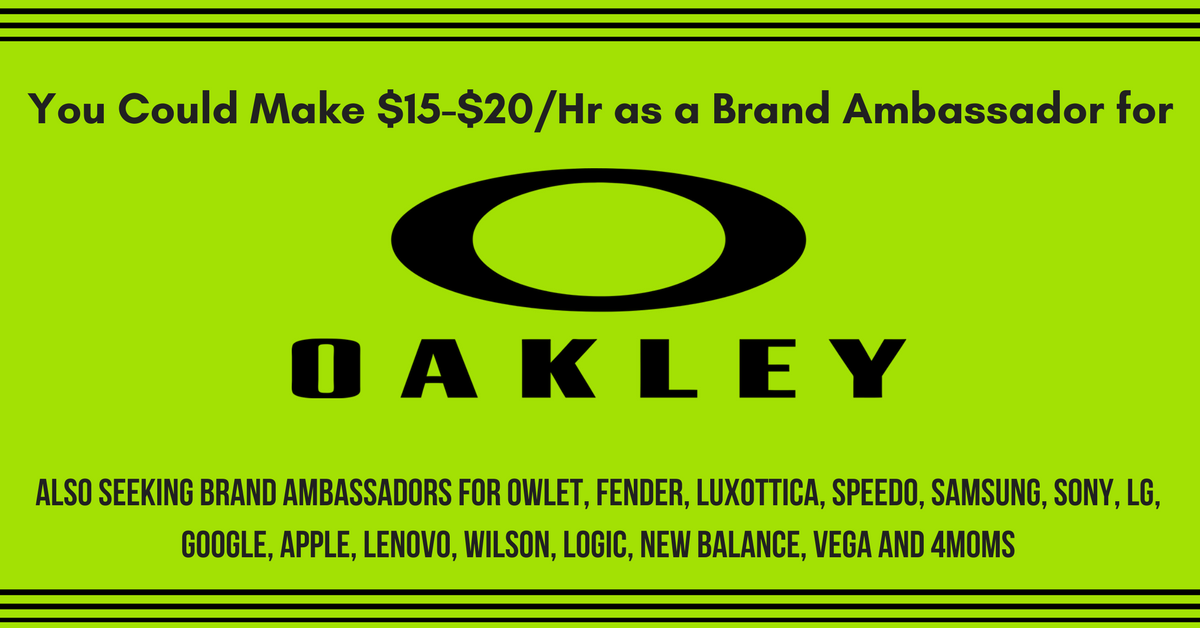 by Chris Durst              Jan. 18, 2018
This job is not home-based but it's new, cool, very flexible, fun and well worth a mention!
ThirdChannel "Brand Ambassadors" who absolutely love the brand they are representing. The brands they serve include Vogue, Wilson, Alain Mikli, Anne Klein, Armani Exchante, Arnette, Asics, Bose, Brooks Brothers, Bulgari, Calvin Klein, Chanel, Coach, Dolce & Gabbana, DKNY, Easton, Giorgio Armani, GoPro, Haddad Brands, Levi's, Logic, Marie Claire, Michael Krs, Miu Miy, New Balance, Oakley, OXO, Persol, Prada, Salvatore Ferragamo, Ralph Lauren, Sonos, Tiffany & Co, Toms, Tommy Hilfiger, Under Armor, Versace, Wilson and more.
Here's what the company has to say about their Oakley Brand Ambassador role:
"Oakley is the world's leading sports performance brand whose technologies have transcended sports into a full array of market-leading products and you have the opportunity to become an Oakley representative in local retail stores! Their products include premium sunglasses, goggles, prescription eye wear, apparel, footwear and accessories. As a store merchandiser you will have the responsibility of visiting Oakley's top stores in your area and ensuring their products are being represented to their fullest potential!
OAKLEY BRAND AMBASSADOR – THE POSITION
Become an expert on Oakley's Brand, products, and visual merchandising to help optimize in-store product displays in order to generate sales.
Our Oakley candidates need to be people who are passionate about the Oakley brand AND participate in Oakley sports and activities – Snow sports, Water sports, Cycling/Mountain Biking/Moto X, Baseball, Golf and/or Women's active wear.
Do you have pictures of YOU participating in these activities you can put in your profile? – Oakley is big on visual representation.
Do you have merchandising experience? Oakley loves to see candidates with previous merchandising experience and an eye for detail!
Help educate sales associates on the newest styles and technologies to ensure that employees are up to date and knowledgeable on everything Oakley.
Manage a monthly calendar of retail store visits to meet the needs of Oakley in your market.
Use ThirdChannel technology, on a smartphone or tablet, to collect crucial store information which will be relayed back to Oakley in real time.
Drive your own car to get to and from retail stores. Most stores will be within 30 miles of the city center for your territory. If a store is farther, you will be compensated extra for your travel time.
This position entails a minimum of a 6 month time commitment.
THE SKILLS
Must have and be able to demonstrate extraordinary communication & organizational skills.
Be comfortable working on your own while receiving remote coaching and supervision.
Possess an outgoing personality with a desire to positively represent the Oakley brand.
Ability to be flexible and adapt to Oakley's ever-evolving retail landscape (# of stores may fluctuate).
Must use digital social sites and understand networks such as Facebook, Instagram, Twitter, etc.
THE PERKS
$15 per hour plus travel zone rate
Business cards identifying you as a ThirdChannel Agent and representative for Oakley.
Training tools and handouts delivered by ThirdChannel."
Click here for full details of the Oakley role and others > THEN click on the logo of the brand you want to be an Ambassador for (Current openings are with Owlet, Fender, Luxottica, Speedo, Oakley, Samsung, Sony, LG, Google, Apple, Lenovo, Wilson, Logic, New Balance, Vega and 4Moms)!!. Click here to see a video about what being a ThirdChannel Brand Ambassador is all about.